For the most part, I love shopping for gifts for other people…unless, of course, I have no idea what to get them. The anxiety of not being able to find the right gift for someone can drive me absolutely crazy, so I always try and scour certain sites for good gift ideas way ahead of time.
For the most part, these are the sites that ALWAYS deliver. They have unique gift ideas (some are one-of-a-kind) and a few are perfect for last-minute gift ideas or if you need to ship something to someone long distance.
I'm willing to be that you'll love these too, so good luck with your shopping!
---
If you'd like more tips on reaching financial freedom, living a fulfilled life, and raising happy kids, subscribe to MBAsahm for notification of new posts!
---
Some links on this page may contain affiliate links. For more information, see my disclosure policy.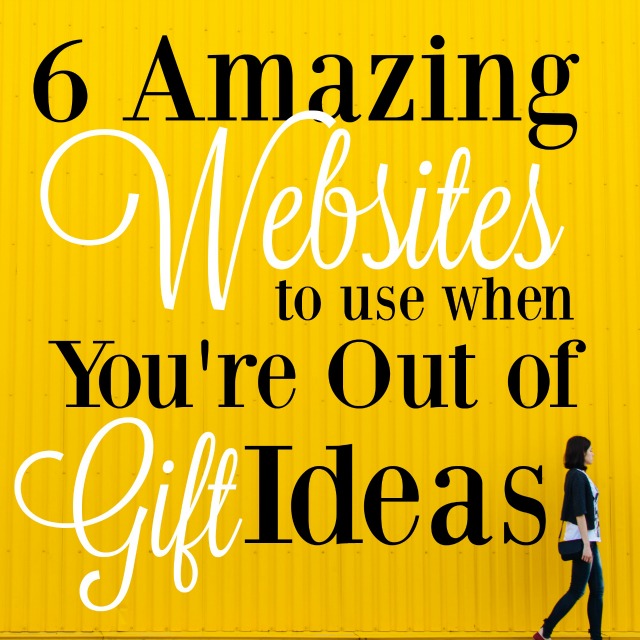 Cratejoy
Cratejoy is one of the best kept secrets when it comes to unique gift ideas….for TWO reasons.
First off, the ideas are truly unique and really exciting. They're the kind of gifts that people get really excited about!
Second, since all of the gifts are different and unique subscription clubs, they are perfect for last-minute gifts. You could literally order something on your way to a get-together and have a fabulous gift ready for them.
There are dozens (if not hundreds) of cool subscription clubs on the site, so you're bound to find something that works.
Etsy
I absolutely love Etsy, especially when I am out of ideas for someone.
In fact, this is often my go-to site even when I know exactly what I want because the quality is amazing and the ideas are unbelievable. You really can't beat it.
Everything is handmade, so this is the perfect place for items that you want customized, personalized, or need to be one-of-a-kind.
Not only is this site great for Christmas extras, but they're even better for wedding gifts and baby shower gifts.
The Grommet
The Grommet has an amazing mission – find really unique and amazing products from local or small businesses and give them a platform to sell their creations.
You can find such fun ideas on The Grommet!
Some are handmade, others are just really creative.
You can browse for a really long time because the ideas are just endless! If you're on the hunt for something unique, you'll definitely find it here.
Uncommon Goods
Uncommon Goods is exactly what the name suggests – unusual gift ideas.
The best part about Uncommon Goods is that they don't waste your time with gag gifts or novelties.
They actually have really great ideas and stuff that is either really fun or practical.
Touch of Modern
Touch of Modern is my favorite go-to site when I need cool ideas for my husband.  
They find really amazing high-quality companies and offer special deals every single day for a predetermined number of products (kind of like Kickstarter).
They're specifically for men which is nice because men can be really hard to shop for!
It's a great place for watches, clothes, and outdoor hobby equipment.
If you sign up for their email list, you will get ideas and deals sent to you everyday.
This is a great way to get awesome gifts ahead of time AND at a great deal.
Plow and Hearth
Plow and Hearth is a great place for unique gift ideas, especially for outdoorsy people or unique consumable ideas!
From fireplace accessories to bird feeders, snacks to home goods, there are really cute ideas for all kinds of home living.

Hammacher Schlemmer
If you've ever been perusing Pinterest and come across an unbelievable gadget that you can't believe you've been living without, odds are it came from Hammacher Schlemmer.
They carry the most unbelievably innovative products, most of which you would never have imagined on your own.
The products are pricey, but if they're in your budget, then they will definitely please.
Man Crate
Man Crate is such a cool site!  The idea is simple – you get a wooden crate (literally) full of whatever goodies you choose.  
All of the crates are themed so you get to choose from things like golf, BBQing, bacon, or gaming.
And the best part – the crates actually come with a crowbar for your man to open on his own. 🙂
These are always a huge hit!
Good luck with your shopping! Let me know if you have any other go-to sites that always seem to have great ideas!
Need more ideas? Check out these lists for additional shopping inspiration:
---
If you'd like more tips on reaching financial freedom, living a fulfilled life, and raising happy kids, subscribe to MBAsahm for notification of new posts!
---