My 4-year old has been hooked on crafts lately, so I've been on the hunt for fun DIY projects that are easy enough for him and also serve a practical purpose…because I can only hang up so much construction paper!  So when I came up with the idea to create Hungry Caterpillar Magnets (inspired by the all-too-famous Very Hungry Caterpillar book!), I was really excited. And rightfully so, because it was a huge hit!
This Hungry Caterpillar craft project was so easy that he could basically do the entire thing himself…and would have been able to do it completely alone had I not wanted to make sure the magnets were super secure with hot glue instead of Elmer's (if you've got a little one running around, you should probably do the same!).
---
If you'd like more ideas for fun and easy kid crafts, subscribe to MBAsahm's Kid Craft email list for new ideas! Or, if you'd like more tips on reaching financial freedom, living a fulfilled life, and raising happy kids, subscribe to MBAsahm's Full List for notification of all new posts!
---
Some links on this page may contain affiliate links. For more information, see my disclosure policy.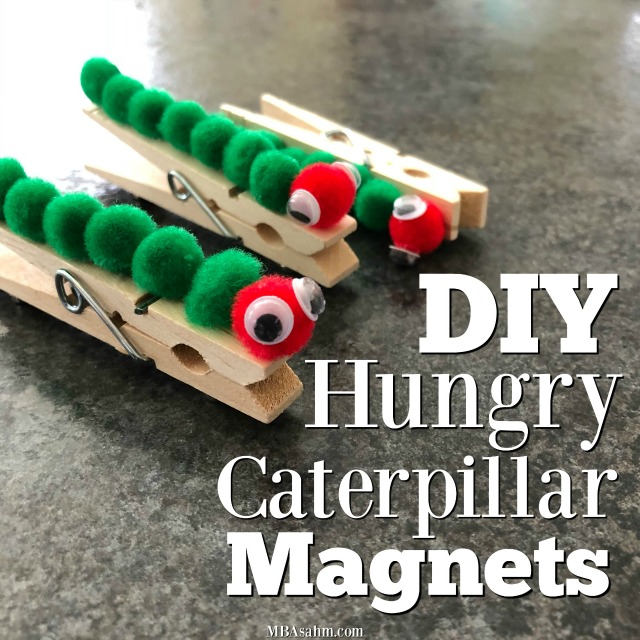 Not only was it really easy, but these have ended up being great gift ideas and he was able to make a bunch all at once, so he didn't get burnt out like he does with some of our other big projects.
So if you're on the hunt for an easy DIY kid craft project (and especially if you love The Very Hungry Caterpillar!), these clothespin magnets are for you!
Here's what you need:
Ok, ready??  This craft is super easy and the best part is that your child can do pretty much all of it themselves!
Start with taking the clothespins and putting a thick line of Elmer's glue all the way down one side of it.
Place one red pom-pom on the end – this will be your head!
Fill the rest with green pom-poms in a straight line – this is the hungry caterpillar's body!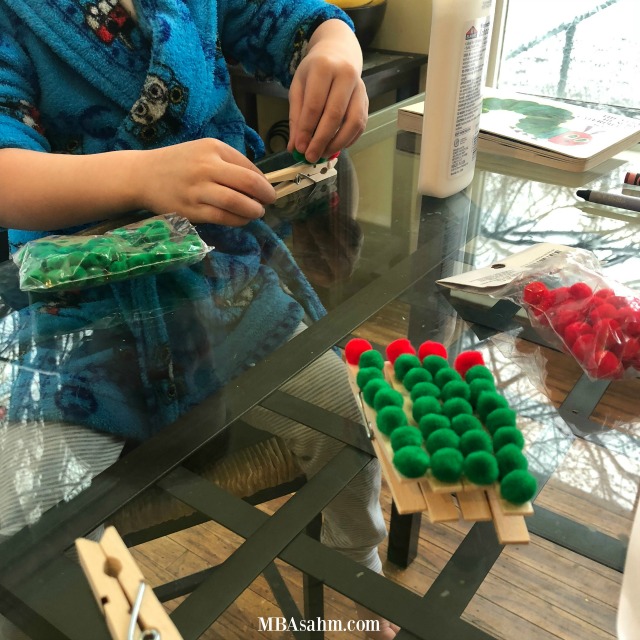 To make things easier for my son, I let the head and body dry before moving onto the next step, but you don't need to if your child can carefully manage.
The next step is to glue on the googly eyes!  It ended up being easiest for my 4-year old to put two dabs of glue on the caterpillar's head and then place the googly eyes, but you can let your child play around and figure it out for themselves.
Once those are dry, you've got your caterpillar and are almost done!  All you need to do is add the magnets.
For this part, I really wanted to use a hot glue gun.  The magnets are very small (to fit the width of the clothespin), so they could easily be swallowed if you have a baby around….which could, obviously, be disastrous.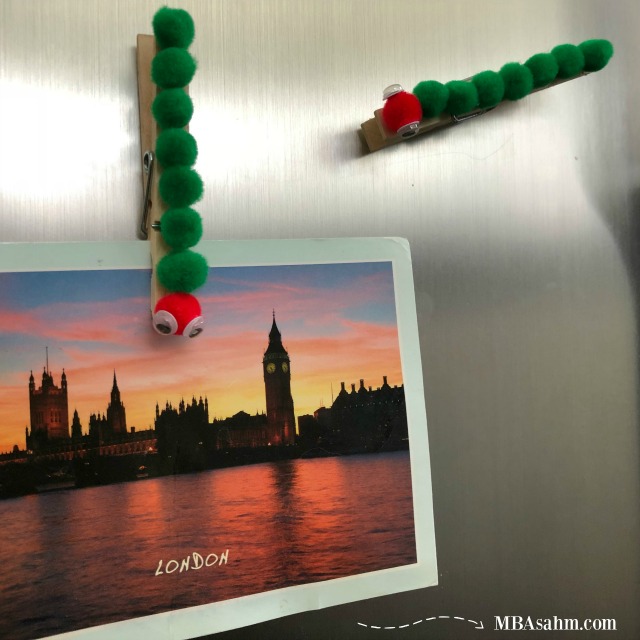 If you don't need to worry about a choking or swallowing accident, then you can let your crafters glue the magnets themselves!  This could be a really fun opportunity for them to learn about magnets and see how they work.
Either way, you want to add two blobs of glue on either end of the backside of the clothespin.  If you're using hot glue, it will be dry and ready to go in a matter of minutes. If you're using Elmer's glue, just make sure you give the magnet enough time to dry.
Once everything is dry, you're done!  
These Hungry Caterpillar magnets are perfect for hanging up your child's artwork and make great gift ideas for grandparents, aunts, uncles, and teachers.  
I hope you have as much fun as we did!  Good luck!
You may also be interested in:
---
If you'd like more tips on reaching financial freedom, living a fulfilled life, and raising happy kids, subscribe to MBAsahm for notification of new posts!