Last week, my husband and I did the unthinkable and flew from California to Philadelphia with our 2-year old…in first class. We were well aware that having a baby on our lap in these premium seats would be taboo, but honestly it feel like a baby anywhere on a plane is taboo – so what's the difference?
Well, let me tell you right here and now – there is a difference.  A huge difference.  And not just for our comfort and our baby's comfort, but for the whole entire plane.  When you can keep your baby happy, it will make everyone around you happy.  When our plane landed at the end of our trip, the patrons around us stood up and actually congratulated us on a perfectly silent flight – they actually congratulated us. Now that was a scenario I hadn't envisioned ahead of time.
So before you book your next flight with your baby in tow, please please please consider these reasons for opting for first class tickets.  I promise, you will not regret it.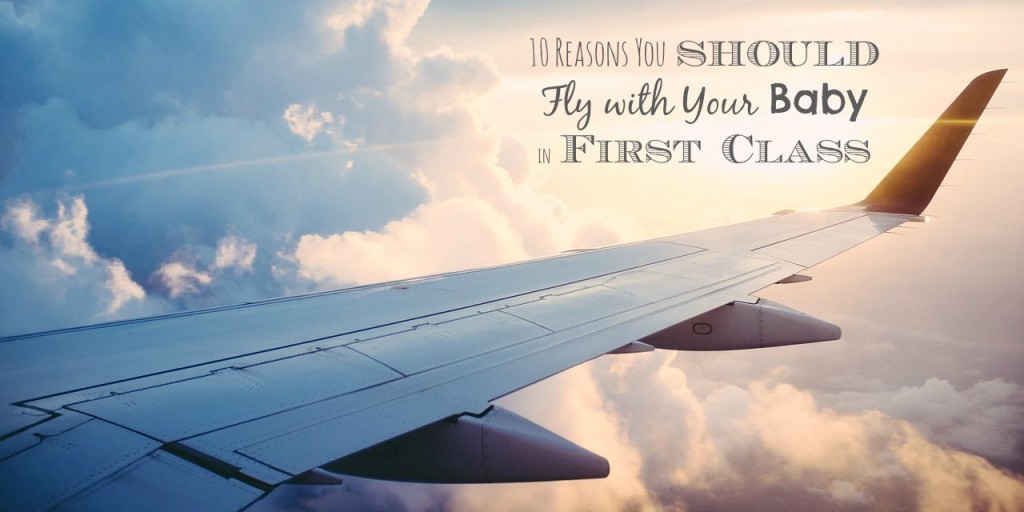 It's Not That Much More Expensive
My husband and I did not set out for first class tickets.  Quite the contrary, we didn't even consider them.  We assumed they would be completely out of reach and as we already went over, who brings a baby in first class??  Well it turned out that we could actually get 2 first class tickets for cheaper than 3 coach seats.  Our toddler was just under 2, so he was still eligible to sit on our laps but we really wanted our own row.  So this actually made first class the cheaper option for us!  (Here's an extra little tip…check with Delta on first class seats first.  They claim to offer more than any other airline, which means you can usually get them cheaper).
No Lines Through Security
Heading to the airport I knew that the flight would be more comfortable – I mean, that's the whole point of first class, right?  What I totally didn't realize was that the perks start the minute you get to the airport – NO SECURITY LINE.  You will be shuttled around everyone through a special line that basically brings you right to the front.  Think about how much your toddler enjoys waiting in line and then decide whether this reason alone makes it worth it.
You're First On and First Off
Some of the nicer airlines extend the courtesy to parents of letting them get on first to get themselves situated – but not a single solitary one gives parents the ability to get off first.  So you wait and wait and wait half standing while your toddler screams.  Not in first class.  I didn't even have enough time to get my stuff together before the doors were opened and we hustled out!  Which brings me to the next awesome perk…
You Get Your Own Overhead Compartment
This was another awesome surprise perk for me – each pair of seats gets their own overhead compartment!  Which means you don't need to worry that the diapers will be out of reach or that someone is going to knock over your spare sippy cup.  It's ALL yours.
There's Tons of White Noise
I was so worried about disturbing fellow passengers that I spent the week leading up to our trip trying to get my son to love his new pair of headphones so that he could watch some videos in silence on the flight.  Well, not surprisingly he wouldn't wear them for more than 2 minutes, so I was shaking in my boots thinking about how he was going to react to the muted version of Mickey Mouse.  But the second the plane started taxiing down the runway I couldn't believe my ears – you're so close to the engine that there's more than enough white noise to totally drown out any minor noises. We were able to play Mickey Mouse the entire flight and not a single person had any idea what was going on.
More Privacy
This is a no-brainer and one of the biggest reasons we went with first class in the first place – you get way more privacy.  This means you can breastfeed without people watching, wrestle your toddler without weird looks, and help them fall asleep with way less interruption.
More Room
Another no-brainer, but also the biggest and most amazing perk of all.  Not only are the seats larger, which means more comfort for you especially if you're holding a baby, but there is a TON of space in front of you.  We had so much room between us and the wall that our son was actually able to sit on the floor in front of us and play with his toys.
Free Drinks, Food, and Snacks
I knew first class got free food and drinks, but what I didn't know was that they're actually waiting for you when you get to your seat – a bottle of water right away! And while this perk wasn't a surprise, it was still a huge factor in making our baby more comfortable.  He fell in love with the free cookies and was excited every time the flight attendant came around (which was frequently).
More Entertainment Options
Here's the name of the game when flying with your baby – entertain, entertain, entertain.  Eventually they'll just pass out from exhaustion and then you've won (and can enjoy your free cocktail). You will presumably have already brought their favorite books, toys, and games, but first class offers another fabulous perk – your very own TV with it's own kid station.  And since kids seem to be able to watch the same thing over and over and over again, you will be set for hours.
Bags Come Out First
As a typical coach flyer I had absolutely no clue that this perk even existed, but if you've ever flown into Philadelphia International Airport you may be willing to pay the premium prices just for this privilege – your bags come out onto the carousel first.  So if you're wondering why you're always the unlucky person whose bags are always last, take some relief in knowing that you're not unlucky – you just weren't flying first class.
Here's what I really want you to know – after considering, comparing, and experiencing the benefits and cost of first class tickets, I will never, ever, ever fly coach again with a baby unless I absolutely have to.  After both legs of the trip, my husband and I both commented on how stress-relieving the experience was.  That's stress-relieving, not just stress-free…we actually felt better after the flights than we did before them.
If you're looking for more travel tips for your family, be sure to check out my Pinterest board dedicated to traveling with the family!
Follow Nikki @ MBAsahm's board Traveling with the Kiddos on Pinterest.