For quite a few months I've been an aspiring vegetarian and while I'm not quite there yet, I'm a thousand times closer than I once was.  Obviously one of the biggest challenges has been finding new and delicious vegetarian recipes that satisfy my craving for meat (and fill me up) – and this is definitely one of them.
I originally found inspiration for this cauliflower recipe on Pinterest (where else??) and have perfected it over the dozens of times I've made it.  This is now my go-to recipe when I'm craving something bbq-ish and it ALWAYS does the trick.  It's not the healthiest veggie meal because of the BBQ sauce and cheese, but it's still completely vegetarian, which is healthier anyways.  It also doesn't require a ton of ingredients (most you will have on hand anyways) so it's cheap and easy to make last minute.  Cauliflower can be kept for a while in the fridge, so I basically just always keep one in there!
So without further ado, here's my recipe and directions for BBQ cauliflower with goat cheese: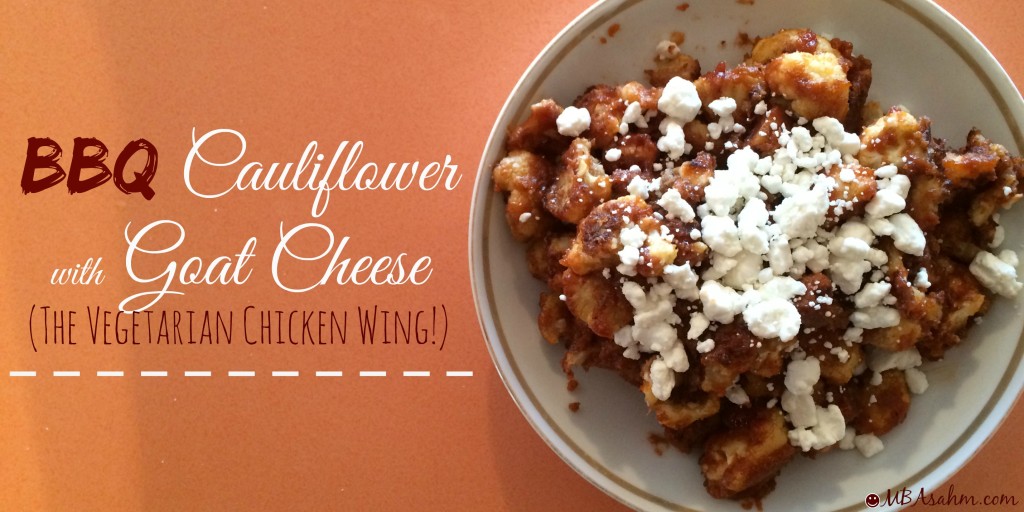 Ingredients
The ingredients are simple:
1 head of cauliflower (depending on the size, 1 head will produce between 1-2 large servings)
olive oil
whole wheat flour
BBQ sauce (I go for the sweet and spicy varieties)
goat cheese (crumbled will make your life easier)
Directions

Start by washing the cauliflower and pulling it apart into bite-sized pieces.
Put all of the cauliflower pieces into a wok or shallow pan with some olive oil on high heat.  Saute the cauliflower until it is browned.  The longer you saute, the softer the cauliflower will be (I tend to like it on the softer side, so I saute for a while – 15-20 minutes.)
When your cauliflower is finished, sprinkle it with the whole wheat flour and mix completely until the cauliflower appears breaded (it will actually look like chicken nuggets!).
Add some BBQ sauce and toss until the mixture is even.
Put into a bowl and sprinkle with goat cheese!
This dish is really filling so it's more than enough as a meal, but can also be a fun side dish.  And obviously it is perfect for times that you need to suppress a BBQ craving but don't want the meat!
Enjoy!
For more meal ideas, check out my vegetarian Pinterest board!
Follow Nikki @ MBAsahm's board Vegetarian Dishes on Pinterest.