One of my favorite parts of the holiday season is opening up Christmas cards from family and friends…especially the photo ones!
So each and every year I am twisted apart trying to figure out what to do with them when the holiday season ends.  Throwing them away seems awful, saving them seems pointless.
So I end up making a choice – some stay on the fridge permanently, some sadly head to the trash.
Until this year.
Finally, I came up with a way to not only save them, but actually give them a practical purpose!
Ready for it???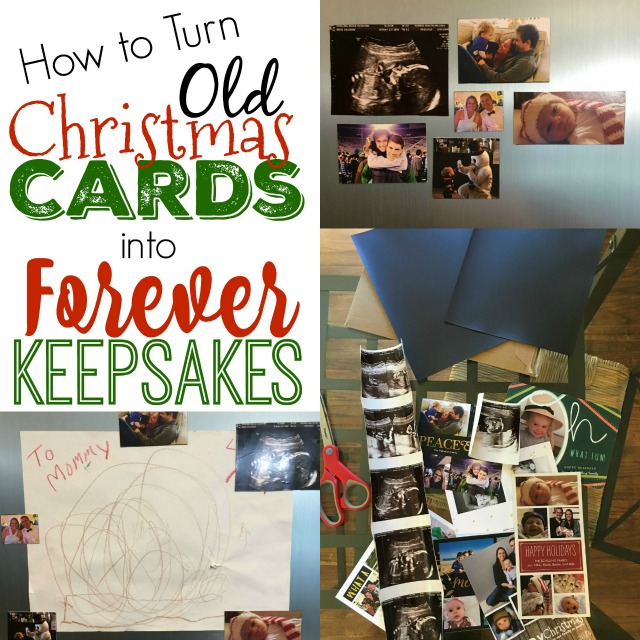 I turned them into magnets!
How to Turn Your Old Christmas Cards into Magnets
Turning your old Christmas cards into magnets is unbelievably easy.  You don't have to be crafty and you need very few supplies.  In fact, assuming you have a pair of scissors lying around somewhere, all you will need are these adhesive backed magnet sheets.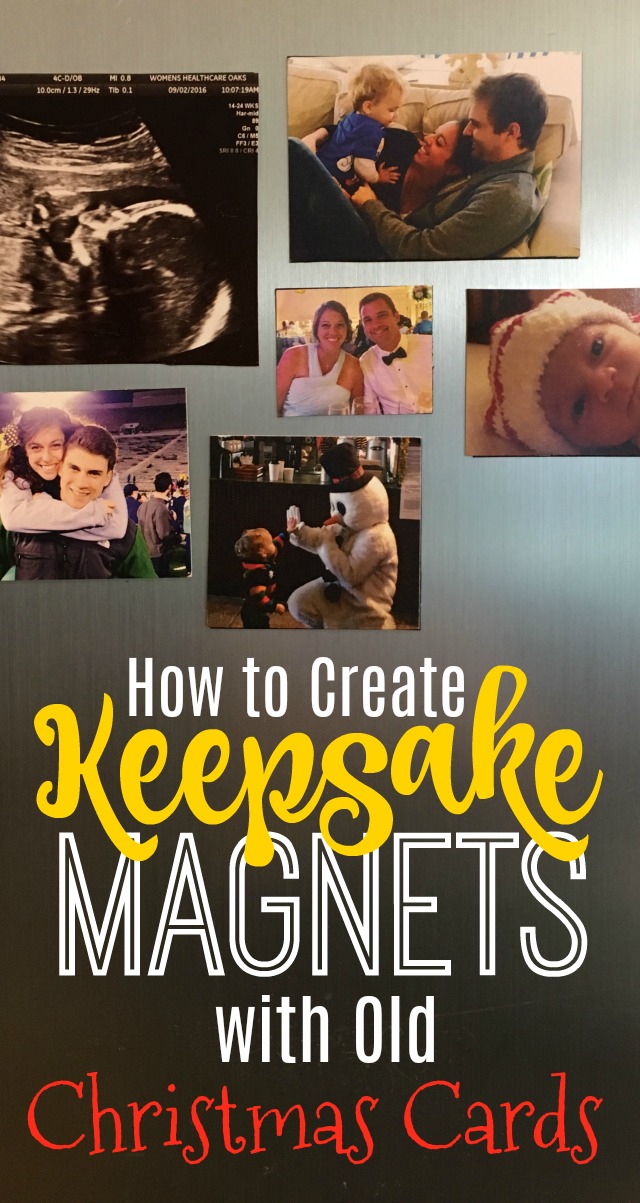 Here's what you need to do:
Pick out the holiday cards that you want to use.  Remember to double check the back of the card because you will only be able to use one side!
Cut out the pictures you will be saving and discard the extra scraps that are leftover.
Position the cutout over the magnet sheet (do not remove the adhesive yet!) and either trace the picture or cut around it.  If you cut around it, make sure that the magnet is not larger than the photo (you may need to go around one extra time to take a little extra off).
Once the magnet and the photo are the same size, remove the adhesive cover from the magnet and stick it to your photo!
Here's where you can get the magnetic sheets → Adhesive-backed Magnet Sheets
It's really that easy!
Some Extra Tips to Keep in Mind
The process is so unbelievably simple, so there's not much of a tutorial to provide, but here are some extra tips to keep in mind:
You do not need to limit this to Christmas cards!

I have done this with extra ultrasound pictures as well as some of my son's school artwork.

It's a good idea to keep the magnet portion the exact size of the photo.

 There's 2 reasons for this: 1. It will help to maintain the quality of the photo. Otherwise, there will be bending and warping, and 2. If you have little ones around, a large magnet is much safer than a small one.  

You never want to take a chance that your little guy could swallow a magnet

.

As I said earlier, make sure you check the back of your photo card first.  I had quite a few that had pictures on both sides, so I had to make a decision which to keep.
I hope this idea helps you to preserve some of your holiday memories!  Come back and let me know how it goes!
---
If you'd like more tips on reaching financial freedom, living a fulfilled life, and raising happy kids, subscribe to MBAsahm for notification of new posts!
---