2 is such a fun year and these Easter basket ideas for 2-year old girls will make Easter morning SO MUCH FUN!
You can opt for educational toys, arts and crafts, outdoor toys, and of course – adorable toddler accessories.
This is one of the best holidays because you can introduce them to so many fun spring and summer activities.
I hope these toddler Easter basket ideas are exactly what you're looking for. Good luck with your Easter basket shopping and have a great holiday with your 2-year old!
---
If you'd like more inspiration on parenting and raising happy kids, subscribe to my Parenting List for notification of new posts. Thanks for your time!
---
Some links on this page may contain affiliate links. For more information, see my disclosure policy.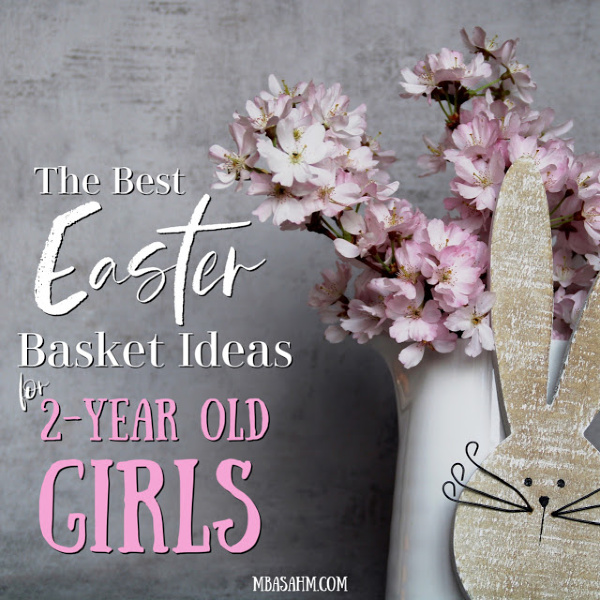 Bubble Machine
Nothing says "hello summer!" like this bubble machine and I'm telling you, your toddler will LOVE this.
This machine will spray a constant stream of bubbles into the yard for your child to run through as if they're in a wonderland. It's amazing!
This bubble machine has been a favorite for both of my kids and 2 is when they both fell in love!

Toddler Sunglasses
Toddler sunglasses are a must for Easter baskets since summer is right around the corner.
Not only are they completely adorable, but toddlers really should get used to wearing sunglasses to protect their eyes, so this is a total win-win!
Luckily, most like 2-year olds LOVE putting on sunglasses, so this is something you'll both enjoy.

Easter Pajamas (with matching doll pajamas!)
I LOVE pajamas for my kids…and these toddler Easter pajamas actually have a matching set for your toddler's favorite doll!
Pajamas are a great idea for toddler Easter baskets because you need them anyways AND they get really excited about pajamas.
This is also a really fun tradition to start and one that they will really start to look forward to.
Toddler Easter Books
Easter books are one of the greatest Easter basket fillers for 2-year old girls. They're learning so much right now and books are a great way to introduce them to new things.
Plus, there are a ton of really cute toddler Easter books out there!
Here are some really cute ones to consider:
Sidewalk Paint
I'm a huge fan of sidewalk chalk in Easter baskets, as well as finger paint for 2-year olds, so when I discovered Sidewalk Paint, I nearly lost my mind!
This takes driveway fun to a whole new level.
And this set comes with both sidewalk chalk and sidewalk paint, so your 2-year old girl can experiment with both!
Toddler Bows
Bows are, without a doubt, one of the best Easter basket ideas for 2-year old girls.
There are soooo many cute bows out there, but the ones I've fallen in love with are these.
They have dozens (if not hundreds, seriously) of designs, including some really fun ones (like this set that includes little fish!).
If your 2-year old is a regular pigtail wearer then you will want to order 2 of the same set so that they are matching (this is what I do!).

Star Gazing Lamp
This star lamp was one of the biggest hits for my 2-year old and, more importantly, was a critical element in getting her to sleep alone in her new toddler bed, which is a new addition for most 2-year olds!
Once it gets dark, the light will project stars onto the ceiling, which is so much fun for them.
This is a great way to get them excited about sleeping alone, as well as being ok in the dark.
And of course, 2-year olds are starting to get really interested in the sky and the world around them, so stars are a lot of fun.
Toddler Jewelry
Toddler jewelry is one of the funnest Easter basket ideas for 2-year old girls.
They get so excited to dress-up and they look SO adorable when they put it on!
There are a lot of fun sets, but this is definitely one of the cutest and it comes with a little purse for them to put everything in!
Duplo Lady Bug Set
This little lady bug Duplo set is the perfect Easter basket filler for 2-year old girls that love to play with blocks.
It's easier than LEGOs, but helps teach them how to actually build something.
As a great bonus, this is a really inexpensive toy to add to the basket and it's a fun spring theme!
Toddler Socks
Toddler socks are a really fun addition to a little girl's Easter basket (you can't get enough socks!).
There are some really adorable toddler socks out there, but my absolute favorite are EZ Sox.
They have little loops at the tops that help your little girl learn to put her own socks on!
And of course, they have adorable designs. I've been using these for both of my kids for as long as I can remember and they NEVER fall off (major bonus!).
I hope these Easter basket ideas for 2-year old girls are what you were looking for! Have a great Easter, spring and summer. Enjoy this time with your toddler!

You may also be interested in:
---
If you'd like more inspiration on parenting and raising happy kids, subscribe to my Parenting List for notification of new posts. Thanks for your time!