Seven layer cookies are possibly my favorite cookies of all-time.  They are surprisingly easy to make, but your guests will think you are Julia Child when they eat these.  They are rich, delicious, and absolutely perfect for the holiday season. THIS is what I will definitely be making. 😉
It's a pretty fool-proof recipe, so odds are you can't mess this one up.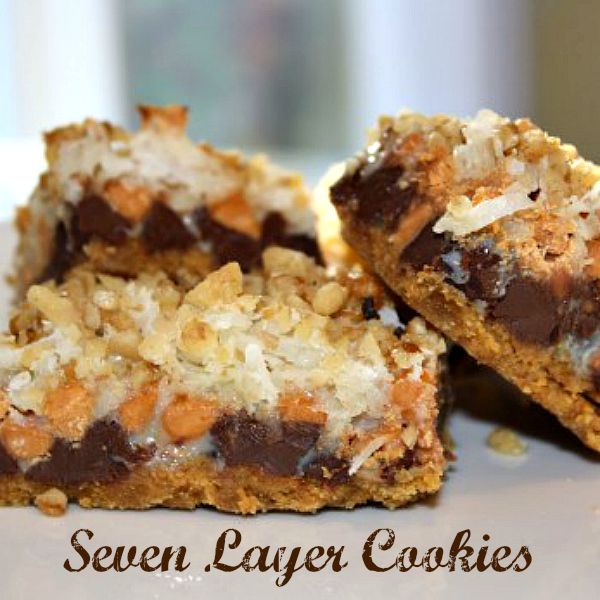 Here's what you'll need:
½ cup of melted butter
1 cup of graham cracker crumbs
1 bag of chocolate chips
1 bag of butterscotch chips
1 cup of shredded coconut
1 can of condensed milk
1 cup of chopped walnuts
I know, it sounds delicious already…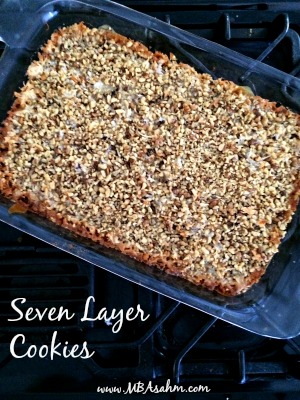 And here's what you do:
Preheat the oven to 350 degrees.
In a 13×9 baking dish, pour the melted butter and make sure it is spread throughout the pan.
Spread the graham cracker crumbs evenly over the butter and pat down to form a crust.
Sprinkle the chocolate chips evenly.
Sprinkle the butterscotch chips evenly.
Sprinkle the shredded coconut evenly.
Drizzle the condensed milk over everything evenly.
Top with your chopped walnuts.
Bake for 30 minutes.
Remove from oven and allow to cool.
For best results, you should make these 1 day ahead of time so they have enough time to cool.  One of the greatest things about seven layer cookies is that they do not really get stale, so they will last a really long time.
Enjoy!