The ABC's are one of the funnest things to start teaching your toddler – assuming they're interested in learning. Luckily, there are so many different ways to incorporate the ABCs into their day – and more importantly, a billion ways to start exposing them to their letters so that they start to pick it up on their own.
Having a late talker, we were obsessed with learning the ABCs, so I've tested out more than you can imagine.  Here are some of the coolest ideas I've come across, as well as some new fun things to try: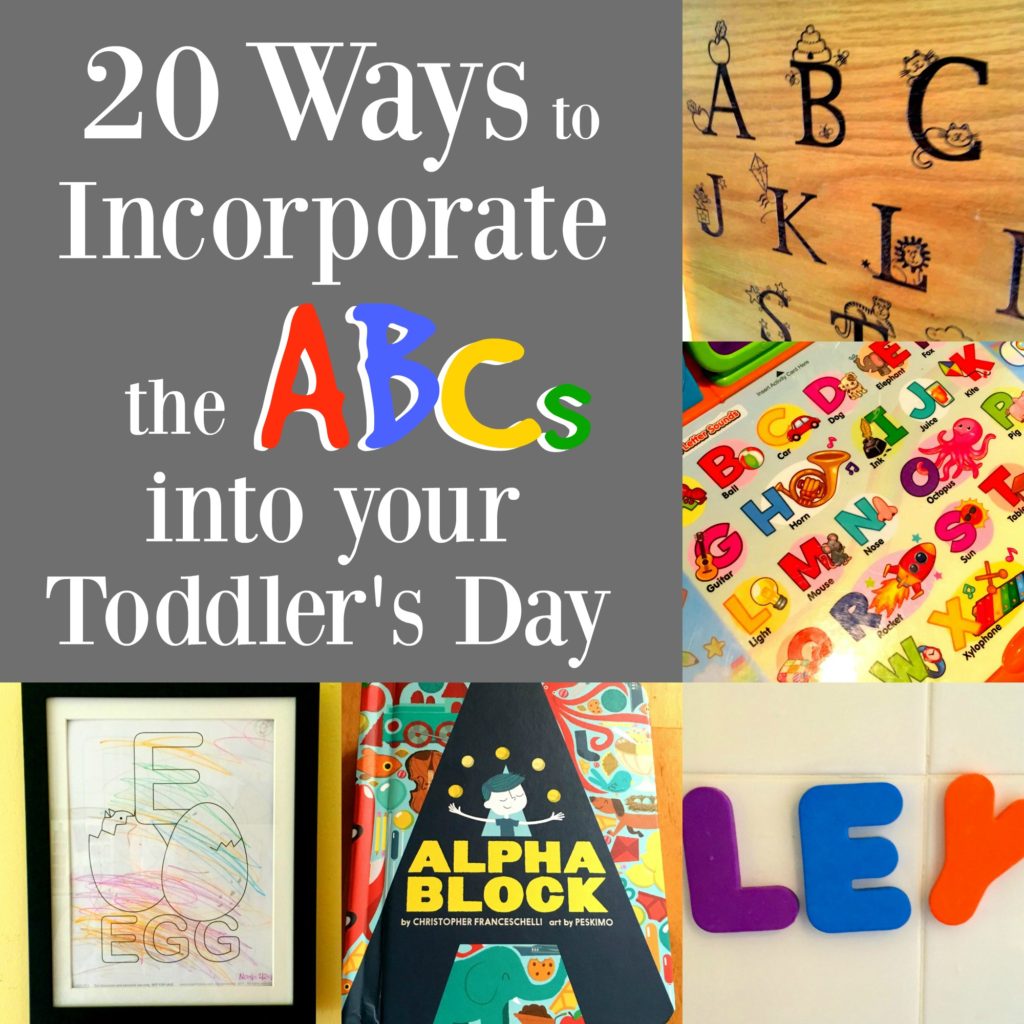 Bath Letters
My son could spend a whole hour playing in the bath, so I've definitely taken advantage of the opportunity to add some educational bath toys into the mix. One of the best (and most essential) toys we have is a set of bath letters that stick to the wall.  They're all different colors, so not only is my son learning his letters, but he's working on his colors at the same time.  And of course, this provides a great and easy transition to start learning words once the letters are mastered.
Letter of the Day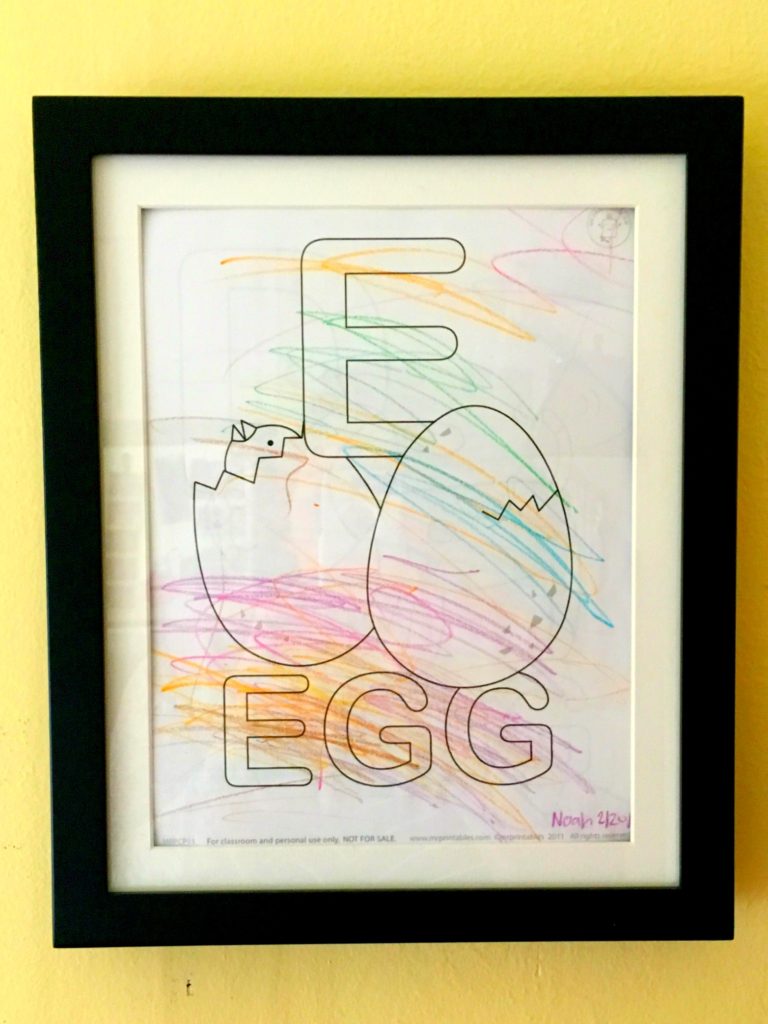 There's a lot to be said for just focusing on one letter at a time – and it can be a lot more fun for your toddler!  I came across a great set of free Letter of the Day (or Week) printables from Mr. Printables (you can get the printables here → Mr. Printables Letters of the Week).  Whenever we have time, my son gets one and colors it while we talk about it.  As an added bonus, you can hang them up after they've finished their masterpiece so they can see it all day (or week!).  (We hang all of our pictures in a Lil Davinci picture frame…if you haven't seen these, you have to check them out!  They're a great way to store all of your kids' artwork.)
Singing while Brushing Teeth and Washing Hands
Singing the ABC's is a no-brainer if you want to teach your toddler the ABC's, but picking specific times to sing it throughout the day makes it more predictable and impactful for your little one.   We sing the ABC's every time we're brushing teeth, washing hands, and before we go to bed.  And of course, if you're stuck in the car or need your toddler to be patient, singing is always a distraction worth trying.
Games & Activities
My son is finally getting to the age where he enjoys sitting down and completing an activity.  A lot of educational activities for toddlers are actually really fun for them, so it's usually not that hard to get him playing for a bit…even if it's only 15 minutes. 🙂  Here are some great ABC activity and game ideas that have worked for us (or will be coming up in the mix!):
Activity Desk
We got this activity desk for my son's second birthday because it was rated as one of Amazon's best sellers and holy moly, what an amazing addition to his toy collection!  Age 2 is right around when we started to get a ridiculous amount of (unwanted) pressure to get my son talking more, so this really came in handy.  And he LOVES it!  There are a ton of activities for them to do, but the main one is based around the alphabet.  They are prompted to pick out certain letters or objects and can sing along with the ABCs.  Of all the "larger" toys that are available, this is by far my favorite and definitely gets the most use (more than even the uneducational large contraptions – the play kitchen, tool bench, car emporium, etc).  It's not too expensive, so I highly recommend this as an addition to your playroom, especially if you plan on having more kids down the line!  
Name Art
We've got a new baby on the way, so re-decorating the kid room is not surprisingly at the top of my mind.  What I didn't realize until now, however, is that incorporating "name art" is more than just a cute way for me to celebrate their arrival.  When they're constantly seeing their name spelled out, it will be one of the first words they learn to spell!  Not to mention that they'll have those names mastered.  And if you're really creative, then go beyond just their name and hang up some other inspirational words.
There's no way I can top some of the brilliant ideas you can find on Pinterest, so here are some links to some of my favorite ideas for creating your own name art (courtesy of Pinterest of course):
ABC Books
This is an obvious way to incorporate the ABC's into your toddler's day and probably one of the easiest.  And there are some amazing books that make learning the ABC's a ton of fun.  We read before bedtime and naptime and pretty much any other time my son requests it (leave the books lying around and you might be surprised how much more reading you do!).  Here are some of the best ABC books that I've come across:
Bedroom Decorations
This started unintentionally, but then I realized how powerful it was to have the ABCs all over the place!  When we decided to get my son a nice big toy box, we opted for one that had the ABCs beautifully carved into the side (this is the one we have → Wooden Creations ABC Toy Box…it's pricey, but totally worth it!  It has a mechanism that prevents the lid from falling and will definitely last forever).  Not only does it look nice, but he became obsessed with sitting in front of it and singing the ABCs! It's been an unbelievable tool in teaching him his letters.  
Here are some other great ideas for ABC bedroom decor:
ABC sheets

(these work for toddler beds and cribs – not twin or queen beds)
Good luck with your ABCs!  Let me know what worked in your house!