Nothing makes me happier than coming across an amazing book that completely changes your life.  The ones that get you so excited in the morning that you achieve way more than you normally do.  You have an extra beat in your step.  You exercise more, you eat better.  You smile more and you sleep better.  
These books literally have the power to transform your life. They're so good that they should be reread them every single year (which is what I try to do).
So what are these amazing books? The best of the best?  The ones you should definitely reread every single year?  😉  Here they are:
---
Some links on this page may contain affiliate links. For more information, see my disclosure policy.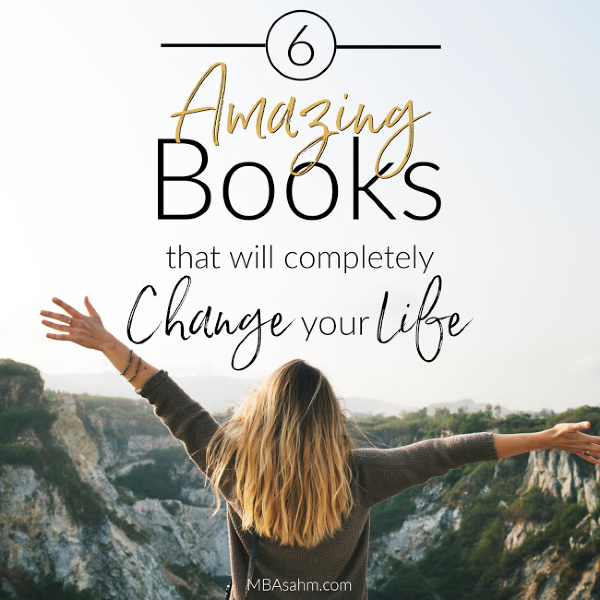 If you want to give Audible a try, you can sign up for a free trial and get two free audio books right here – Audible Free Trial + 2 Audio Books

The Miracle Morning
The Miracle Morning is probably my favorite book of all time and I most definitely reread it multiple times a year – it has basically become a reference book for me.  
Basically, the author shows you how to completely transform your life by changing your morning routine…and IT WORKS.
There are 6 different phases he talks about that each have a huge impact, so putting them altogether is truly transformational.  I don't want to give everything away, so just go read this one!
Related post: How The Miracle Morning Will Transform Your Life
The Life-Changing Magic of Tidying Up
If you haven't heard of The Life-Changing Magic of Tidying Up book before, you probably think I'm totally nuts.  I mean, the title says it all….the book is actually about cleaning up.  
BUT before you scratch this one of your list, you should know that it truly is life-changing magic.  You won't believe how much happier you are after reading this book and IT WILL motivate you to purge a ton of your useless belongings.  
The less clutter you have in your life, the less clutter you have in your mind.  
Related post: The Next Book You Have to Read: The Life-Changing Magic of Tidying Up
Secrets of the Millionaire Mind
Whether you like it or not, finances monopolize so much of our life – so there has to be a finance book to reread every year!  Secrets of the Millionaire Mind is definitely that book.  
What I love the most about this one is that it doesn't focus on things you should be doing…it focuses on things you should be thinking.  And changing the way you think changes the way you act (and in this case, the way you save, spend, and invest your money).
Related Post: The Next Book You Have to Read: Secrets of the Millionaire Mind
French Women Don't Get Fat
I don't want to push you towards reading diet books because a lot of them aren't really sustainable. Sure, they're great for jump-starting a diet, but they don't actually last.  French Women Don't Get Fat, however, is a bit different.  
It will really open your eyes to major lifestyle adjustments that will not only help you keep your weight in check, but actually make you enjoy your food better.  
It makes you healthier, which should always be the focus.  If you lose weight in the process, then good for you – but that's not really the point of this one.
The Secret
The Secret should really be at the top of my list because it was one of the first truly inspirational books I ever came across.  
It does, however, require an open mind (which is why it's not first ;-))!  Basically, "the secret" is the law of attraction.  If you truly believe, it will happen!  
I know it sounds crazy, but I'm telling you, this book will make you believe.  And better yet – if you're worried you don't have time to read the book, there's a documentary that goes along with it.  And THAT is definitely worth watching.  
The Secret is amazing for those times that you're just lacking motivation to do anything – it will pick you up in a second!
Related post: 5 Documentaries that Will Inspire You to Change Your Life
You Are a Badass: How to Stop Doubting Your Greatness and Start Living an Awesome Life
Within 5 minutes of Reading You Are a Badass, I knew I had a new favorite book.  And that is not something I take lightly!  I read a lot of books and for quite some time, this list was only 5 long…and now it's 6.  
Jen Sincero is brilliant and finds a way to make self-helpery hilarious.  Not only is this book funny, but she manages to pack in information found in almost every other book mentioned on this list!  Make more money, love yourself more, be happier, find your purpose, live the life you want, take advantage of the law of attraction.
This book is literally for everyone.  After reading this from the library, I immediately purchased so that I could read again and again.  This one is a winner!
I hope this list was helpful! Let me know if you've got any life-changing books of your own! I'm always up for finding a new one.