Over the past 4 years, I've had a crib-sleeper, a co-sleeper, an in-his-own-room sleeper, an only-in-your-arms sleeper, and a next-to-my-bed sleeper…and that was just one child.  Now I have a newborn, so the joy starts all over again…and this time with two to juggle. While I love co-sleeping, the fear that's been instilled in me has led me on a search of all the possible co-sleeping alternatives. And luckily, there are quite a few (looks like I'm not the only one trying to make things work).
So if you're wondering what your options are if your baby or toddler wants to co-sleep, but you (or your spouse) really aren't into it, I've got you covered!  Here are some of your other options:
Related post: 12 Ways to Make Co-Sleeping Safer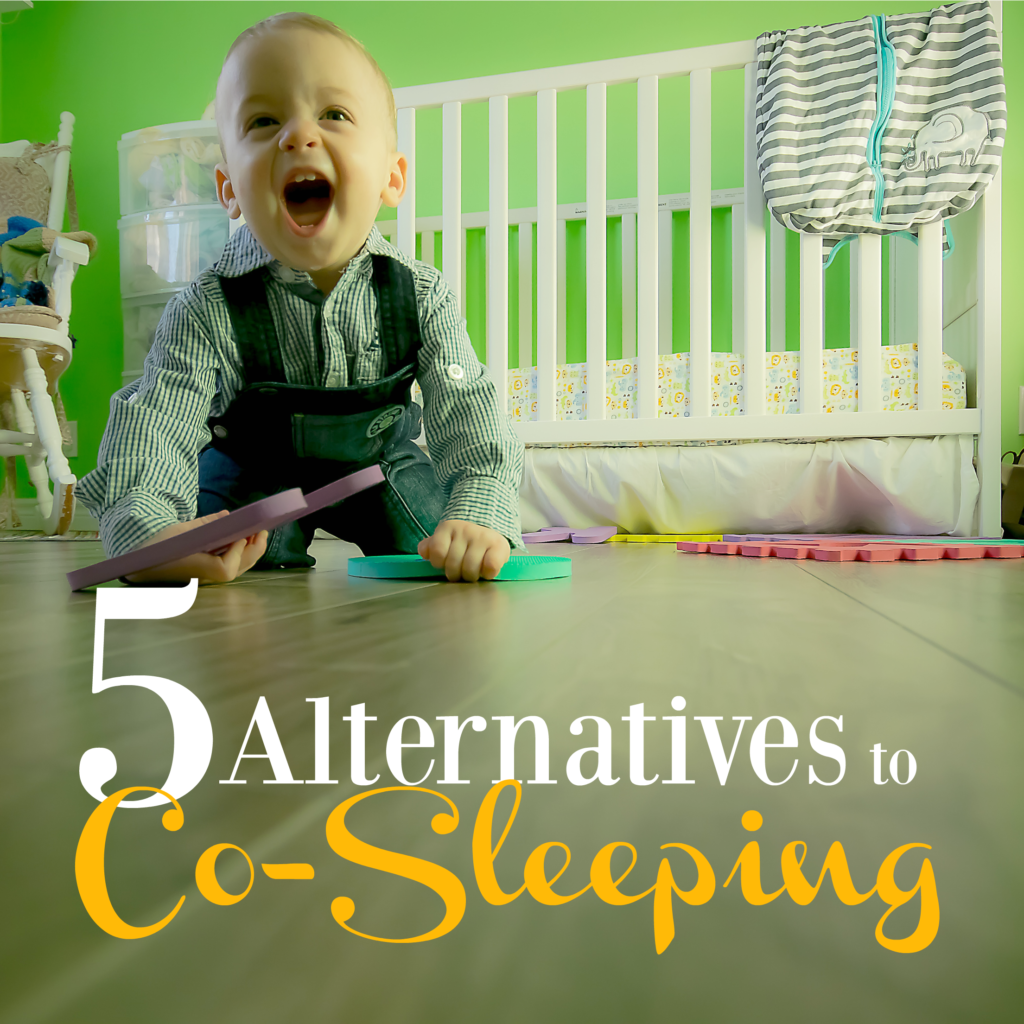 In Your Room in Their Own Bed
When my son was 2 ½ , I got pregnant with our second child.  By that time, we had finished co-sleeping and had successfully transferred him to his own bedroom.  The only problem was that it still took a fair amount of time to get him to fall asleep (reading, singing, waiting…) and my pregnancy just proved to be too much.  Sitting on his floor became physically and mentally exhausting, so I had to come up with another plan.  My husband refused to go back to all-out co-sleeping, so we compromised – our son could sleep in our room, but not in our bed.
This was the greatest thing that ever happened to me…at least to the desperate, pregnant me. And it is still what we're doing.
We have a small room, so it's impossible to set up a permanent bed for him.  So instead, we have a fabulous travel toddler air mattress that we started to use right next to my side of the bed. It ended up being the best arrangement ever.
Here's what happened:
We stopped needing a toddler-centric, exhaustive night-time routine.

 He was so happy to go to sleep in our room that there just wasn't the need for it.

He started napping 2 ½ hours a day.

Seriously. His bedtime shifted to match ours (9pm-ish to about 7am-ish) and at 1pm he would happily and consistently nap until 3:30pm.

My husband and I were able to spend our nights together.

 Again, my son was so happy to just be in our room that he didn't need (or even want) us to entertain him.  We set up his air mattress and he is allowed to play on his kid-proof Kindle Fire or read his books.  While that's happening, my husband and I can watch a show together, read our own books, or do whatever it is we want.

He started to really, truly sleep through the night.

10 straight beautiful hours.  No lie.
If you're struggling with a co-sleeping toddler, I highly recommend you give this a try.  It seems a little crazy, but if you've been sleeping with a toddler for 2+ years, then you probably already are a little crazy. 😉
Related Post: 10 Tips for Transitioning Your Co-Sleeping Toddler to Their Own Bedroom
The HALO
This product either didn't exist or wasn't nearly as popular when I needed it 4 years ago.  Unfortunately, amidst our varied sleep situations, we've removed our bed frame and box spring to make co-sleeping safe, so the bed is just too low to make it work.  Otherwise, I would be all over this thing with my newborn.  
Related post: 12 Ways to Make Co-Sleeping Safer
Not only can you move it to be right over the bed, but the sides of it are flexible, so you can pull them down with your arm.  This means you can actually rest your arm over your baby while you're in their bed and they're in the HALO!   
If you have a baby that is struggling to sleep in their crib at night and you're nervous about co-sleeping, this may be something you want to try out!
Co-Sleeper in Your Bed
This is another option for a little baby and it's way cheaper than the HALO.  This sits in the middle of your bed, just as if you are co-sleeping, except your baby is more protected with side rails.  
If you're excited about your baby being in bed, this may be the best choice for you.  
And as an added benefit, it's perfect for traveling.  
Co-Sleeping with a Bed Rail
Co-sleeping with a bed rail is not exactly an alternative to co-sleeping, it's more of a variation.  But depending on your situation, it could make co-sleeper way easier, more comfortable, or just plain possible.
Most bed rails (if not all) are not designed with co-sleeping in mind, so you have to be careful to take extra safety precautions to make sure you have a safe sleep environment for your baby.
If used safely, however, a bed rail can be very helpful for couples that aren't able to move their bed up against a wall or in cases where one of the adults is a heavy sleeper.
Related post: Co-sleeping with a Bed Rail: Everything You Need to Know
Co-Sleeping Siblings
When I first read about sibling co-sleeping and realized it was a thing, I was soooo excited! Instead of you sleeping with them, you just let them sleep together. This isn't something you would want to do with a baby, but once your baby becomes a toddler, it's totally a possibility.
Obviously this is something that you wouldn't want to force on your kids, but if they are close in age and you're looking for a good way to transition them out of your bedroom, this may do the trick.  
Just make sure to keep things safe – put the mattress on the floor, up against a wall, and make sure your kids are old enough.  And be sure to tell me how it goes. 😉  I can't wait until my kids are older…I will definitely be giving this a try!
Transition the Co-sleeper To Their Own Room
This is the obvious alternative to co-sleeping – transition them to their own room!
As I said before, we successfully transitioned our 2-year old from our bed into his room before we ended up transitioning him back into our room (for my sake).  I detailed what we did to get him there, so if you want to give this a try, you can read about it here:  10 Tips for Transitioning a Co-Sleeping Toddler to Their Own Bedroom.  
Good luck with your sleep arrangements!  Hopefully these co-sleeping alternatives will prove to be useful for you. And remember, they won't be sleeping with you as a teenager, so this won't last forever!  Try and enjoy it while you can. 🙂