When we were invited by friends to join them at The Crayola Experience, I was so excited for a new Philadelphia day trip to enjoy with our little guy.  I had memories of The Crayola Experience (though at that time we called it The Crayola Factory), but none of my memories compared to what it is now.  What an amazing trip!  I'm not exaggerating a bit when I tell you this was just as amazing for a 2 ½ year old as Philadelphia's Please Touch Museum – it was that cool!
The Crayola Experience is located in Easton, so it's a bit of a drive for some of the Philly suburbs (it took us 1 ½ hrs.), but there's so much to do there that it's well worth the drive. We were also pleasantly surprised by how nice Easton was, so there's lots of restaurants and shops to keep you busy if you want to hang around after The Crayola Experience.  We were there on a Saturday and a huge farmer's market was set up right in the center of town, so check to see if that will be there!  It was a lot of fun.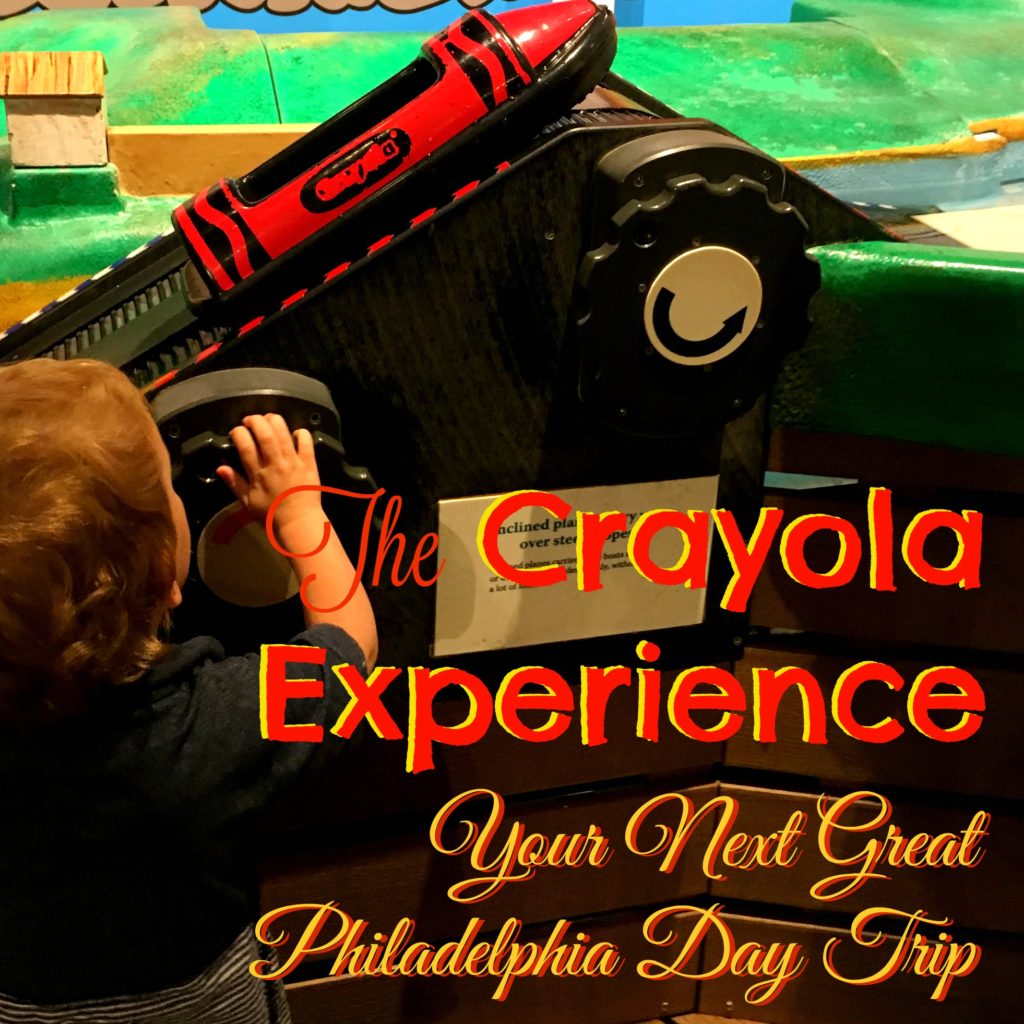 Now for the fun stuff!!  Why is The Crayola Experience so amazing?  And how in the world can it compare to The Please Touch Museum?  Here's the scoop:
Related post: The Please Touch Museum: Philadelphia's #1 Destination for Toddlers
Unmatched Interaction
I can not believe how interactive they made all of the activities!  Everywhere we went, my son was able to get his hands on something.  They had a massive water table, a two-story playground, tools and tables for model magic (Crayola's version of play dough), of course tons of opportunities for coloring, glow in the dark magic boards, and even painting with wax.  There was nothing here that you just look at – everything was meant to be played with and touched.
Everything Was Stroller Accessible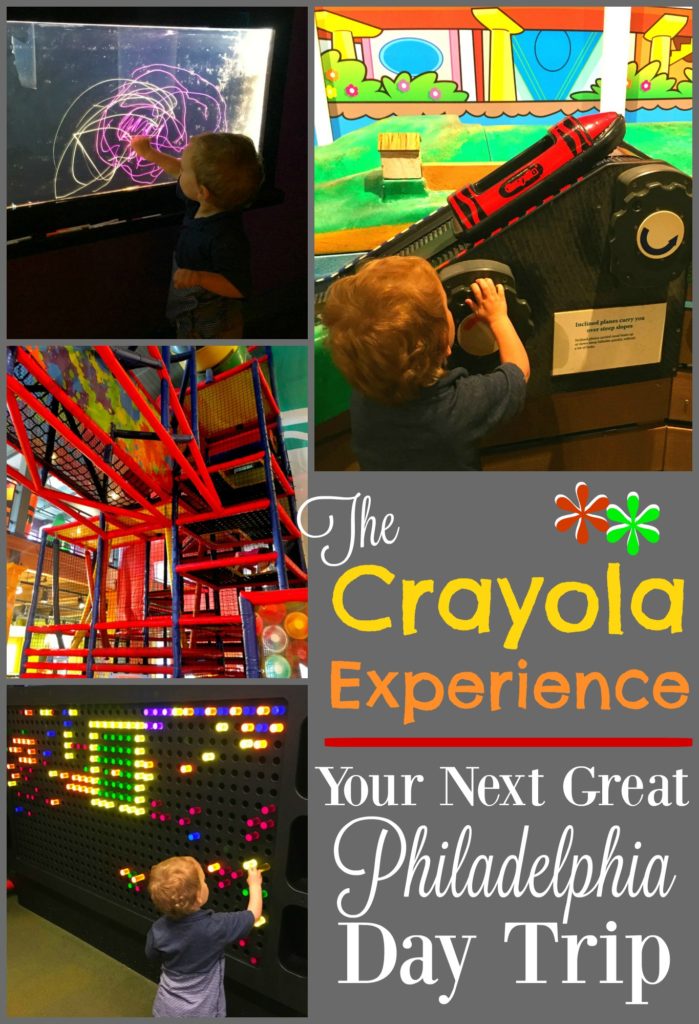 I'm more than just a fan of places that are stroller accessible – I'm almost entirely opposed to places that aren't!  The Crayola Experience was great.  There was a large elevator that could take you to each floor and every single exhibit had massive walkways that provided more than enough room for multiple strollers. Even though my son spent very little time actually in his stroller, it's just too scary of a situation to be out and realize that you wish you had your stroller. Carrying a 30 lb. toddler with your purse and their diaper bag is nearly impossible.  Plus, while he was running around, the stroller carried our stuff which was a huge relief.
4 Stories of Fun
The Crayola Experience was way bigger than I expected!  4 floors full of things to do and each floor had enough to keep you there for a while.  Most of the time it was our attention span that kept us moving – not my son's!  He could have stayed all day at some of the exhibits.  And the variety was amazing!  Every exhibit was different – certainly not just crayons.  
It's Something Different
I love finding anything new for my son – new playgrounds, new farms, fun museums, and any zoo.  But this was a totally new experience. It was actually really cool to see so many exhibits that stemmed from the crayon – yet somehow managed to be so different from each other.
It's Completely Indoors
I'm a big fan of the great outdoors, but there's something special about a place that provides refuge from the elements!  The Crayola Experience is perfect for hot summer days, rainy days, and of course the dreadful Philadelphia winter.
In the end, there's no question we will make our way back to The Crayola Experience.  I'm so glad we checked it out and can't wait until our next visit!  I highly recommend giving it a try the next time you're looking for a fun escape.