Looking for a good distraction to get you through the day, week or month? These feel-good documentaries will all do the trick!
They're full of inspiration, happy stories and even some great advice to help you reset your mind if you find yourself falling into a rut.
Most are on Netflix, Amazon Prime or HBO, so there's bound to be a few (if not all) that you can start to watch immediately.
Fill up your queue and enjoy!
---
Some links on this page may contain affiliate links. For more information, see my disclosure policy.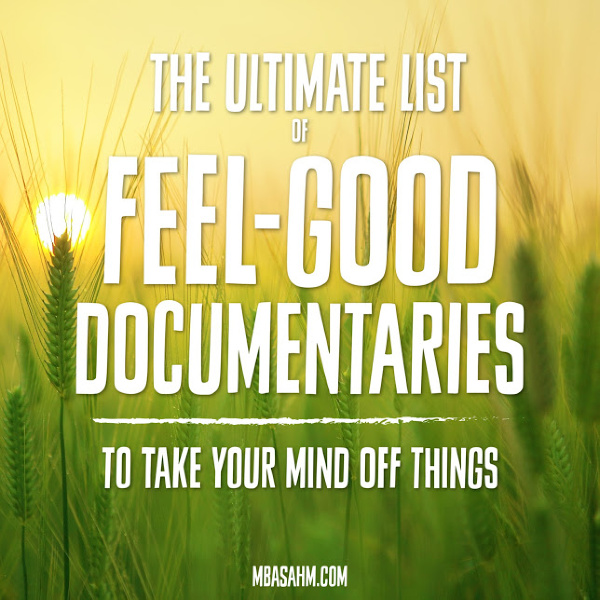 Happy
Happy is, not surprisingly, the king of feel-good documentaries…and its focus is all on happiness!
What's really amazing about this documentary is that it proves that you really can be happy no matter where you are or what your circumstances are…it's all a matter of perspective.
The film travels around the world to find out what factors create happiness, starting with those that are consistently ranked as the happiest, those with the longest lifespan and those with the most wealth (as well as those without).
The results aren't too surprising, but they still have a way of making you completely rethink your priorities…and that's a good thing!
If you're lacking happiness in your life right now, this feel-good documentary is the place to start!
The Secret
If there's one feel-good documentary that will really try to convince you to take control of your mind (for the better), it's The Secret.
This documentary has the power to be truly life-changing, so you have absolutely nothing to lose by giving it a shot!
The entire focus of the film is on the Law of Attraction and the immense power it has if you can figure out how to use it to your advantage.
The doc is full of success stories and people who have built their careers off of teaching and using and employing it in their own lives, so there's a lot of inspiration to get started.
This is a definite must-watch, feel-good Netflix documentary that should go right into your queue!
Searching for Sugar Man
Searching for Sugar Man may not seem like a feel-good documentary, but keep watching!
This underdog story follows the life of Rodriguez, a struggling musician in Detroit whose album somehow makes its way to South Africa. While there, the album multiplies and becomes a huge hit…big enough for Rodriguez to become known as the South African Elvis.
The catch?
Rodriguez never finds out about his fame! And in the pre-internet days, it is that much harder for South Africans to track him down.
This is one of the greatest documentaries you'll ever see and a definite must-watch! You won't believe it's actually a true story!
The Soul of Success: The Jack Canfield Story
Remember those Chicken Soup for the Soul books?  Well, The Soul of Success: The Jack Canfield Story tells the story of their author, Jack Canfield…and his life isn't just about the books.
Coming up with the concept and selling the books was only the start of Jack's career and the rest is based entirely on motivating people to achieve their dreams.
And in many ways, that's what this documentary does.
Canfield is definitely an inspirational person with a great success story that will certainly put a smile on your face.
This is a great feel-good documentary to get yourself motivated and focused on your own happiness and success.
Brene Brown: The Call to Courage
Brene Brown's rise to fame came from an unlikely place: her life-long study of shame and vulnerability. Her work led to an unassuming TED talk that turned into one of the most-watched TED talks…and made Brene Brown one of the greatest motivational speakers of our time.
Her inspirational documentary, Brene Brown: The Call to Courage, talks about her findings through studying vulnerability and, more importantly, how we can find joy in our life by embracing and working with our own vulnerability.
In addition to a lot of great advice, Brene is an unbelievable presenter that is funny, charming and believable.
This is a great feel-good documentary on Netflix that will not only change your mood, it will most likely also change the way you think and take action.
It's a must-watch, especially if you need to feel better about something and change your thinking, so definitely add it to your Netflix queue!
Chef's Table
What good is a feel-good documentary list without a drool-worthy food documentary?
Chef's Table follows the world's greatest chefs as they create masterpieces made of food more delicious than most of us will ever get to try.
Each episode follows one chef as they tell their story about how they made their dreams come true. You get to see the hard work and perseverance that goes into such endeavors and, of course, the food looks outrageous.
This is the perfect feel-good documentary series to get your mind off our things and just admire good food and a great story. And since it's on Netflix, you can add it right to your queue.
Napoleon Hill's Master Key
Get your notebook ready because Napoleon Hill's Master Key is almost like a course on feeling better…by actually BEING better. 
This documentary – which will probably be the oldest documentary you ever watch – is a compilation of advice from a man who spent his entire life studying success.
If the name sounds familiar it's because Napoleon Hill is the author of Think and Grow Rich, one of the most successful self-help books of all time.
Hill spent his life working with some extremely influential men, all of which he's happy to tell you about in his equally influential documentary.
This is a different kind of feel-good documentary…but one that everyone should see! Add it to your list because you won't regret giving it a try (and if you do give it a try, it could quite literally change your life).
I hope you get a chance to watch every single one of these feel-good documentaries! They're the perfect way to turn around a bad day and change your mindset. Good luck!
You may also be interested in: