Finding the best gifts for 2-year old girls is one of the best jobs I've got. The toddler years are some of the best and they just get so excited for everything you give them.
You can opt for fun or educational toys, cute clothes and accessories, and even start to introduce easy arts and crafts!
All of the gifts on this list were huge hits with both of my 2-year olds, as well as all of their friends and family. You can't go wrong with these, so I hope they make your shopping easy.
Congrats on this fun milestone! Enjoy this year.

---
If you'd like more inspiration on parenting and raising happy kids, subscribe to my Parenting List for notification of new posts. Thanks for your time!
---
Some links on this page may contain affiliate links. For more information, see my disclosure policy.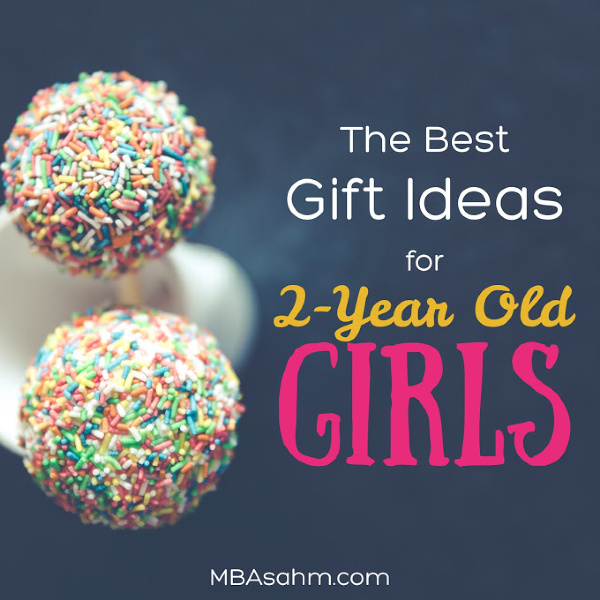 Water Table
If your 2-year old girl is lucky enough to have a yard (or even a deck), then this water table is the absolute best gift you can possibly get for them.
This is an outdoor toy that will not only keep them busy for hours at a time, but will still be useful years down the line.
It's much safer than a little kiddie pool and still gives them the ability to get wet, which is so great on hot summer days.
There are a lot of great gifts on this list, but this might be the absolute best one. You can't go wrong here!

Toddler Easel
This easel is such a fun gift idea for 2-year old girls and the perfect way to introduce them to arts and crafts.
It has two different sides, with 3 completely different activities that they can work on – a chalkboard, a white board, or good old fashioned paper.
This is a really great non-tech gift and as an added bonus, you can fold it to put it away, so it doesn't need to take up a lot of space.

Books for 2-Year Old Girls
You can't go wrong with books for 2-year old girls and luckily there are a lot of really adorable ones that they will absolutely love.
2 is a really important age for books because they are starting to learn so many new words and they'll really start to pick out their favorites (so get ready to read a lot!).
Here are some really great choices for 2-year old girls:
Fingerlings
Fingerlings were a surprise discovery for my 2-year old girl, but she became obsessed immediately!
They're these tiny little robotic animals that make noises when you move them, kiss them, or touch them.
They're the perfect size for 2-year olds and provide more interaction that other dolls that make noises.
These are really cute and a fun add-on to other gifts!

Bubble Machine
I can't say enough amazing things about this bubble machine.
This toy is BRILLIANT. It is an absolute favorite of my kids and will last well beyond the toddler years!
The bubble machine will blow a stream of bubbles out to your little girl without any effort, so you can have it on for her to run through or even just while she's playing with something else to make it a truly magical experience.
This is definitely one of the best gift ideas for 2-year old girls and something that every backyard needs to have.

Foam Bath Stickers
There are a lot of great bath toys for 2-year olds, but definitely one of the best are these foam bath stickers.
Bath time is really fun (and important) for 2-year old girls, so making it exciting for them is really easy!
There are so many things that they can do with these to have fun, but they also end up being educational, which is such a fun bonus.
Both of my kids ended up learning so much in the bath and these bath stickers were one of the biggest reasons!

Matching Egg Carton
This matching egg set was a huge surprise hit for my 2-year old girls and has so many unexpected things they will do with them.
Each egg has a color on the inside with a corresponding number, so only the correct color can perfectly match…which they will pick up right away!
They will also just play with the eggs, whether it be an egg hunt, kitchen set, or just taking the eggs out and putting them back.
This is one of those fun little toys that you can't believe you didn't think of…because it's so simple, yet so brilliant!

Dress-Up Jewelry and Accessories
One of the funnest parts of having a 2-year old girl is watching them transition from a little baby into a little girl, and with that comes really fun "girly" things…like playing with dress-up jewelry and accessories!
Toddler jewelry is a really good place to start with dress-up because they can play around with it, but they can also actually wear it out and still look totally adorable.
This is another really good add-on gift for 2-year old girls.

Cookie Jar
This cookie jar was such a surprise hit in our house and is now a regular gift idea for 2-year old girls.
It's a simple concept, but never seems to get old for these guys. They simply need to put the cookies into the slot in the cookie jar!
The cookies need to go in just right though, which is just enough of a challenge for them to keep them completely engrossed in what they're doing.
My 2-year olds both loved this gift and it's always one of the first that gets scooped up during playdates.
This is a really great choice for a 2-year old gift idea.

Stacking Peg Board Set
When my 2-year old daughter got this peg board set, I had never seen it before and had no idea whether she'd like it…but she fell in love with it!
I couldn't believe how quickly she picked up on it and how much fun she had with it.
There are different shapes for them to stack and everything comes in a little storage bag, which is really nice for traveling or just cleaning up.
This is a huge hit for 2-year old girls and a really great way to work their brains.

Activity Desk
This activity desk is one of the coolest toys for toddlers that is both educational and fun.  
It can do a ton of things – they can learn letters, colors, shapes, numbers, and tons of other things, they can use the chalkboard, or they can color or paint with the clipboard.
They can also just use the desk for any other purpose you'd use a desk for!
This was such a great discovery and one of the best toys both of my 2-year olds had! They loved it and so did I.
I hope these gifts for 2-year old girls help make your little one's day magical and special! Enjoy these moments and good luck with any shopping you have left.

You may also be interested in:
---
If you'd like more inspiration on parenting and raising happy kids, subscribe to my Parenting List for notification of new posts. Thanks for your time!