I can't tell you how excited I am at this discovery.  I'm a total LUSH bath bomb addict, but as you may or may not know, those things are expensive!  They are hands down the highest quality bath bombs you will find, but at $7-$8 a bomb, it becomes a true luxury.  
But I can't pay that much every time I want to relax in a bath!  
---
If you'd like more tips on reaching financial freedom, living a fulfilled life, and raising happy kids,
subscribe to MBAsahm
for notification of new posts!
---
Some links on this page may contain affiliate links. For more information, see my disclosure policy.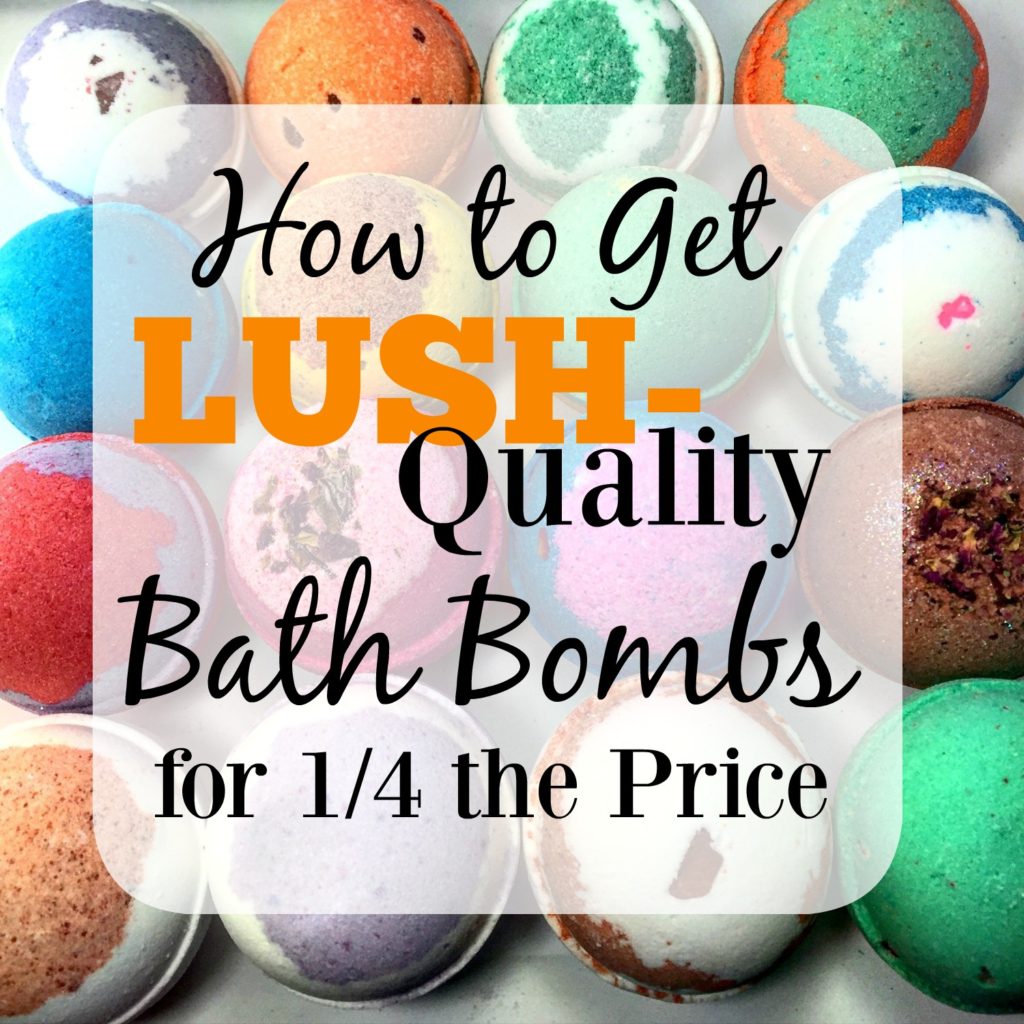 So needless to say, for years I've been on the hunt for comparable bath bombs that don't cost nearly as much.  And I have tried A TON.  None have come close – until my last attempt.  I found these guys
on Amazon (which makes them even better because it's free shipping for Prime members!) and was instantly excited.  
They've got a ton of great reviews with most people saying they were the closest thing they've found to LUSH.  They're a wholesale company, so you need to buy 10 at a time, but they cost $2.10 a piece!  That's a quarter of the price of a LUSH bath bomb!
But obviously the price is worthless if the quality isn't there.  And THIS is why I'm so excited!  I got our first delivery last night, so my little guy and I gave them a try today (FYI – for moms that have toddlers or young ones with eczema, these things work wonders!) and they were wonderful!!  
They are slightly smaller than LUSH bath bombs, but have just as much fizz, color, scent…and most importantly, that unbelievable soft lotion feel.  You get out of the bath feeling like you've already put lotion on!
Because they are wholesale, you don't get to pick your scents.  They just send you 10 different flavors/scents, but in my opinion that was just another exciting part.  There's actually more variety than LUSH has!  The colors are so bright and bold, and a lot of the scents are really fun (I can't wait to try the coffee one).
So anyways, if you've tried out LUSH bath bombs before and love them as much as I do, then you've got to give these a try
.  It's basically 4 baths for the price of one. 🙂  Here's their Amazon link if you want to give them a try: LUSH-Quality Bath Bombs at 1/4 the Price
.
Enjoy your next soak!!
---
If you'd like tips on reaching financial freedom, living a fulfilled life, and raising happy kids, subscribe to MBAsahm for notifications of new posts!
---