There are a lot of fun things for kids to do over the summer. But when your kids are staying at home with you, you don't just want to keep them busy. You want to keep them engaged and, dare I say, maybe even learn something in the process…which is why you need some really fun summer challenges for kids.

Summer challenges are such a fun solution and your kids will really get excited about the process, which will make them LOVE what they're doing.

---
If you'd like more inspiration on parenting and raising happy kids, subscribe to my Parenting List for notification of new posts. Thanks for your time!
---
Some links on this page may contain affiliate links. For more information, see my disclosure policy.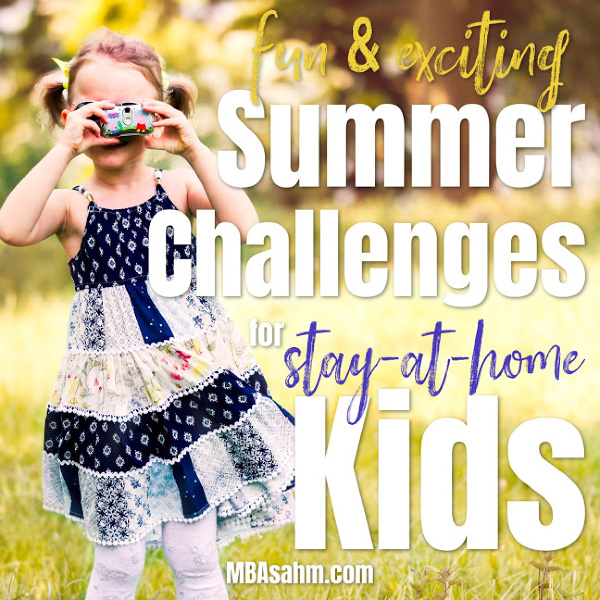 So how do you come up with a fun summer challenge for kids?

I've got some great ideas to get you started…and you don't need to stop at one! We're going to be doing quite a few in my house. You could definitely challenge your kids to even do these each month!

I hope you have fun over the summer with your kids! Here are some summer challenge ideas to get you started:

First, How to Keep Track of Your Challenge and Make it Exciting
Before we get into summer challenge ideas for your kids, you'll want to come up with a plan for how you will track your challenge and make it fun for the kids!
For some summer challenges, this won't be necessary at all, but for others, you'll definitely want an incentive to keep working.
The most obvious (and possibly most effective) way to track your progress is to create a sticker chart.
For the challenges that involve reaching 100 of something, just create a chart with 100 boxes and every time your child finishes one of their 100 things, they get to add a sticker!
If the challenge is something that needs more than just a check off the list, make a list that lets them write down what they've completed.
Another option that gets kids excited is to have a jar where they add a specific item every time they complete something. The item is usually something like a marble, cotton ball, or jelly bean – something that will build over time so the challenge becomes filling the jar.
Whichever you choose, make your tracking system prevalent so they can see it everyday to get excited and be proud of themselves!

Read 100 Books
This is a classic and should especially be a challenge for young kids.
You can either set up a sticker chart for them OR have them write the title in a list (which is great for them to practice writing!).
Not only will they be reading, but this challenge will also get them out to the library every week, which is a great (and free!) activity.
If your kids are older, then just bring down the number so that it's reasonable. Even 10 books is a challenge for kids that have started reading on their own!

Learn about 100…
Sea creatures. Dinosaurs. Cars. Animals. ANYTHING.
What is most important is that it's something that will get them excited everyday.
What I love about this challenge is that there are a ton of different things you can do to learn about whatever topic you choose.
You can read books, watch movies, visit museums, aquariums, and zoos! The activities are really endless.
This is another challenge that can be done with either a sticker chart, jar, or a written list to practice writing.

Daily Summer Journal
A daily summer journal is a really fun way to not only keep your kids writing and drawing, but to also teach them some of the immense benefits of journaling.
Journaling is a really valuable skill that will teach them to reflect on their day, organize their thoughts, and take some time for themselves.
For their journal, they can write or draw about their day, they can list the things they're grateful for (a gratitude journal is a fabulous idea for kids), or they can use it like a scrapbook and glue pictures or items from their day.
This is also a really great keepsake that you can hold onto to look back at their young years!

Send 100 Letters
We are a big letter writing family, so I can tell you from experience, this is a great challenge to take on!
If your kids are really young, just have them draw pictures and practice certain words. This is the perfect opportunity for them to practice writing their name or their favorite words.
As they get older, they can help with writing addresses and they'll have so much fun with stickers and stamps.
And, of course, staying in touch with family and friends is a really great habit to get them involved in!

Learn 100 Words in a New Language
This is another really fun and easy summer challenge for kids that is definitely educational.
For this one you should use a list that your kids can keep track of so that they can see all the words they've learned.
And as for actually learning the words, one of the funnest things you can do is to use post-its to stick the name of the word to its corresponding object. This way, your kids will learn the words of things they see and do everyday!

Grow a Fruit or Vegetable
Growing a fruit or vegetable is one of the best summer challenges for kids and one that ALL children should experience at some point in their lives.
You don't need to get crazy with this or choose something that is difficult to care for.
Start with herbs, tomatoes, or peppers and see what you get!
You can also grow some in pots to make life even easier.
What is important is that the kids see it as their job to take care of the plant. They should be involved in planting it or picking it out and watering it each and everyday.
And hopefully if you're lucky, they'll also be eating it at the end of the season!

Create a Photo-a-Day Book
If you have a budding photographer on your hands (or even not), a great summer challenge idea is to have them take a photo every single day and compile them in a book at the end of the summer!
The photo can be whatever they want…no matter what, it will remind them of that piece of summer!
For the book, you can create a scrapbook on your own with captions and notes, or put the photos together in a Shutterfly book!
Both options will make for a fun summer challenge AND a great keepsake to show for it at the end.

Start a Summer Gratitude Jar
This is a really fun summer challenge that will have so many far-reaching benefits for your family that you'll likely just keep the challenge going!
At the end of each day, every person in your family should write something that they're grateful for on a little piece of paper and then add it to a large Gratitude Jar.
As the summer goes on, the jar will just fill and fill with things you're all grateful for.
At the end of the summer, you can sit down as a family and go through everything that you were grateful for!
It's a great way to remember the summer and a good reminder to appreciate the little things.

Embrace a New Culture Every Single Week
This is one of my favorite summer challenges for kids – totally embrace a new culture each and every week!
What I love about this challenge is that there are so many different things you can do to learn about new cultures. You can read books and watch movies about them, learn songs and dances, how they dress, and of course, the different foods they eat.
Your kids can be in charge of choosing the country, region, or culture that you'll focus on and then they can take part in making meals, decorating, and learning everything they can.

Create a Summer Bucket List
Having your kids sit down and create their own summer bucket list is a really great way to turn everyday activities into a full-blown summer challenge.
The challenge becomes actually completing everything on your bucket list!
Bucket list items can be endless and you can even categorize them so that some are educational, others healthy, and others just plain fun.
Include things like visiting museums, learning to swim or ride a bike, trying new vegetables, and visiting the beach.
This is another fun summer challenge that every single stay-at-home kid should be doing.

I hope you get a chance to try each of these summer challenges with your kids! They're a lot of fun and you won't feel nearly as bad about not sending your kids to camp all summer. Enjoy!

You may also be interested in:
---
If you'd like more inspiration on parenting and raising happy kids, subscribe to my Parenting List for notification of new posts. Thanks for your time!