Finding the best gifts for 4-year old boys is no simple task. But when you do find something they love, you will feel like the coolest. person. ever. Because these guys have the energy of 100 adults and the enthusiasm of 1,000.
So hit it out of the ballpark and get them the perfect gift! All of these gift ideas have made my 4-year old son go crazy and he LOVES them.
And more importantly – they keep him busy! So it's kinda like a gift for all of us. 😉
So if you're on the hunt for a gift for a 4-year old boy, here's where to start:
---
Some links on this page may contain affiliate links. For more information, see my disclosure policy.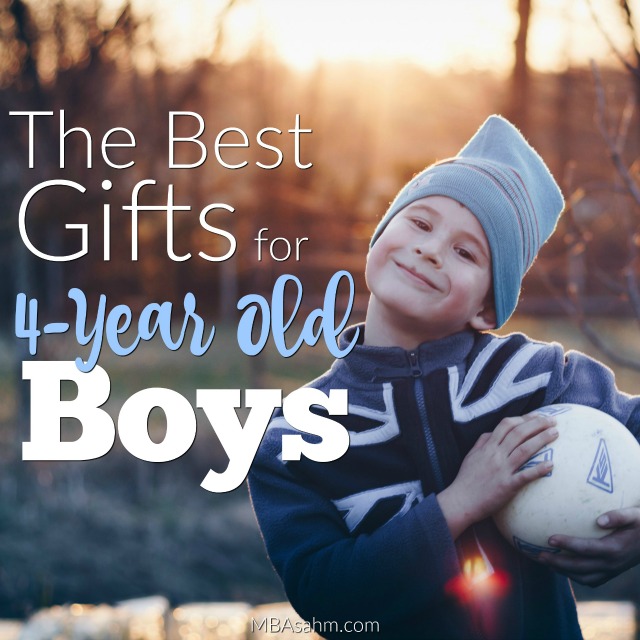 LEGO sets
I'm going to start with the easiest win of all – a fun, new LEGO set!
First, let me be clear with you – 4-year old boys can't have enough LEGO sets. It's like when you have another baby…your heart just grows. And so does theirs…for their LEGOs.
The best part about LEGOs these days is that there are tons of different sets, so depending on your little guy's other passions, you can find him one he'll go crazy over.
Here are some of the best (and inexpensive) to consider:
Play Mechanic's Car
This play car is one of the coolest toys I've ever come across and my son loves it!
It's the front half of a car, with a hood that can lift up and wheels that can be removed.
Little tools come with the set and they can tinker around in the car removing and reattaching parts all day long.
Not only is this a brilliant toy, but because it's only the front half of a car it's way easier to fit into a small room if you have space constraints.
Chapter Books for 4-Year Old Boys
4-year olds are finally ready to dive into chapter books (with you reading, of course)!
This is a really exciting development, both for the entertainment factor, but also to help build their interest in learning to read.
Depending on your child's interests, here are some big winners in 4-year old boy chapter books:
ETI Building Blocks
I know, I know. You think your 4-year old already has enough blocks…
I'm telling you, they don't.
At least, not if they don't have a set of ETI building blocks.
What makes these blocks so unique is that they aren't blocks that just stack on top of each other. They have gears and screws (and a special screwdriver!) that hold them all together.
Included with the pack are a bunch of pictures with ideas for what to build which only makes the challenge more exciting.
My 4-year old son has spent hours playing with these blocks! They're a major win and a fabulous 4-year old boy gift idea.
Decorate-Your-Own Rescue Vehicle
Whether your 4-year old has already started preschool or is just getting read to start, arts and crafts are (or are about to be) a huge part of their life.
After starting school, my son fell in love with painting. He was already a natural builder, so when I came across these Melissa & Doug Decorate-Your-Own vehicles, I knew I had found a winner.
And I was right!
These crafts are so much fun and your 4-year old gets to paint, build, and use stickers. Once they're done, they can go back over them again if they want.
Little Bookish Wardrobe
Little Bookish Wardrobe is one of the coolest subscription clubs I've ever come across.
Every month, they send your child a book with a dress-up outfit that matches the theme of the book…and you can specify that you want boy-themed boxes!
This means your 4-year old boy can dress up as a pirate as he reads about them, or maybe use his magic wand while listening to his story.
If you've got a little boy that loves books AND is excited about dressing up, then this might be the perfect gift!
Indoor Tent
If your 4-year old boy doesn't already have a fun indoor tent, then now is the time to get them one!
You can find cute spaceships, teepees, or just a classic play house.
Whichever you choose, nothing will be more exciting for a 4-year old than to escape into their own little fort.
Plus, they're a great spot to stuff some of their toys. 😉
Arts & Craft Supplies for 4-Year Old Boys
My 4-year old son LOVES arts and crafts and he's not alone – this is the age that kids start to get really passionate about their artsy side!
There are so many great arts and crafts ideas that you can get for 4-year old boys, but here are some great specific suggestions:
Kiwi Crate
Kiwi Crates are BRILLIANT.  
Once a month, they send an age-appropriate box to your child with supplies to complete 3 different crafts.
At first I had worried these would be more work for me, but I was totally wrong.
They truly are age appropriate and I'm always blown away by the simplicity of the craft ideas.
My son LOVES these and they often have really great deals, so check in with them to see if they're running any promotions.
Their First Real Bike
4-year old boys are at THAT age…the age where they start to learn to ride a bike!
Most likely, your little one already has the classic red tricycle or something similar, but it's time for the next step.
It's time for a real bike that comes with training wheels that can be easily removed.
You really can't go wrong here, so if this is in your budget, you will definitely be a favorite this year!
A Really Cool Helmet
With a new bike, you definitely need a new helmet.
And if you've looked outside lately, you may have noticed that helmets for little boys are certainly not what they used to be!
Nowadays, you can get a helmet with any of your 4-year old's favorite characters or fun designs that look like dinosaurs, sharks, and mohawks!
This only makes the bike riding experience that much more exciting!
I hope this list is helpful! Let me know if your 4-year old boy is obsessed with something that isn't on the list and I'll be sure to add it.
You may also be interested in:
---
If you'd like more tips on reaching financial freedom, living a fulfilled life, and raising happy kids, subscribe to MBAsahm for notification of new posts!