I have a preschooler who is obsessed with being an engineer.  It started young with mega blocks. He would build a tower taller than himself when he could barely even walk.  Then he moved onto trains.  And I'm telling you, he was (and still is) obsessed with trains.  He recently came up to me with a new train and said "Mommy, look at this. See how the piston moves the piston rod and then that moves the coupling rod and then that makes the wheels move? See? See? See how it works?"  
So, needless to say, I've somehow reached a point where my 3-year old knows more about engineering than I do.
I am bound and determined to make sure I give this little guy all the opportunities I can find to help him succeed as an engineer, but for now, that's just going to come from his toys!
So if you've got a little engineer on your hands too, give these gifts a try.  You will be blown away by how well they do!
---
If you'd like more tips on reaching financial freedom, living a fulfilled life, and raising happy kids, subscribe to MBAsahm for notification of new posts!
---
Some links on this page may contain affiliate links. For more information, see my disclosure policy.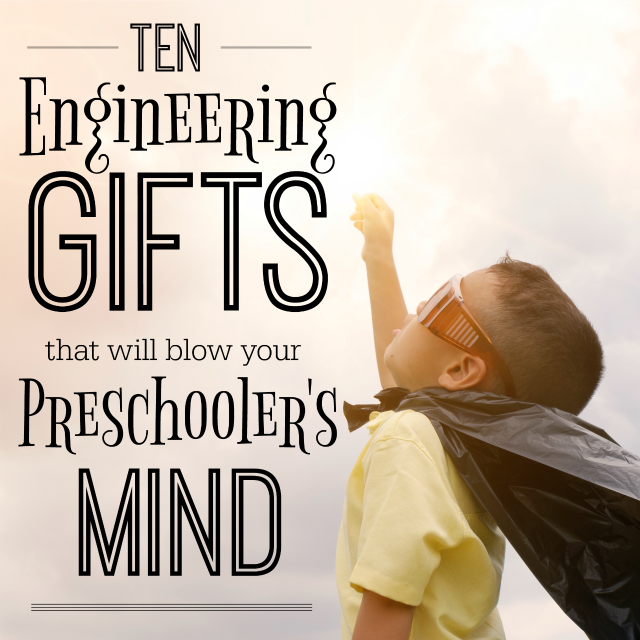 Elmoji
Word has it that Elmoji will be the "it" toy of the year for preschool engineers.
So what's the big deal with him?  Well, he's a robot that your little guy (or gal) can program using emoji!
And, of course, he's not just any robot…he's an Elmo robot. 😉
The greatest thing about Elmoji is that he's one of the first robots that's geared towards 3-year olds!  This is a huge deal if you've got a little engineer in your house like I do.
Theo Klein Service Center
Whoa. When I saw this, there was no question. I was buying it.
Your little engineer can actually take apart the car and put it back together!
This toy is so brilliant for little kids that love to tinker around and would be an especially amazing gift for anyone with a parent that does their own tinkering around.
Build Your Own Racing Car
Finally – a build-your-own car that is actually meant to be taken apart and put back together!
I can't tell you how much time I spend assisting in the destruction of toy cars just so that my son can work to put them back together.
And now he can…on purpose!
This is such a great gift idea for any little mechanics that like to take things apart just to see how they work and rebuild them.
Aircraft Engineer Kit
This aircraft engineer kit is the preschool version of a model airplane.
They are able to build TEN different models and the directions all come in pictures, so your child can actually follow them on their own!
This is another classic that any little engineer will love.
Oh, and as an added benefit – it comes in its own storage box!
Coji
Coji will be making an appearance under our tree this year and I CAN NOT wait to see what my little guy does with him!
Coji is made by the same company as Elmoji (WowWee) and seems to be pretty close, only geared towards a slightly older crowd and not Elmo-themed.
Basically, your son or daughter learns to code using emoji that will control Coji!
LEGO City & LEGO Creator
LEGO has come a long way since my day!  
Now, you can get amazing kits that help your preschooler to build whatever creation you've chosen.
What I love most about these sets is that they come with picture directions…so your child can actually do them on their own!
LEGO City creations are typically recommended for 5 years and up, but my son (who is 4) has successfully built (and unbuilt…and rebuilt) one on his own.  The next level up is LEGO Creator, which is recommended for kids 6-7 and up.
One of the other great benefits of these LEGO sets is that some of them are seriously cheap, so you have nothing to lose (this Lego train is under $5)!
Magformers
Magformers have been another huge hit for my son.
And honestly, we were shocked at how well he did with them!
This is another toy that has brilliantly provided directions in the form of pictures, so your child will be able to tinker around trying to replicate what they see.
If you opt for Magformers, I highly recommend you get a set that comes with wheels.  Those get the most attention in our house!
Interactive Engineering Books
And of course, if you've got a little engineer on your hands, then my bet is that they love to learn as much as build…and these books bring the best of both worlds together!  All of these are interactive, so there is a hands-on component, as well as a story.
How Cars Work is a classic for any child that loves cars.  And if you're planning on getting any of the build-it-yourself vehicles or the service center, this would compliment the gift perfectly!
How Machines Work
How Machines Work is the predecessor to How Cars Work, so if they loved one, they'll love the other!
This book provides more general knowledge of machines, so it goes beyond the gears and wheels found in How Cars Work.
How Machines Work: Zoo Break! is a really cool book with a different interactive component on every single page.
In addition to the interaction, it has a really cute story line that keeps even really young engineers engaged!
If you have any other great engineering gifts, please let me know!  These little guys are going to change our future!  If you're still in need of ideas, check out these other gift lists:
---
If you'd like more tips on reaching financial freedom, living a fulfilled life, and raising happy kids, subscribe to MBAsahm for notification of new posts!
---