Ever wish you could just get paid to drive your own car? Listen to music all day, experience some freedom, and maybe earn some extra cash? Believe it or not, there are tons of side jobs that give you that opportunity and they don't require you to get a special license or become a full-time trucker.
In fact, some jobs that pay you to drive are not only perfect side gigs, but great for stay-at-home moms or parents that have odd schedules and small blocks of free time (or no free time at all…).
So if you're happy in your car and think you may be up for getting paid to drive, this list is for you! All of these part-time jobs give you the chance to make money driving your own car and for the most part, on your own schedule. Good luck with your side endeavor!
---
If you'd like more tips on saving & making money, getting out of debt, and reaching early retirement, subscribe to my Financial Freedom Mailing List for notification of new posts. Thanks for your time!
---
Some links on this page may contain affiliate links. For more information, see my disclosure policy.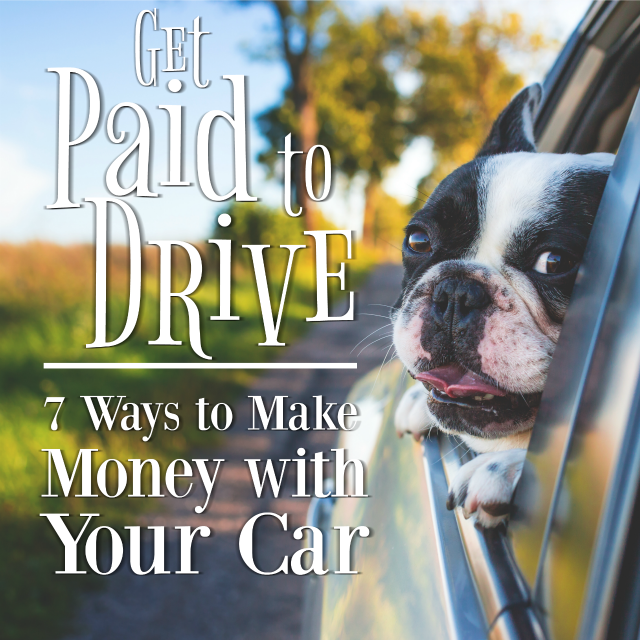 UberEATS
UberEATS is the little brother of Uber, but with some major perks. As an UberEATS courier, you basically make food deliveries for other people! You set your own schedule, drive your own car, and can even have other people tagging along with you.
UberEATS is a great side job, especially for parents that need to take their kids along or couples that want to spend some quality time while making money.
TaskRabbit
TaskRabbit is one of my favorite potential side hustles because the options are virtually endless! Basically, TaskRabbit links up people that need jobs done with people that can do them. And if you want to make money with your car, that means running errands for people!
TaskRabbit is another great job for parents that are already running around or for people that have odd schedules.
Uber
Uber is one of today's trendiest work-from-your car jobs – and for good reason! You essentially become a taxi driver, but with your own car. You get to set your own schedule and have the ability to pass on rides you don't feel comfortable with.
Uber is a great side job for anyone that wants to make money with their car, especially if you are willing to work Friday and Saturday nights. This makes it the perfect side hustle to compliment a 9-5 job.
Amazon Flex Delivery Driver
Did you know you could deliver Amazon packages on your free time? Leave it to Amazon to come up with another fabulous idea! Similar to UberEATS, Amazon Flex hires everyday citizens to deliver their packages for them!
This is another great opportunity for parents that have odd blocks of time open or for people that need to make extra money on the weekends.
Car Advertising
It doesn't get much easier than getting paid to put ads on your car! As companies look for cheap advertising alternatives, many have started to pay regular citizens to simply put ads on their car and just continue to drive their normal routes! My Free Car is one place where you can apply for these opportunities to see if you're a fit.
This is perfect for people that don't have much extra time to work and just need some extra cash! If you already spend your day driving a lot, then you've got an extra advantage.
Lyft
Lyft is just like Uber, only a little lesser-known, but just as loved by its loyal users. One of the greatest things about being a Lyft driver is that you can also be an Uber driver. Two side jobs that do the same thing!
Just as with Uber, Lyft is perfect for people that already have a day job and just need to make some extra cash at night.
Turo
If you have an extra vehicle that you don't need to use regularly, you need to take advantage of Turo! Turo lets you rent out your car to local drivers that need it for the day. You essentially get to earn money without actually doing anything!
Turo is perfect for anyone that has an extra car or works from home and doesn't need to use theirs regularly.
Other Sources of Income
I hope one of these side jobs ends up working out for you! Come back and let me know how it goes. If you're interested in other money-making (and saving) opportunities, check out some of these posts:
---
If you'd like more tips on saving & making money, getting out of debt, and reaching early retirement, subscribe to my Financial Freedom Mailing List for notification of new posts. Thanks for your time!
---