Looking for stocking stuffer ideas for a 1-year old girl in your life?  You've come to the right place. 😉
Christmas is one of my favorite times of the year, so shopping for stocking stuffers is something I look forward to every single year…and I start early!  And this year is extra special because I have a new little almost-1-year-old girl to shop for!
Years of shopping for her brother has made the task of coming up with the perfect stocking stuffers a little easier, but there are still some things that are perfect just for little girls!  
Hopefully this list will make your shopping a little easier this year:
Related post: The Best Gift Ideas for 1-Year Old Girls
---
If you'd like more tips on reaching financial freedom, living a fulfilled life, and raising happy kids, subscribe to MBAsahm for notification of new posts!
---
Some links on this page may contain affiliate links. For more information, see my disclosure policy.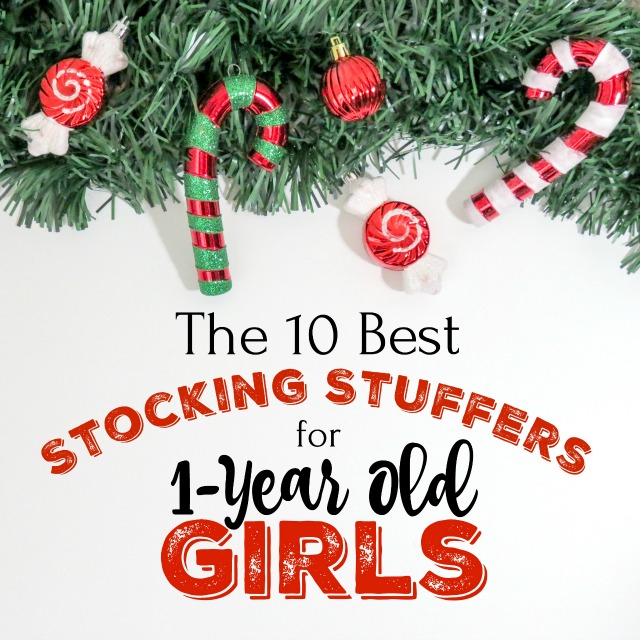 Bath Munchkins
These bath toys were a favorite of my son's and are now a favorite of my daughter's.  You just can't go wrong with them!
What I love most about these smart little toys is that you definitely do not need to limit them to bath time.  I keep these guys everywhere.  In the stroller, the car seat, the high chair, the bedroom, the bath, the playroom.  Literally everywhere. And she loves them!
They're the perfect size for them to hold onto and chew….which also means they're the perfect size for your little girl's first stocking!
Teething Banana
This teething banana was the first item I bought for my daughter's stocking this year!
Not only is it loved by basically every 1-year old that gets their hands on it, but it's actually good for their gums and new little teeth because it massages and cleans them.
This is an awesome gift idea for 1-year old girls and it's the perfect size for a stocking!
Pat the Bunny
Pat the Bunny is one of the cutest and greatest first books for both girls and boys.
It's a true classic and there's a good reason for it!
It's a quick read with every single page being interactive.  You little girl will touch, feel, play peek-a-boo, and use her little fingers. You will be blown away by everything she can do!
One thing I love about this book is that it's small enough to not only fit in a stocking, but also a diaper bag or purse!  
If you already have Pat the Bunny, you can also check out Pat the Cat, Pat the Puppy, and Pat the Pony!
Bath Stacking Cups
I'm a big fan of bath time, so I don't hold back when it comes to making the process fun and enjoyable – for all of us!
As is often the case with these little 1-year olds, sometimes the simplest toys are the most fun and that is definitely the case with these bath cups!
Stacking, chewing, pouring, floating…you'll be surprised how many things your little girl will find to do with a set of bath cups.
Related Post: The Best Bath Toys for 1-Year Old Girls
Sophie the Giraffe
If your soon-to-be 1-year old girl does not have Sophie the Giraffe, then she definitely needs to be poking her head out of her stocking.
Sophie has been one of the biggest hits over the last few years for one really good reason: babies can't get enough of her.
Maybe it's her shape, maybe it's the texture, or maybe it's the loud squeaker.  Whatever the reason, as far as stocking stuffers for 1-year old girls go, this toy is a winner!
Snack Catcher Cups
Let me introduce you to your (and your little girl's) new best friend: the snack catcher cup.
This cup does exactly what it sounds like – it prevents your little girl's snacks from going everywhere!
Because, as we know, once they start running around, they will spill EVERYTHING.
My son had one of these and i ended up getting two because we loved them that much!
Restaurant Placemats
I love these placemats so much that I'm not quite sure who's stocking they should show up in!
They are disposable placemats that stick to restaurant tables so that when you go out, you don't need your toddler eating off of the (potentially dirty) restaurant table.
They're brilliant, adorable, and total lifesavers!
Bows
I. can. not. get. enough. bows. Seriously. My adorable little baldy wears a bow just about everyday and I try my best to have a few different options that go with every outfit.  
Nowadays, you can find a ton of cute bows at any local boutiques, original handmade bows at Etsy, and even some really great options on Amazon.  
Two of my favorite sets came from Amazon and were really inexpensive and came in EVERY SINGLE COLOR.  So no matter what outfit I put on her, there's a least one bow that will fit.  
This is the set of large bows that I love and this is the set of small bows that I love.
If you don't typically use bows yet, one thing I will recommend is that you stick to headband bows for girls without hair or short hair (those are the ones I'm currently using) and stick to barrette bows for girls with long hair.
Robeez
I am obsessed with Robeez!  My son always loved them and now that I have a daughter, you better believe she'll have a few pairs of Robeez lying around!
The girl patterns that they have are adorable and they're perfect for new walkers because they don't have a hard sole.
Amazon's got a huge collection of these (that you can find here → Amazon's Robeez collection) or you can check out their full line on their site (which is here → Robeez Website).
Socks
Where there's shoes, there must be socks…and since most 1-year old girls are on the move – if not already running – good socks are critical!  
Socks for 1-year old girls need to have 3 important qualities – they need to stay on their feet (way easier said than done), they need to have no-slip grips on the bottom, and they need to be both adorable and functional.
If you have a little not-quite-1-year old on your hands, then you need to check out Hanna Andersson socks.  That was what my little one wore her first year and they were a life-saver.  They manage to stay around their ankle without needing elastic.  These, however, do start to fall off once your baby's on the go, so once your little one starts cruising it's time to upgrade!
Which is why you end up buying so many socks!  😉
Luckily, you can get really adorable, practical, no-slip, stay-on-the-feet socks right on Amazon (are you surprised?). There are my favorite (I used them for my son!) and the ones ending up in my daughter's stocking:  The Cutest and Best Socks Ever
First Toothbrush
It's hard to believe that your 1-year old needs their very first toothbrush, but with little teeth, come daily brushing!
Pretty much any toddler toothbrush is going to be absolutely adorable, so what's important is that you get your little girl excited about it so that brushing is a fun activity and not a pain in the butt every morning.
I hope this list was helpful!  As always, please let me know if you have other great ideas that should work their way onto this list.  Have a wonderful holiday this year!  Merry Christmas!
Related posts: