Without a doubt, one of my favorite times of day is bath time.  Maybe it's the lack of technologically-enhanced toys or maybe it's just that bedtime is approaching, but I find it very soothing.  Luckily, my daughter loves bath time as much as I do, so it's always a happy time!  And since bath toys really only last a couple years before they just start getting gross, I've been able to buy her new girly bath toys (as opposed to the hand-me-downs from her brother) totally guilt-free.  It's been great! 😉
So if you're on the lookout for gift ideas for a 1-year old girl or just want to make bath time more enjoyable in your own home, give some of these bath toys a try: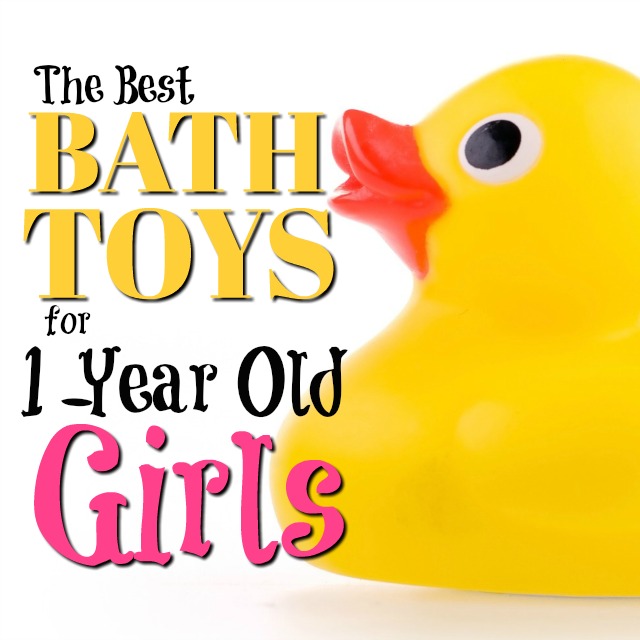 Bath Buddy Julia
When my son was young, he LOVED Bath Buddy Wayne, so the only real question was WHEN would I be getting my daughter Bath Buddy Julia.  
And since it's so irresistible to get our daughters dolls, how can we possibly overlook a doll made specifically for bath time?
Aside from Julia being a fun buddy for bath time, she dries quickly and has little dirt marks that disappear when she gets wet (so that your daughter can clean her ;-)).
Little Squirts
These little squirts are the classic must-have bath toy for any child!
The best part about these little munchkins is that you really don't have to limit them to bath time. I have some in the bath, some in the stroller, some in the diaper bag, and some on the highchair.
They're easy to clean (just throw them in the dishwasher!) and the perfect size for your 1-year old to hold onto!
Bath Cups
You just can't beat the classics.
These bath cups will provide hours (ok, minutes…but many minutes) of fun for your 1-year old.
Stacking, floating, pouring, chewing – the uses for these bath cups are endless.
The best part?  They are seriously easy to clean…just as with the munchkins, just throw them in the dishwasher!
And since they're easy to clean, they're another great toy that doesn't need to be limited to bath time.  These are perfect for toys you need to throw in the diaper bag, high chair, or stroller.
Bath Stickers
Nothing beats bath stickers. And there are so many things your daughter will use them for!
There's chewing (obviously), sticking to the walls, building things, and my favorite – learning!  
1-year old girls may be a little young to learn colors, shapes, and objects, but it won't be long before they will start pointing things out and learning their letters and numbers!
Of all the bath toys in my arsenal, these are the ones that lasted the longest with my son.  In fact, he's 4 now and he STILL loves them.  
So it's time to add some girl themes to the collection!
Bath Books
I LOVE bath books.  
In general, one of my favorite parts of bath time is how non-techy it is, so bath books complement that perfectly.
The other thing I love about bath books is that they tend to be very basic and they can all be chewed on! This makes them perfect for 1-year olds.
OBall
My daughter loves the OBall Roller outside of the bath, so I was ecstatic when I discovered that they had a bath ball!
These balls are perfect for 1-year olds because they can hold them really easily, chew on them, stick their hands in them, squish them, etc.  They're really a brilliant design.
And of course, as a parent, this is a wonderful bath toy because it is easy to rinse off and doesn't hold onto any water…so no mold concerns!
Nuby Octopus
Nuby is one of the greatest bath additions for a few reasons.
First, it's way bigger than other bath toys!  It's also sturdier, which is a nice change from the classic squirter toys.
Second, it comes with rings that are intended to fit over the tentacles, but of course are fun just on their own (especially if your little girl is a chewer!).
This is definitely a favorite of my daughter's!  I usually have to rip the rings from her hands when it's time to leave the tub!
Hoops
You know what?  Girls can play basketball too!
This bath basketball hoop was an absolute favorite of my son's, so it's being passed down to my daughter too.
As with many of the toys on this list, your little girl will find ways to play with this aside from the obvious purpose.  
Not only that, but this is definitely a toy that will hang around for years, so it's worth the tiny investment!
Pink Rubber Ducky
Ok, there's no way to have a list of bath toys for 1-year old girls without including a pink rubber ducky!  Because even though we're raising our girls to be completely, utterly equal to their male counterparts, sometimes you just want to shower them in pink.
This pink duck in particular is a good choice because it's intended to be chewed on and it doesn't have a hole where water can get in.  This is a big bonus for bath toys!
I hope this list was helpful and that your little girl loves these toys as much as mine does!  If you're in need of other gift ideas, check out these lists:
---
If you'd like more tips, tricks, and inspiration on parenting and raising happy kids, subscribe to my Parenting Mailing List for notification when new posts are published. Or, if you want to receive notification for all new posts from MBAsahm, join my Main Mailing List and receive tips on achieving financial freedom and living a fulfilled life in addition to parenting and raising happy kids. I hope you enjoy everything you read! Thanks for your time!
---