I'll be honest. When my son started preschool this year, the last thing on my mind was what the heck I'd do with all his artwork.  In fact, I couldn't wait to see what he'd bring home!  I had the magnets ready and oo'ed and ah'ed at his initial creations.
Then they kept coming.
And coming and coming.
I swear, he has 4 art classes a day!
So it wasn't long before my husband confronted me.  The artwork had to find a home.  One that wasn't the kitchen table, kitchen counter, or family room end table.
And he was right. Within weeks, the artwork had taken over the house.  I wasn't willing to part with it (obviously). So that left one option – figure out what to do with it.
---
If you'd like more tips on reaching financial freedom, living a fulfilled life, and raising happy kids, subscribe to MBAsahm for notification of new posts!
---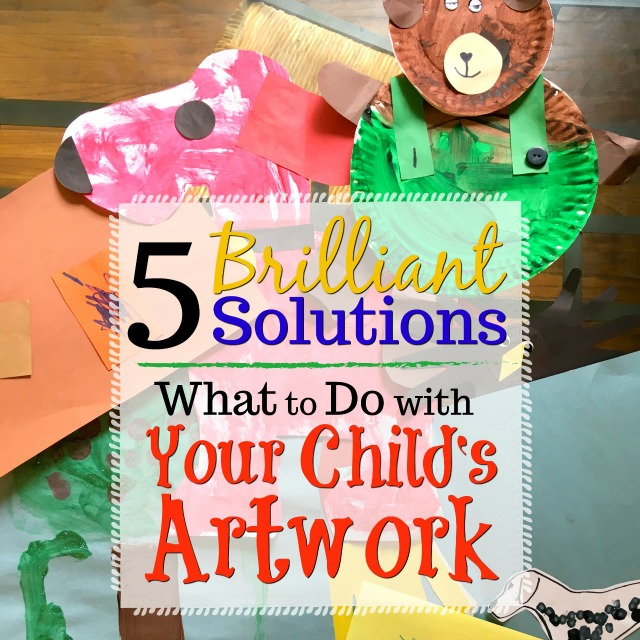 What to Do with Your Child's Artwork
When I realized we had a problem, I did what we all do.  I scoured Pinterest, Google, and Facebook.  I asked around and kept my eye out.
That's when I realized I wasn't the only one with a problem! And there are so many cute and brilliant ways to store, preserve, and showcase your kids' artwork!
So if you find yourself in the same boat as me, fear not!  Here's exactly what you can do with all of your son or daughter's creations:
The Best Artwork Solution
Without a doubt, one solution stood out with the pack – an art portfolio!  In hindsight, this is unbelievably obvious and makes complete sense, and best of all, it's an immediate solution.
I found a great one on Amazon, and bam! Within 2 days, I at least had a safe place to put my son's artwork…and it can slide right behind the couch (if you live in a small house like I do, this is a big deal)!
The one that I got was great because, not only is it gigantic, it has a cardboard divider so I'll be able to use one side for my son and one side for my daughter.  And trust me, this thing will hold years of work!
With the artwork packed safely away, this gave me a chance to come up with all the creative solutions for how to display these masterpieces, so that they weren't all packed away forever.  And believe it or not, there are a ton of brilliant ways to do just that.
Storage Picture Frame
This solution already existed in our house, so it was a no-brainer.  My mom got me this storage picture frame years ago and I LOVE IT.  It's now one of my go-to baby shower gifts because it's just that brilliant and useful.
Basically, it's a picture frame that can store dozens, if not hundreds, of your child's drawings or paintings. You just open it up and pop the new masterpieces in!
What I love about this is that it serves two purposes – it displays one work of art, while storing many others.
Brilliant!
Placemats
When I realized that I could turn my son's artwork into a placemat, I about lost it.  First of all, I own zero placemats, so this is something we could actually use!
Second, I already own a laminator that I bought to make DIY bookmarks with my son and I had promised myself I would use it for a ton of other purposes.  Of course, that never happened…until now!
Creating a placemat is easy-peasy if you already have a laminator.  You literally just slide it through!  If your child ever creates artwork on cardboard, that's even better because it will be much sturdier.
Magnets
Talk about a two-birds-with-one-stone-solution.  
You can actually turn your child's artwork INTO a magnet…so that it can hold MORE artwork!
Turning artwork into a magnet is also outrageously easy.  You just use magnets with adhesive backing and cut the magnet to be the exact shape as your artwork.  Instead of creating a gigantic magnet, try to either use small pieces of art or something that can be cut into smaller pieces and still look amazing (you know…all that abstract painting they do…).
I LOVE this idea.
Photo Books
I haven't had a chance to create an artwork photo book yet, but I absolutely LOVE this idea and 100% intend to do this!
If you've created a photo book before, then you know how easy this is.  Just head to Shutterfly or Zno (or whoever else you use) and use pictures of your child's artwork instead of photos.  
If you really don't want to hold onto their artwork, but want to keep the memories, then this is the perfect solution for you!
Let me know if you have your own great idea for ways to store, display, or save your kids' artwork!  Good luck with the rest of the school year!
---
If you'd like more tips on reaching financial freedom, living a fulfilled life, and raising happy kids, subscribe to MBAsahm for notification of new posts!
---