If you're on the hunt for the best gift ideas for 1-year old girls, you must have quite a celebration on your hands – their first birthday! 1-year olds are a lot of fun and they're finally starting to get interested in toys, so this is a fun time to shop. But there's a lot of stuff out there, so it can be really hard to make the right decision.
But fear not! I've done the research for you. All of these gifts were the absolute favorites for my 1-year old daughter and I'm sure they'll please your little 1-year old girl too. Happy birthday to your little one!
---
If you'd like more tips on reaching financial freedom, living a fulfilled life, and raising happy kids, subscribe to MBAsahm for notification of new posts!
---
Some links on this page may contain affiliate links. For more information, see my disclosure policy.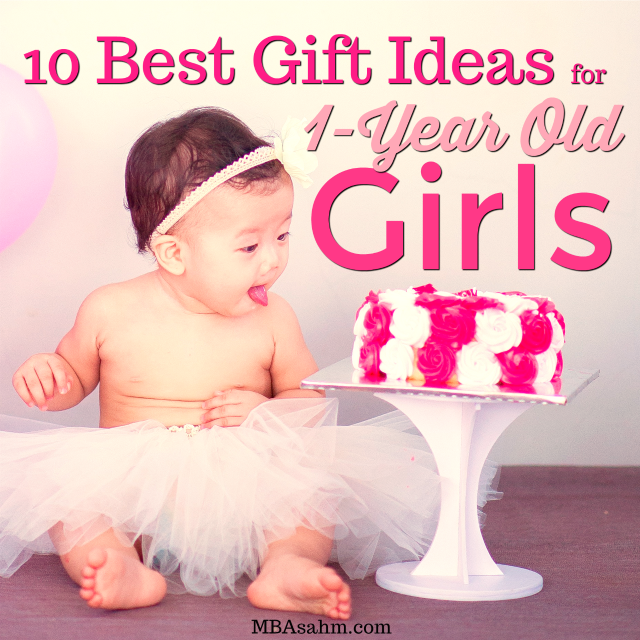 Play Purse
I was so excited for my daughter to get her first purse and even more excited when she absolutely loved it!
At this age, they love putting things inside other things, so a purse is perfect.
This one comes with great purse items that won't pose any choking hazard, but I'm constantly surprised by the items my daughter likes to put in her purse.
I guess the habit starts young! 😉
Count and Learn Cookie Jar
I don't know what it is about this cookie jar, but my son loved it and now my daughter does too.
The greatest thing about this cookie jar is that it will be a hit for years!
In the beginning, just the cookies themselves are exciting because of the texture – they can be chewed on but are big enough not to worry about!
Then they can try to put them in and out of the cookie jar. In the back is a large opening they can use, but eventually they'll try using the top.
This is a great gift idea to add to your collection of toys that will last for years!
First Tea Set
Leapfrog knew what they were doing when they created this tea set!
The sounds, the lights, and even the teacups all draw my daughter in as if it's the first toy she's ever played with!
Within hours, she was pouring tea for us – a 1-year old pouring tea!
If you're looking for a gift with fun bells and whistles, this is it!
Water Table
During the hot summer months, nothing is as fun for a 1-year girl as a water table!
It's the best way to keep them cool, but without the fear of drowning.
The best part, though, is that they will LOVE it…for years!
And when the cooler months come…you pour the water out and fill it with sand!
Bath Crayons
For some reason, when my baby started coloring, I felt as emotional as when she took her first steps! Handing a 1-year old a crayon, however, takes a special kind of bravery.
Bath crayons, on the other hand, are the perfect gift for 1-year old girls!
They can learn to color on the bathroom wall where clean-up is a cinch. Not only that, but you are able to extend bath time, which is always a good thing.
Plus, they're not very expensive so they will match any budget!
Pat the Bunny
There are a lot of great books for 1-year old girls, but without a doubt the best one is Pat the Bunny.
On each and every page of Pat the Bunny, there's a new form of interaction and your 1-year old will pick up what they're supposed to do immediately!
You will be blown away by how much they know.
Pat the Bunny is a total classic and one of the best gift ideas for 1-year old girls!
Related post: The Absolute Best Toddler Books for Your Little One
First Doll (& All That Great Stuff that a Doll Needs)
A baby doll is a classic that every 1-year old girl should receive on her first birthday!
There are a lot of options, so don't feel like you have to stick with any doll in particular. Just make sure that you choose one that does not pose a choking hazard, since 1-year olds still love to put things in their mouth. When she does get a bit older though, then you might be interested in something like this Silver Cross Dolls' Prams from Play Like Mum.

Along with their first doll (or if they already have plenty!), there are quite a few options for baby doll "essentials." Because what baby doll doesn't need their own stuff?
So if you're in need of additional items for your baby's first baby, consider these:
Oball Roller
The Oball Roller is an amazing gift idea for 1-year old girls because it can be used in two different ways – as a ball or as a walking roller.
The make of the ball is brilliant – they can grab it, chew it, reach inside it, bend it, throw it, sit on it. It's amazing.
And of course, as your 1-year old gets better and better at walking, they will love to push the roller around!
Snack Catcher Cups, Sippy Cups, and Restaurant Placemats
This is another inexpensive and easy gift idea for 1-year old girls – big kid eating tools!
Snack catcher cups are one of the greatest innovations for toddlers. They allow them to walk around with a snack and feed themselves, without leaving a massive mess for you to clean up.
Sippy cups (Lollaland sippy cups were always my son's favorite!) are nothing new to us, but they are new to 1-year olds who are now able to drink on their own and identify their cup as "theirs" (this is exciting for them!).
And restaurant placemats – what in the world did we do before these??
This technically is more a gift for the parents of 1-year old girls, but that counts!
Restaurant placemats are disposable placemats that stick to restaurant tables, enabling you to put food right on the table for your 1-year old (so they can eat on their own). For some kids, this is the only way to do it!
Shoes
One of the best gift ideas for 1-year old girls is shoes! They're just starting to walk, so they all of a sudden need some serious work on their shoe collection.
Regardless of the season, there is one brand of shoes that I just can't get enough of – Robeez.
Robeez are soft-soled, so I don't let my 1-year old daughter wear them outside, but they are perfect for inside and the best thing you can put on a baby that is learning to walk (soft soles give their feet the chance to learn to walk the right way).
The largest selection is on their website, but you can also get Robeez on Amazon if you're an Amazon Prime kind of mom!
In addition to Robeez, my hands-down favorite shoes for 1-year old girls are baby Toms (for the summer months) and baby Uggs (for the winter months).
Not only are these shoes so adorable, they'll make you melt, but they ALL come in adult sizes too, so you can actually match with your little girl! 😀
I hope this list of gift ideas for 1-year old girls was helpful! Let me know if you have any more ideas that worked for your little one.
You may also be interested in:
---
If you'd like more tips on reaching financial freedom, living a fulfilled life, and raising happy kids, subscribe to MBAsahm for notification of new posts!