For my baby shower, my sister had a brilliant idea idea to ask each guest to bring what they thought was one of the best toddler books instead of a card.  So with each gift, I received a children's book with a note in it for the baby, and I now have an awesome collection of books for my son that will last him years.
I've sorted them out by age so some are still a little old for him, but at just under 1 year old, he has clear favorites.  In fact, some he loves so much that he'd prefer it over a toy.  We joke that his lovey will end up being a book instead of a stuffed animal.
So if you're looking for some great beginner books for babies or toddlers (or an awesome baby shower gift!), these are the winners in my house:
---
If you'd like more inspiration for raising happy kids, subscribe to my Parenting Mailing List for notification when new posts are published. Or, if you want to receive notification for all new posts from MBAsahm, join my Main Mailing List and receive tips on achieving financial freedom, living a fulfilled life, and parenting.
---
Some links on this page may contain affiliate links. For more information, see my disclosure policy.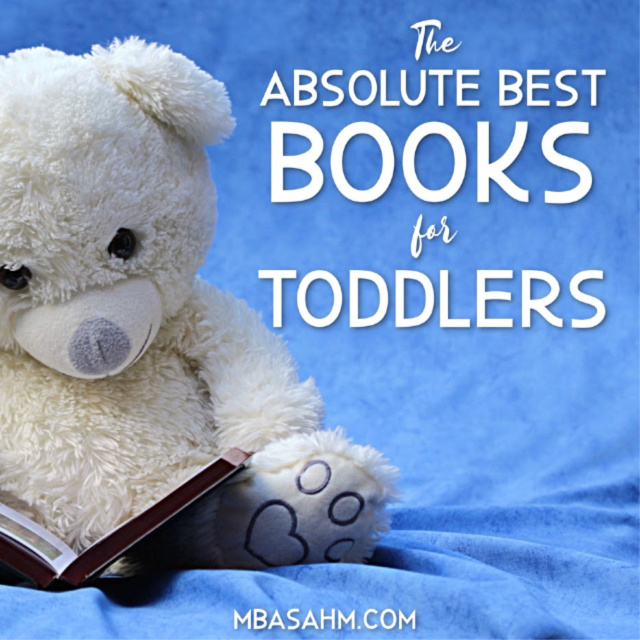 Pat the Bunny by Dorothy Kunhardt
MY. SON. LOVES. THIS. BOOK.
He actually loves it so much that it can quiet him in the middle of a temper tantrum. I just pull it out and show it to him and he reaches his arms out.
The book has various types of interaction, which is really unique, and watching my son learn each one is absolutely priceless.  He pats the bunny, plays peekaboo, puts his finger through the ring, and he's even learned how to "smell" the flowers, which for him just means touching his nose to the page.
This is his (and my) number one favorite book.  It's an old classic and rightfully so – it's fabulous.
Lamaze Classic Discovery Book
Ok, this is somewhat pushing it, but this one
was not only my son's first official book, but also his absolute favorite TOY for months! In fact, it was one of the first distractions that ever caught his eye.
He was only four months old when he fell in love with it and he would sit for hours (literally…we had many car rides where this was our only savior) while we "read" it to him.  Now, there are not actual words in this book, just big pictures, so you have to come up with the words yourself, but that just makes it easier.
First 100 Words
Before either of my kids started talking, they were obsessed with the First 100 Words books…and these are great because there's a whole series to turn to if your toddler loves them like mine did.
These board books are full of just pictures with the corresponding word…and believe it or not, it's all your toddler could ever ask for!
The classic First 100 Words is definitely one of the best toddler books of all time, so it's a must-have for all toddler book collections, but my kids also loved First 100 Trucks and First 100 Animals.
And this year they released a brand new First 100 Christmas Words, which I am so excited about that I signed up for the pre-order and it will be making an appearance in my toddler's Advent calendar!
Related post: The Best Advent Calendar Fillers for Toddlers
Ditty Bird Children's Songs
Ditty Bird Children's Songs is one of the best toddler books that I've ever come across…and surprisingly, I've never been able to find any other books like it.
There is a button on each page that sings the song to your child – not just plays the music.  It actually sings the song to them!
This means that this is a book that they can truly use on their own without you there…which is a-ma-zing.
Animal Alphabet: Slide and Seek the ABC's by Alex Lluch
At first glance, this book
doesn't seem as exciting because there's only type of interaction (a slider that reveals an animal for each letter), but my son is absolutely mesmerized by it. It's a hardy book too, which is great because there's absolutely no worry that he will tear through it when he's playing on his own. I love the fact that this is highly educational as well.  I'm convinced that he's going to know his letters at a very early age because of it.  And now everyone in the family knows what a Urial and Xenops is.
I Love You Through and Through by Bernadette Rossetti Shustak
I would never have guessed this one
would be such a huge hit, but my son absolutely loves it.  It is the only one of his favorites that is not interactive, but he can't get enough of it.  The pictures are large and beautiful, so it's a very attractive book and the storyline (if you want to call it that) is as simple as can be.  There are only a few words on each page, so you can flip through pretty quickly, which he really loves. It's an adorable book and nice to have since it's a classic words-and-pictures-only book.
Little Green Frog
Little Green Frog is an adorable lift-the-flap board book that has a cute story with fun illustrations.
This is one of my toddler's favorite books, but what I especially love is that the flaps are seriously strong – way different than your average lift-the-flap book that can easily be torn.
But more importantly, your toddler will love reading it!
Noisy Zoo by Lee Wildish
This one
is not a surprising choice and it's hard to resist a book that makes real animal noises.  My son gets so excited to hear the noise that each animal makes that you can see his little eyes going back and forth from the pictures to the noise maker to wait for you to press the button. The pictures are great and the storyline is extremely simple.
Ten Tiny Toes by Caroline Jayne Church
This book
was recommended for any toddler that loves I Love You Through And Through
and boy oh boy were they right!  It's the same character and board book style, which is a huge plus and it goes through different parts of the body so your toddler will really be learning something.
The book uses a lot of repetition, which is great for little guys.  You can tell that my son knows what is about to happen once we start listing "ears, eyes, nose,…"  It's a really adorable book and definitely a must-have for learning body parts.
It's so easy to think that your baby won't like books until they're much, much older, but the interaction that some of these books has is just remarkable.  I am watching my son get smarter right in front of me and it's absolutely breath-taking.  It's also much easier to feel like you're a part of things when you're reading to them.
Happy reading!
You may also be interested in:
---
If you'd like more tips, tricks, and inspiration on parenting and raising happy kids, subscribe to my Parenting Mailing List for notification when new posts are published. Or, if you want to receive notification for all new posts from MBAsahm, join my Main Mailing List and receive tips on achieving financial freedom and living a fulfilled life in addition to parenting and raising happy kids. I hope you enjoy everything you read! Thanks for your time!