If you love Christmas like I do, then get ready for these amazing alternative Advent calendars because they are one of the best ways to extend the season, get your family into the Christmas spirit, and ultimately just add more Christmas to your life.   
Gone are the days of opening up a single piece of funky-tasting chocolate.  Now you get a Thomas mini train, a scented candle….or a shot of whiskey.
And, of course, those don't include the most popular new option: DIY advent calendars (THIS is what we do…more on that soon).
So get ready, because Christmas is about to get a whole juicier.
Here are your best options for alternative Advent calendars this season:
---
If you'd like more tips on reaching financial freedom, living a fulfilled life, and raising happy kids, subscribe to MBAsahm for notification of new posts!
---
Some links on this page may contain affiliate links. For more information, see my disclosure policy.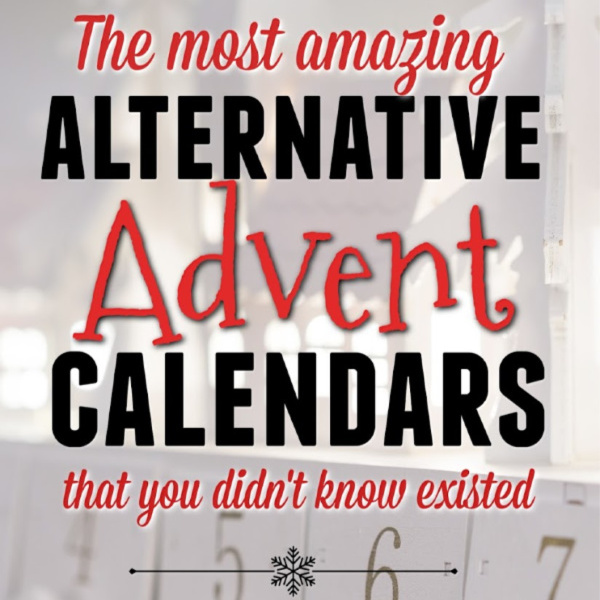 Fill Your Own DIY Advent Calendar
This will be our second year using a DIY Advent Calendar and I have a feeling that we're lifers (at least, for my kids…).
WIthout a shadow of a doubt, if you want to go this route, your first stop should be Etsy.  They have the most amazing Advent calendars that you can either buy OR kits that you can make yourself.  
These DIY Advent Calendars are really spectacular looking, so they're amazing as a decoration, and each day of the month has its own little pocket for whatever gift you want to fill it with.
A huge added perk with these is that you can take your alternative Advent calendar idea a step further and ditch the gifts altogether.  
Instead, you can fill it with pieces of paper that have activities written on them, books you'll read, walks you'll take, snowmen you'll make, etc….basically anything you want to "do" instead of "get."
Related post: The Best Advent Calendar Filler Ideas for Toddlers
Related post: The Best Advent Calendar Fillers for 5-Year Old Boys
Alternative Advent Calendars for Kids
Without a doubt, the funnest Advent calendars are the ones for our kids!  
And while it's great to create your own, it's also a ton of work.  So opting for these out-of-the-box Advent calendars is an awesome idea and, honestly, sometimes they like it better.
Thomas Mini Trains Advent Calendar
We used a Thomas Mini Train Advent calendar a couple years ago and it was a HUGE hit!
You really can not have too many minis and these were fun because there were special themed ones.
If you have a young child that is a train lover, then you don't need to think twice about this one.
They'll play with the mini trains for years to come!
LEGO Advent Calendar
If you have a LEGO-loving child on your hands, then you know this is for you.  
Everyday they get new pieces that will help them create a spectacular LEGO creation!
These are so popular that there are a few different options.  
Here are some of the coolest:
Little People Advent Calendar
The Little People Advent Calendar is the best idea for little toddlers who are ready for their first Advent calendar!
Each day they get…yep…one of the various Little People!
If your child already has some Little People collections, then these are perfect additions to play with.
And if they don't, you may have just found some great gift ideas for Christmas morning.
Kinder Egg Advent Calendar
If your child is obsessed with Kinder Eggs like mine, then your eyes probably just bulged out of your head.  And if your child hasn't mentioned Kinder Eggs yet, I at least recommend you throw one or two in their stocking this year.
This brilliant company has created a wooden Kinder Egg Advent calendar that has a special compartment for 24 Kinder Eggs – one egg for each day leading up to Christmas.
As if that wasn't cute enough, it comes personalized with your child's name carved in the front.
This is such a fun idea (assuming you're ok with your child downing 25 Kinder eggs before the year is up…) and it can be used year after year!
Alternative Advent Calendars for Adults
Kids shouldn't have all the fun, so if you want to really ramp things up this Christmas season, try out one of these adult advent calendars for yourself, your partner, or even your adult children.
Alcohol-Infused Advent Calendars
Nothing says Christmas spirit…like Christmas spirits.
You have two main options when it comes to alcoholic Advent calendars – you can buy one that's all ready for you or you can purchase a DIY Advent calendar that is built to house alcohol.  
Here's where you can go to get either:
First, for

the wine lovers

!  

This company

offers the coolest

12 nights of wine Advent calendar

(only 12 nights, not 24 unfortunately).  Each night comes with a vile that is full of one glass of festive wine from around the world.  A great way to build up to Christmas day!

Master of Malt

– these guys are perfect for alcohol aficionados.  Choose your liquor of choice – whiskey, gin, cognac, vodka, bourbon, etc – and you will be sent a calendar with a unique bottle for each day.

Through their Etsy shop,

these guys

sell pre-made Advent calendars that are the perfect fit for miniature bottles of alcohol (the airplane-sized ones).  They send you the calendar and you fill it with your favorite miniature spirits!
Coffee, Tea, and Espresso Advent Calendars
Now THIS is the Advent calendar of my dreams.
These fun Advent calendars help you start each morning of the Christmas season in the best way possible – with a little caffeinated pick-me-up!
For Nespresso lovers – give

these guys

a try (they also personalize the calendar for you!)

The same company makes

an Advent calendar for tea lovers

that gives you a new packet of tea each morning.

And for coffee lovers,

this Nordic company

is known for their coffee Advent calendar.  They're so intent on making sure your coffee is fresh, that you get a shipment each week instead of just one!
Bath Time Advent Calendar
To be clear, this one is for adult bath time…the bath time that is few and far between. But what an amazing holiday season it would be if each day leading up to Christmas included A BATH.
And to make that even more fabulous, LUSH (the company that makes some of the best bath bombs ever) puts out a 12 Days of Christmas Advent calendar each year…so that you can make that special time even more special!
Yankee Candle Advent Calendar
YES. This is an exciting one and such a great way to really savor the holiday season.
Every year, Yankee Candle puts out their own Advent calendar, which means you get a new Christmas scent every single day leading up to Christmas.
I hope one of these alternative Advent calendars has found a new home with your family this Christmas season.  Good luck with the rest of your holiday preparations.
Merry Christmas!
You may also be interested in:
---
If you'd like more tips on reaching financial freedom, living a fulfilled life, and raising happy kids, subscribe to MBAsahm for notification of new posts!