Hygge, the age-old Danish concept of happiness, has traveled the high seas and is working it's way through the American culture. Its popularity isn't surprising – Denmark is consistently ranked as the happiest country in the world. So why wouldn't we want to take a page from their book?
Christmas is no exception. In fact, if there was ever a time you should work on increasing the hygge in your life, it would be the holidays – and this year could definitely use a little hygge!
As luck would have it, Christmas and hygge go hand-in-hand, so adding hygge to the holiday season is easy and enjoyable.
Related post: How to Have a Hygge Easter: 10 Ways to Make the Holiday Happier
---
If you'd like more tips on living a fulfilled life, reaching financial freedom, and raising happy kids, subscribe to MBAsahm for notification of new posts!
---
Some links on this page may contain affiliate links. For more information, see my disclosure policy.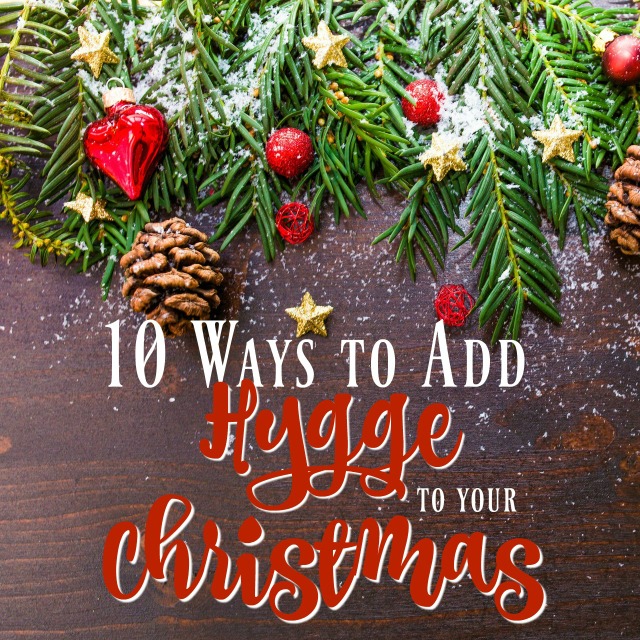 But First, What is Hygge?
Hygge (pronounced hoo-ga) is the Danish concept that is best described as happiness, contentment, and togetherness, with a touch of nostalgia. It is where simplicity and indulgence meet and where living in the present eclipses living in the past or future.
It (along with some other factors) is why the Danish are so happy.
Some things create instant hygge and others instantly squelch it. Dim lighting, good company, and cozy socks are hygge. Over-consumption, awkward conversation, and fluorescent lighting are not.
Related post: The Next Book You Have to Read: The Little Book of Hygge
How to Add Hygge to Your Christmas
If you're thinking about adding hygge to your life, Christmas is the perfect time to start. Not only do hygge-like things lend themselves to Christmas, but it's also a great way to take some of the stress out of the holidays.
Here's what you can do to ensure that your Christmas is as happy as Danish-ly possible:
Make Your Own Christmas Gifts
Hygge is all about the thought, feeling, and time put into something. Making your own Christmas gifts for family and friends not only gives them something sentimental and thoughtful, but also gives you an opportunity to flex your creative muscles and take your mind off of other holiday stress.
There are endless ideas for things you could make as Christmas gifts, but here are some of my favorites that will actually add a little hygge to your gift recipient's life as well:
Homemade alcoholic cordials
Scarves
DIY bath bombs
Bookmarks
Christmas ornaments
Spend Time by the Fireplace
Lighting is a critical element for hygge and fireplaces create that perfect kind of glow. The smell, sounds, and warmth add to the effect, giving just about all of your senses a warm and fuzzy feeling. Not to mention that sitting by the fireplace requires you to actually stop moving, relax for a bit, and just enjoy the moment (which are also important components of hygge).
Decorate Your Tree as a Family
Lighting. Nature. Family time. Nostalgia. Christmas spirit.
Decorating your Christmas tree as a family bursts with hygge. It's a great way to get into the Christmas spirit and sets you up to be reminded of hygge every time you look at it. If you've got kids, you're also passing on a beautiful tradition to them and helping to create what will one day be that amazing nostalgic feeling.
Drink Festively and Be Merry
The holiday season is filled with some of the best drinks of the year, both alcoholic and non-alcoholic. But what's really important is that you drink to be happy and appreciate the moment!
So join your friends for a cocktail after work or sip on some cocoa alone with a book. Just make sure to keep yourself in the Christmas spirit. Here are some great holiday drinks that are naturally infused with hygge:
Mulled wine (known to the Danes as Glogg…if you're really going for hygge, this is the drink for you!)
Eggnog
Hot cocoa
Warm spiced cider
Peppermint mocha
Make Christmas Ornaments
Making Christmas ornaments is one of the best hygge activities because it opens up the door for even more ideas on this list. You can turn your homemade Christmas ornaments into gifts or you can use them on your own tree!
If you've got kids, you definitely need to work this activity into your holiday season because you'll be creating memories that will come back each and every year that you pull out that Christmas ornament.
Here are some great ideas for homemade Christmas ornaments:
Make Homemade Christmas Cookies
Hygge is found in special occasion indulgences and if the opportunity presents itself for those indulgences to be homemade, you're even closer to Danish happiness. So, as you can imagine, homemade Christmas cookies are the perfect expression of hygge. If you bake them with friends or family, even better!
There are endless recipes of amazing Christmas cookies to try so I'm hesitant to list any, but just in case you're new to homemade Christmas cookie baking, here are a few classics to try:
Play Outside
Playing outside provides a double dose of hygge.
First, there's the obvious enjoyment of being outdoors and living in the moment. Play in the leaves or the snow. Find a hay ride or carriage ride. Go for a walk. Go for a hike. Enjoy the great outdoors! If you've got kids, play with them!
Second, playing outside primes you for a cozy, low key, and totally hygge-filled recuperative evening. You can enjoy your holiday drink, admire your beautifully decorated tree, and snuggle up for your next hygge activity…
Watch Christmas Movies Together
There are so many fabulous Christmas-themed movies out there that you really have no excuse to not fit this into your schedule. If you have kids then opt for one of the various family friendly flicks that everyone will enjoy. If you have one that you enjoyed in your childhood, it gets extra hygge points!
To make the evening more hygge-ish, make sure you've got a festive drink, some comfy socks, and start a fire if you've got a fireplace.
And if you don't know what to watch, try out some of these Christmas classics:
Use an Advent Calendar
When you make an event out of counting down the days to Christmas, the whole season becomes more exciting and enjoyable. There are tons of alternative ideas for Advent calendars, but nothing beats the classic Advent wreath, especially when it comes to hygge. The candles provide the warm glow that almost instantly creates a cozy atmosphere and most Advent wreaths incorporate elements of the outdoors.
Second to an Advent wreath would be using a DIY Advent calendar where you can fill each day with either your own little gifts or fun Christmas activities to do that day.
And if you want to experiment with some other types of Advent calendars or need to avoid open flames, here are some fun Advent calendar alternatives, especially if you have kids:
Related post: Amazing Alternative Advent Calendars that You Didn't Know Existed
Make Homemade Christmas Potpourri
There's no question that one thing can instantly create a feeling of hygge when you walk into a room – the smell! So, of course, when you take the time to create that smell yourself with homemade potpourri, you're doubling your hygge factor, not to mention that it will most likely smell better that way!
During the holidays, potpourri is also a great decoration AND a great gift idea!
Here are some really easy homemade potpourri recipes:
Now you're all ready to embrace hygge and enjoy the holidays Danish-style! Even if you're only able to accomplish one of these activities, I'm sure it will make for a happier and cozier Christmas.
Merry Christmas!