I've been so lucky lately to come across a number of enjoyable and inspirational books that I just haven't been able to put down (except, of course, when those books have me running to incorporate whatever special tips they're providing). The Little Book of Hygge was no exception.  I was excited the second I added it to my library list and it definitely did not disappoint!
I had been reading a lot about hygge and the more I read, the more articles and resources started to pop up (don't you just love how social media does that for you… ;-)).  So when I came across a highly-rated book dedicated to hygge at the library, I knew I had to read it.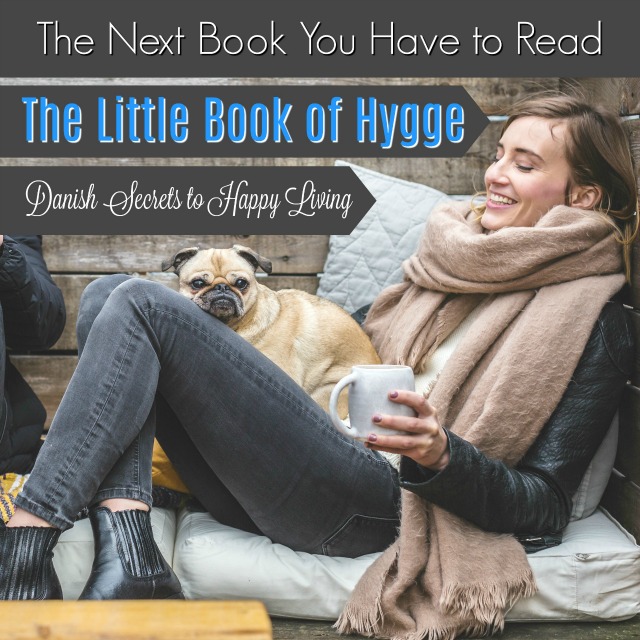 So, What Is Hygge?
The Little Book of Hygge is dedicated to explaining exactly what hygge is, so as you can imagine, it's not a word or concept that is easily summed up.  But here's my best shot:
Hygge (pronounced hoo-ga) is the Danish word and concept for a feeling or environment that is cozy, homey, and happy. It is the highest form of contentment and a critical component of the Danish lifestyle.
Watching a thunderstorm from your bay window while drinking hot cocoa, dressed in your comfiest outfit, covered with your comfiest blanket, and holding your favorite book – that's hygge. There are a lot of components that come together to create hygge – some obvious, some not – but creating an environment that welcomes hygge is an artform and one that the Danes have mastered.
As we all know, Denmark is consistently ranked as one of the happiest places on Earth. There are a lot of factors that go into their happiness, but one of those factors is believed to be their dedication to hygge. So, as the theory goes, adding more hygge to your life will make you happier.
Why You Need to Read The Little Book of Hygge  
Plain and simple, adding hygge to your life will make you happier.  Reading The Little Book of Hygge will tell you exactly how to add hygge to your life.  Thus, reading The Little Book of Hygge will make you happier.  Pretty straight-forward, right?
Here's another reason I think it's important to read this book – hygge is counter to many of the things we aspire to achieve through the classic American lifestyle.  And while I do believe that a lot of those things will bring us happiness, I think it's important to consider the alternative…that maybe we just need to suck it up and follow the lead of those who have already achieved a higher level of happiness.
What The Little Book of Hygge Is About
I already told you that this book is about adding hygge to your life, but I don't want you to think it just discusses theory chapter after chapter.  Quite the contrary. Each and every chapter has actionable things that you can do to create hygge in your life. What to wear, what to eat, what kind of lighting to use, what to do with your weekends – these are just a few of the things that this book covers.
One of the things I absolutely love about The Little Book of Hygge is that it dives into a ton of details about every aspect of hygge.  When the author, Meik Wiking, talks about hygge-like foods, he provides recipes.  When he talks about the perfect kind of lighting, he describes the best lamps for achieving hygge.  You will walk away from this book with things to do to make your life happier, not just thoughts zipping through your head.
I really hope you get an opportunity to read this book!  It's an entirely different form of happiness that ALL of us need to understand and strive for.  We only have things to gain from it!
Other posts from MBAsahm you may like:
The Next Book You Have to Read: The Miracle Morning
The Next Book You Have to Read: You Are a Badass: How to Stop Doubting Your Greatness and Start Living an Awesome Life
The Next Book You Have to Read: 10% Happier