I LOVE when I come across new opportunities to make money on the side, especially when the opportunities are good for moms.  Uber Eats is just that.  It's Uber, but without all the downsides.
Let me explain…
First, for anyone living under a rock, Uber (not to be confused with Uber Eats) is the new-age taxi service that lets people like YOU get rides from…people like YOU.  If you want to become a driver, you apply, get a background check, submit info on your car, and voila! You've got an awesome side gig.  
Being an Uber Eats driver is just like that, only with way more perks and a more refined end goal: you're just delivering people's food.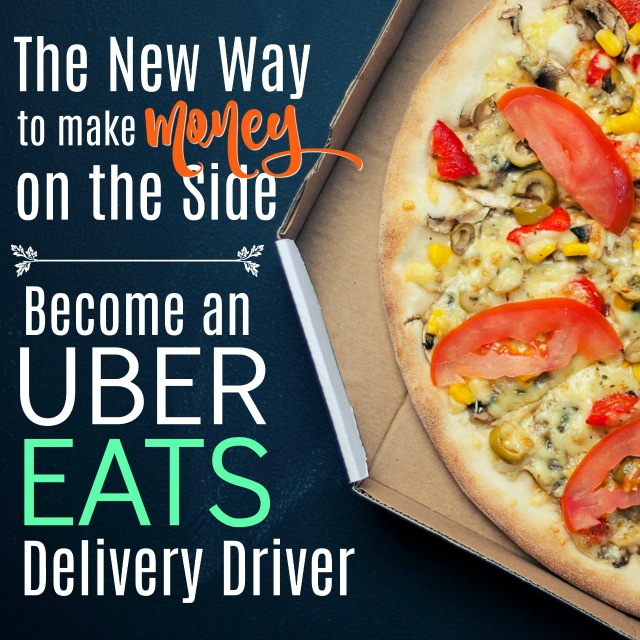 Why Uber Eats is the Perfect Side Job
Uber's a great side gig, but Uber Eats is even better.  There are way more perks and way more flexibility.  Here's what's so cool about this particular side job:
No One's in Your Car
Just you, the breeze blowing through your hair, and someone else's food. No strangers, ever.
You Can Drive Your Trusty Ole' Wagon
If you want to succeed as a classic Uber driver, you need a nice car.  Not so with Uber Eats.  No one cares what you drive!  As long as their food gets to them, that's all that matters.
You Set Your Own Hours
This is one of the greatest perks of Uber, and it's true with Uber Eats too.  You decide when you work, no questions asked.
You Can Use a Bike or Scooter
This only works in certain cities, but Uber Eats is more than happy to let you deliver food with a bike or scooter!  This means that this side job could actually rank as a job that also provides exercise!
You Can Bring Your Kids to Work
Yep, your kids can tag along for the ride.  Now, be wise here – don't leave them in the car!  But if you've got a great little helper on your hands, this is for you!
You Can Team Up with Your Bestie
Back in the days when I wasn't bogged down with babies and toddlers, my husband and I used to drive around just for fun.  Where was this side job then??  We would have LOVED to do this together.  
So grab your significant other, bestie, or spouse, and keep each other company while you make some money!
The Approval Process is Easy
You pretty much know before you start whether you'll be approved or not – standard application, background check, etc.  This isn't the kind of thing where only 2 spots are open in an area.  The more the merrier!
If you want to give this side gig a try, head here → Uber Eats Courier Program
If you end up becoming a driver, come back and let me know!  I love to hear success stories, especially when it comes to making more money and getting yourself out of debt. 🙂  Plus, tips that help others succeed are always welcome!
Good luck on your side endeavors!
If you want to check out some other opportunities to make extra money on the side, check out these posts:
---
If you'd like more tips on saving money, making money, getting out of debt, and reaching early retirement, subscribe to my Financial Freedom Mailing List for notification when new posts are published. Or, if you want to receive notification for all new posts from MBAsahm, join my Main Mailing List and receive tips on living a fulfilled life, parenting, and raising happy kids in addition to achieving financial freedom. I hope you enjoy everything you read! Thanks for your time!
---