I LOVE the idea of being able to take your kids to work.  I wouldn't trade being a stay-at-home mom for anything, but I also know I'd probably go crazy if I didn't have at least some amount of work to do too.  Not to mention that the extra money really helps!  
I'm always so impressed when I come across someone that has figured out a way to experience the best of both worlds, so it's time to share!  
So if you're looking for jobs where you can bring your baby or kids to work with you, consider some of these options: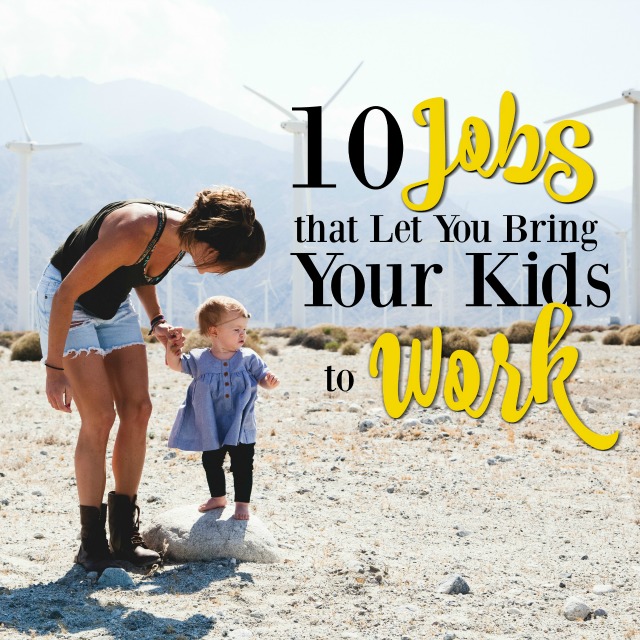 School Bus Driver
I know multiple moms that do this and they absolutely love it.  Not only can you bring your kids on the bus with you (and if you need to a job you can bring your baby to, you just hook their car seat up behind you), but you also get really nice part time hours.  Basically, 2-3 hours in the morning and 2-3 hours in the afternoon.  On top of that, most of the kids you are transporting will be so excited about a little baby or toddler that they'll keep them entertained the whole time!  Oh, and did I mention you get all holidays and summers off??  
Tinkergarten Teacher
Tinkergarten is a really cool program that teaches outdoor classes to young kids.  If you become a Tinkergarten leader, you get to bring your kids to the classes that you teach.  Since these aren't actually school classes, you don't need to have a background in teaching, just a love for education, children, and being outdoors!  This can also be a really flexible option since the classes do not need to happen everyday.  
TaskRabbit Errand Runner
TaskRabbit is another amazing company that connects people who need odd jobs done (like running errands) with people in their area that are able to do it.  There are tons of opportunities on this site, but one of the biggest – and easiest to do with kids in tow – is running errands. If you're already doing it anyways, why not also see if you can earn a little extra money doing it for other people too?
Daycare Worker
Working at a daycare is one of the more obvious bring-your-baby-to-work jobs, so if you've got a knack for kids, then you definitely need to consider this.  Even if your baby is a different age than you are assigned to take care of, most day cares will let you enroll your kids for free as long as you're employed.
Fit4Mom Leader
Fit4Mom is a company that provides fitness programs for moms that include their children, mostly through great workout routines that incorporate strollers. This job is really meant for the entrepreneurial-minded mom because you most likely need to start your own franchise unless you can get lucky working for a pre-existing one. But if fitness and small business are two of your passions, then this is the perfect way to bring your baby to work with you!
Freelance Writer
There's no question that freelance writing is my favorite take-your-kid-to-work job…because you basically can work from anywhere!  Freelance writing is extremely flexible and while you do need to be a good writer, you don't have to necessarily have a strong background in writing. Before I had my kids, I never would have considered myself a writer.  Now, it's what I spend most of my free time doing!  Sites like Upwork.com will make it easy to find people that are looking for writers, so if you're interested in freelance writing, give that a try.
And, of course, if you want even more freedom, you can start your own blog (just like this one).  Not only do you get to decide when and where you work (so that you can focus on your kids when you need to), but you also get to decide what you write about.  Without a doubt, starting this blog was the best thing I did for my family! I get to take both of my kids to work and I only answer to myself.  If you want to consider starting your own blog, check out the post below for all the details you need.
Related post: How to Start a Money-Making Blog Quickly
Family Photographer
There are so many great ways to make money as a photographer, but the ability to bring your kids with you on photo shoots is what really excites me about this job.  For my son's first birthday, we hired a photographer to capture some great memories for us and she brought her kids along for the event.  You know what happened?  Her kids stood behind her making my son smile and laugh for the pictures!  They distracted him while we were freshening up.  And when they weren't being helpful, they were enjoying themselves on the sidelines!
It was the best of both worlds and totally opened my eyes up to the amazing potential photography holds for parents who need to take their kids to work with them.
Virtual Assistant
Virtual assistants are basically the modern day administrative assistant, only all of your work is done from home. It's also way more flexible and depending on the work you take, you may be able to set your own hours (which means you can keep your work hours to when your kids are sleeping!).  Virtual assistants do everything from social media management (want to make Pinterest your job?) to cold calling and email correspondences. Basically, anything that can be done online is now usually done by a virtual assistant.
Website Designer
Website design is another amazing opportunity for working from home while you're also with your kids.  If you have a knack for design, then you'll be blown away by all of the website design jobs out there.  Every small business that exists is basically in need of a website designer, so there's a constant pool of new work.  You can also decide when you get your work done (nap time!) and how much work you want to take on.
Let me know if you've got another great job that lets you take your kids or baby to work!  I'm always on the lookout for new ideas. 🙂  Good luck with your work!
For more ideas on how to make money from home, check out this post → 60 Ways to Make Money as a Stay-at-Home Mom
---
If you'd like tips on reaching financial freedom, living a fulfilled life, and raising happy kids, subscribe to MBAsahm for notifications of new posts!
---