When I came across Dan Harris' book 10% Happier
, I couldn't wait to read it.  I had been working on a follow-up post to one of my previous articles (10 Tricks for Staying Happy When Your Spouse is Traveling), so the timing couldn't have been better.  I hastily added myself to the waiting list at the library without reading the full title, so I had no idea what I was actually going to be reading about when my turn finally came.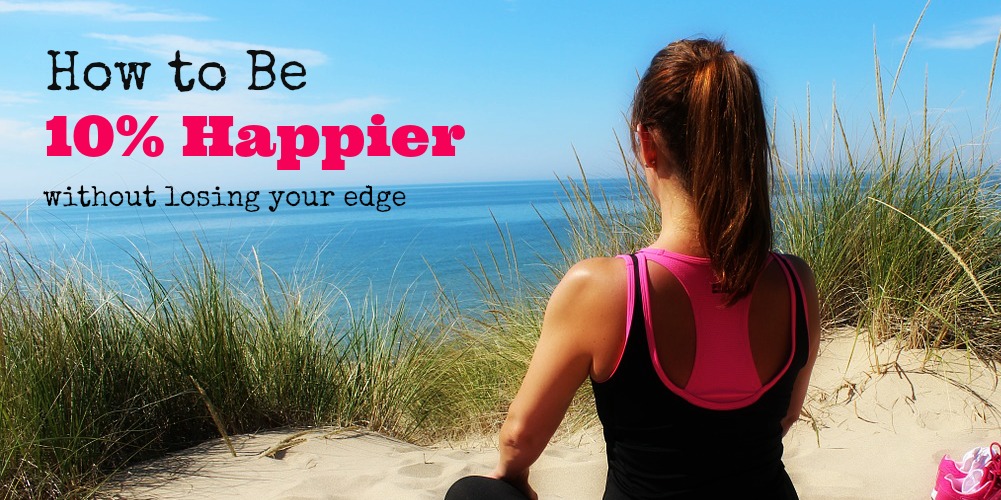 Within the first few pages, Harris reveals what his big secret is and luckily is a brilliant enough writer to keep you interested without being totally scared off. He acknowledges right off the bat that his secret – meditation – has a reputation in America that does not necessarily go hand-in-hand with productive, ambitious, and successful people.
What follows is a truly interesting profile of Harris' professional career, which ultimately leads him to discover the proven health benefits of meditation – and his explanation for how everyone can (and should) incorporate meditation into their everyday lives "without losing their edge."
Right away, I was pulled into Harris' action-packed professional career as a news reporter and anchor, which reminded me a lot of HBO's The Newsroom (which sadly ended after only 3 seasons, but I would still recommend watching!). There's no question that Harris is gifted with words, so the story is exciting and actually pretty funny.
Through a series of investigative news assignments, Harris is pulled into the world of religion and spirituality. One of my favorite elements of this journey are the authors, leaders, and mentors that led him to his discovery (and because of his work, he's actually able to meet these people in person).  Many of them were new to me, though I probably should have known them, like authors Eckart Tolle and Mark Epstein. Others I could only dream of meeting (like the Dalai Lama).
I won't lie, there are parts of the book where you wonder if he was pulled a little too far into grunchy granola territory. Luckily, that ends up being an important part of the book by giving him an opportunity to prove that you can in fact achieve the best of both worlds (he starts to realize himself that he may be "going soft").
The full title of Harris' book –  10% Happier: How I Tamed the Voice in My Head, Reduced Stress Without Losing My Edge, and Found Self-Help That Actually Works–A True Story
– does a pretty good job of summing up what Harris hopes you'll get out of the book. I don't think he's too far off and the idea of meditation is definitely attractive after reading this book. More importantly, his writing style is truly engaging and his career provides enough stories to keep you reading just for pure enjoyment.
It's been a while since I actually finished a book, so if nothing else, I've got to give Harris credit for that! But in all honestly, this book is worth reading
and I can definitely see how you can become 10% happier by following Harris' plan.