We all know that there are a lot of ways these days to make money writing online. Some are obvious, like freelance work, but others have a bit of mystery involved. Hubpages falls into this category for most people, but it's actually one of the best places to start.  It's also a great addition to the writing-for-income portfolio for anyone that writes for a living (or is trying to!).
I won't lie, I came across Hubpages against my will.  The site that I was happy writing for was sold to them and along with it, all of my content.  As is often the case, however, it wasn't long before I realized the earning potential on Hubpages way more. So as you can imagine, I'm a much happier writer now.
Related article: How to Start a Money-Making Blog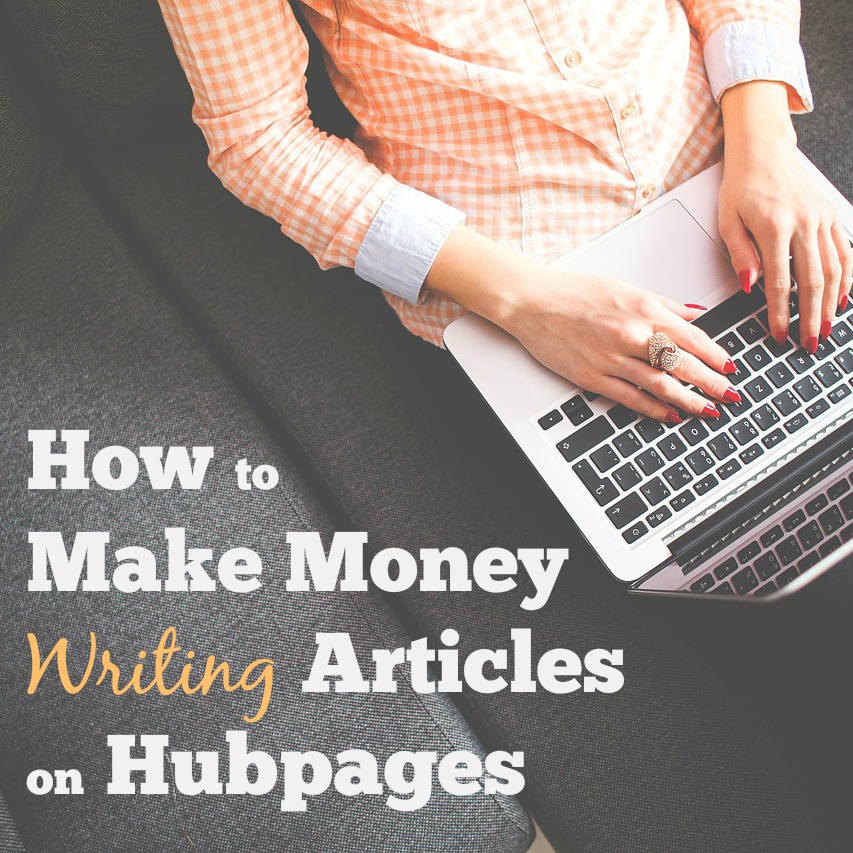 Why Make Money on Hubpages?
So, what is Hubpages exactly? It's basically a site that gives you the ability to write about anything you want and use that content to create your own mini webpage (and get paid for it). This is really amazing for a few reasons:
You don't have to pick a specific identity and constantly stick to that topic (like you do with, say, a blog…).  You can write about business, crafts, your dog, babies, or travels. Seriously, anything!
You don't have to be a computer expert. They provide an easy-to-use format with extra bells and whistles to make your content more exciting and engaging.
It is completely, 100% cost-free.
It pays! Don't get me wrong – at first, it's not much. But if you're good at it and you stick with it, it will definitely help pad your bank account.
I'm not going to go through the nitty-gritty mechanics of how you create a page, because they do a pretty good job of helping you through it.  What I will tell you are the secrets I've come across that will help you to make the most money possible.
So here you have it! My tips for how to make money on Hubpages:
Utilize Pinterest
Right now, Pinterest is BY FAR the #1 driver of traffic of everything I do online and Hubpages is no exception.  And it's by a lot – I'm talking 90% of traffic for some articles. Social media in general is important these days, but if you have to just pick one platform to work on, this needs to be it. You're a fool to ignore it (and I mean that in the nicest way possible).
There are tons of articles out there that list the best ways to utilize Pinterest, but if nothing else, make sure you have an account and pin your own material.  If you have the time, try to join group pin boards to expand your reach.  I have a full post on all the different ways I'm trying to build up my Pinterest account (you can check it out at the link below) and also check out my Blogging & Writing Pinterest board for a collection of amazing Pinterest tips from some really successful online marketers.
Related article: 14 Different Ways to Increase Your Blog's Pinterest Traffic
Include Quality Images
Seeing as Pinterest holds such an important role in your traffic, it should come as no surprise that you need quality images. The lighter and brighter the better. If you can find an image that perfectly captures your topic, then great. Otherwise, consider editing it to add text right into the image. Sometimes being clear and upfront is the best way to go!
Another huge added benefit of including quality images is that you will be enticing your readers to market for you – and that's really the secret.
I have a whole list of free stock photo sites (link provided below) that you can use for your articles. Also consider taking your own which always gives you a little more control and originality.
Related article: 7 Websites with the Best Free Stock Photos
Pick a Niche Topic
When you're trying to figure out what to write about, do your best to dig really deep into the topic.  I will often take a topic I like and then make 10 bullet points outlining the subject…then I pick one of THOSE to write about.  The more specific your topic, the more likely people are to find you. One of my articles with the most traffic is about pregnancy heartburn – crazy, huh? It's also a great way to make sure that you're actually providing valuable info and not just a broad overview.
Provide Quality Content
This is a no brainer and the absolute most important thing to remember. If your material is high quality, then people will be drawn to it.  And again, they will naturally want to reshare it. Try to be interesting and actionable.  If you can teach something new or provide your readers with something valuable, they will love your work.
Promote Strong Amazon Products
This is critical if you want to be making money on Hubpages. Consistently pulling readers in will provide a steady (but small) flow of ad revenue, but the real money to be earned is from affiliate sales on Amazon. If you're familiar with Amazon's Affiliate program, you know that they recently changed their payout structure.  They used to pay based on volume, but now pay a percentage of the sale depending on the category that the product falls into.  This could be anywhere from 3% – 10%.  Hubpages, however, seems to have kept the old deal with Amazon, so they payout is consistently higher than if you have your own blog.  That's a big deal!
As is usually the case, when picking your products there is a happy medium that you need to achieve.  You obviously don't want irrelevant products lying around, so only include them if they really support the subject matter.
Apply for Hubpages Network Sites
Once you've published your article on Hubpages, you have the opportunity to apply to one of their many network sites (Hit the Edit button, then at the top you will see Apply to Network Site).  These sites have a strong niche focus, so your topic will need to fall into one of the main categories. Being accepted into one of these network sites has 2 big advantages: 1. your site will start showing up in Google rankings, which could bring in a lot of traffic, and 2. your site will be promoted within Hubpages and that specific network site (again, bringing in more traffic).
If you don't get accepted into one of the network sites, don't fret.  They are very specific about the articles they pick and some of my most profitable articles don't fit their criteria.  These network sites aren't crucial for your article's success, they're just icing on the cake.
Check-in Regularly
Once you've published a page, it's there for good.  People can (and will) visit it at any time.  So make sure you check back and update it! This is also important because Hubpages likes to promote their pages too and they're not going to pick yours if it isn't regularly updated. I'm only talking 5 minutes here and there, so this shouldn't be a hard one.
So there you go! I'd love to hear how you make money on Hubpages, so please let me know in the comments! And of course, if you have more tips, please share. A rising tide raises all boats! 🙂
If you're looking for other ways to earn some extra money, check out my Pinterest board on Working from Home. I try to keep it updated with all the tips I can find!
Follow MBAsahm's board Working from Home on Pinterest.