There are two main elements to a successful blog – great content and powerful marketing. And while most conventional advice says to spread your marketing efforts over various platforms, pretty much all bloggers quickly realize one thing – Pinterest is everything.
But for those that haven't yet realized, I will say it again – Pinterest is everything.  Yes, of course you should have a Facebook page and a Twitter account and the obligatory Google Plus account, but none of those are as important as Pinterest.  Not only does it drive the most qualified traffic, but it has the highest revenue per click rate of all social media platforms.  This is really, really important.  These are the people that click on your ads and purchase your recommendations and use your recipes again and again and again.
Now that I've made my pitch, here's the important stuff!  Here are all the things I'm doing to try and increase my own blog's Pinterest traffic:

---
If you'd like more tips on reaching financial freedom, living a fulfilled life, and raising happy kids, subscribe to MBAsahm for notification of new posts!
---
Some links on this page may contain affiliate links. For more information, see my disclosure policy.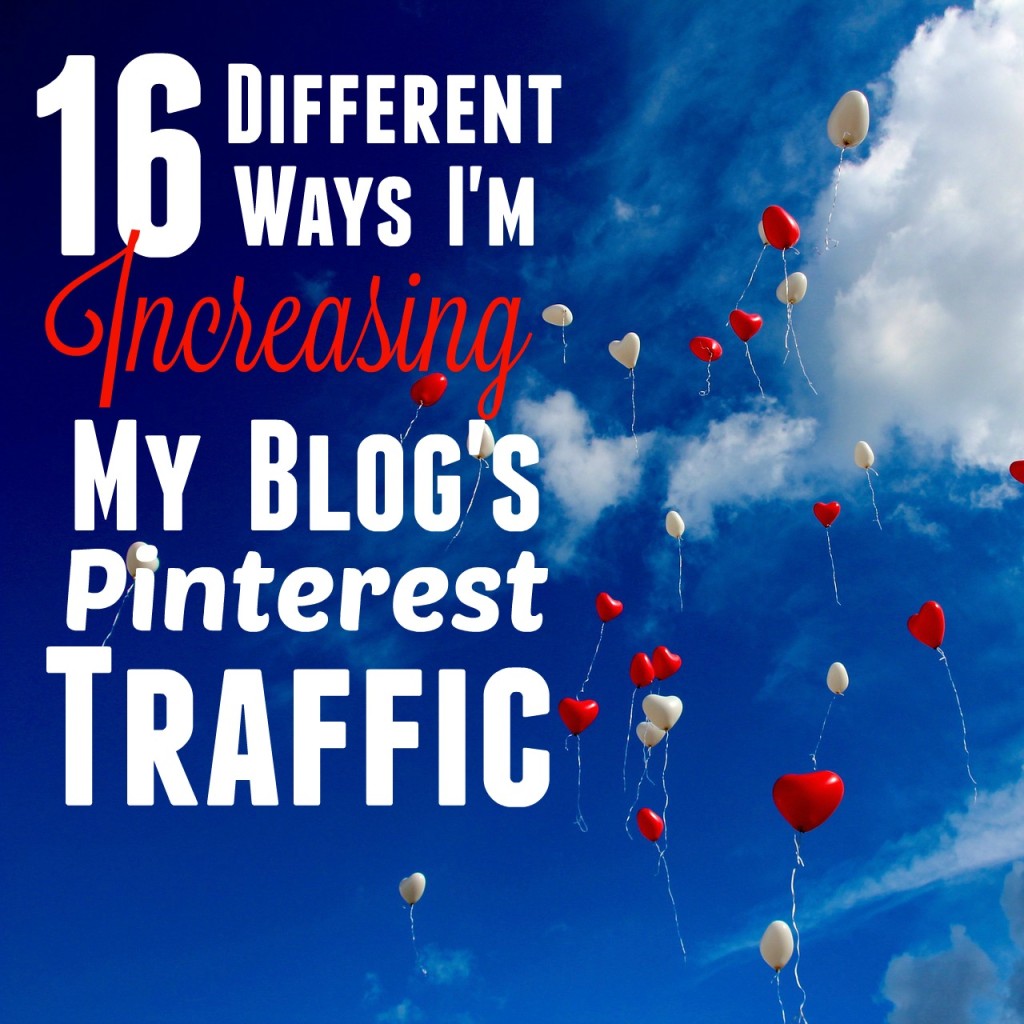 Join Group Boards
Group Pinterest boards present a huge opportunity to get your pins seen by thousands of pinners that aren't actually following you (yet). You can start your own group board and invite whoever you like to pin, but I recommend finding large, influential boards that are already up and running.  I've had success finding great group boards using 3 different methods:
Use the Pinterest search function to find relevant boards. Think of the different topics you blog about and see what boards you can find. There will be a little icon in the corner to indicate that the board is a group board.
Go to the profile page of influential bloggers and see what shared boards they are part of. This will save tons of time and is perfect if you know of other bloggers that write about the same topics. (While I probably don't qualify as influential, you can of course check out what shared boards I'm part of…scroll all the way to the bottom)
Join Facebook blogging groups. There are tons and tons of "support" groups on Facebook that help bloggers in various ways.  I've come across many Pinterest shared board opportunities in these groups, so just make sure you are a part of them and keep your eyes open for the opportunities. Depending on the rules of the group, you may even be able to reach out and ask other bloggers what boards they find most successful.
For the most part, once you've found a group board the owner will have listed directions for joining in the description.  Most of the time this involves a simple email or comment, but some bloggers use other creative ways.  Whatever they ask – it's worth it!
Create Unique Boards
This is really important if you want to find organic Pinterest followers.  Try to make your boards very focused with clear and/or unique titles.  I'm always pleasantly surprised by how many followers I get to specific boards (as opposed to my whole profile).  This is especially important as you join more and more group boards because some people will be wary of following all of them…which is fine! I actually think it's far better for them to follow the specific boards that they're interested in.  It's a win-win – they get to see only the content they like and in return you are more likely to get more repins on your pins (because they're only going to be seen by people interested in them).
…and Include Them in Your Blog Posts
Unique boards are essential for organic followers, but they're also perfect to compliment the topics that you write about.  For example, any time I write about tips for working at home, I include a link to my Working from Home Pinterest board for more tips.  Any time there is a spike in traffic to those posts, there's also a spike in new Pinterest followers.
Utilize Widgets in Your Blog Posts
This has had a huge impact on my total Pinterest followers, enough so that I rarely publish a post without a relevant Pinterest board listed at the bottom.  Creating a widget for your boards is very simple. Go to the specific board you want to feature, click the button with three dots in the right hand corner, click on "Make a Widget", then paste the code they give you into your blog post. If you want to change the size, click on "Learn More" instead of copying the initial code provided. (And if you're wondering what the heck a widget is, here's an example!)
Follow Nikki @ MBAsahm's board Entrepreneur Living on Pinterest.
Add a Pinterest Widget to Your Sidebar
This is another easy addition with very little effort on your part.  I know real estate on the sidebar is limited and very important for most bloggers, but like I've already said – Pinterest is worth it. If you use WordPress, then you can just add the code Pinterest provides to a text capsule and place where you think is appropriate.  
Use a Pinterest Scheduling Service
When I discovered Tailwind, everything changed for me. Depending on who you talk to or what you read, the average blogger is pinning anywhere from 20-300 pins a day (with 30-70% being other people's pins). That is A LOT of pins!  It can get really overwhelming to pin that much, especially when you need to stay organized. I've always used Buffer for tweets, so I knew automating social media posts was a serious help, so it was a no brainer to start using some Pinterest scheduling tools.  I started with the free trial of Tailwind and was basically hooked instantly.  Not only do they help you automate your pins, but they will give you a ton of great analytics that really help you decide what to pin and on which boards.
Tailwind Tribes
Scheduling pins on Tailwind created an instant boost in my Pinterest traffic and Tailwind Tribes did the exact same thing.
Tailwind Tribes is kind of like a mini-Pinterest within Tailwind that lets other bloggers repin your pins, and in return, you do the same for them.  Not only has this increased my Pinterest traffic, but I've actually found that the exposure to other bloggers increases my Facebook traffic as well!  So don't take this one for granted!
Blogger Follow and Repin Groups
I said above that I've found some great Pinterest group board opportunities through Facebook blogger groups.  These groups are truly amazing.  In addition to what I already went over, many of them have regular opportunities for co-marketing each other's pins OR following fellow blogger accounts. Hopefully you've realized already that it's beneficial to team up with other bloggers and this is a great Pinterest-friendly way to do it.  
Giveaways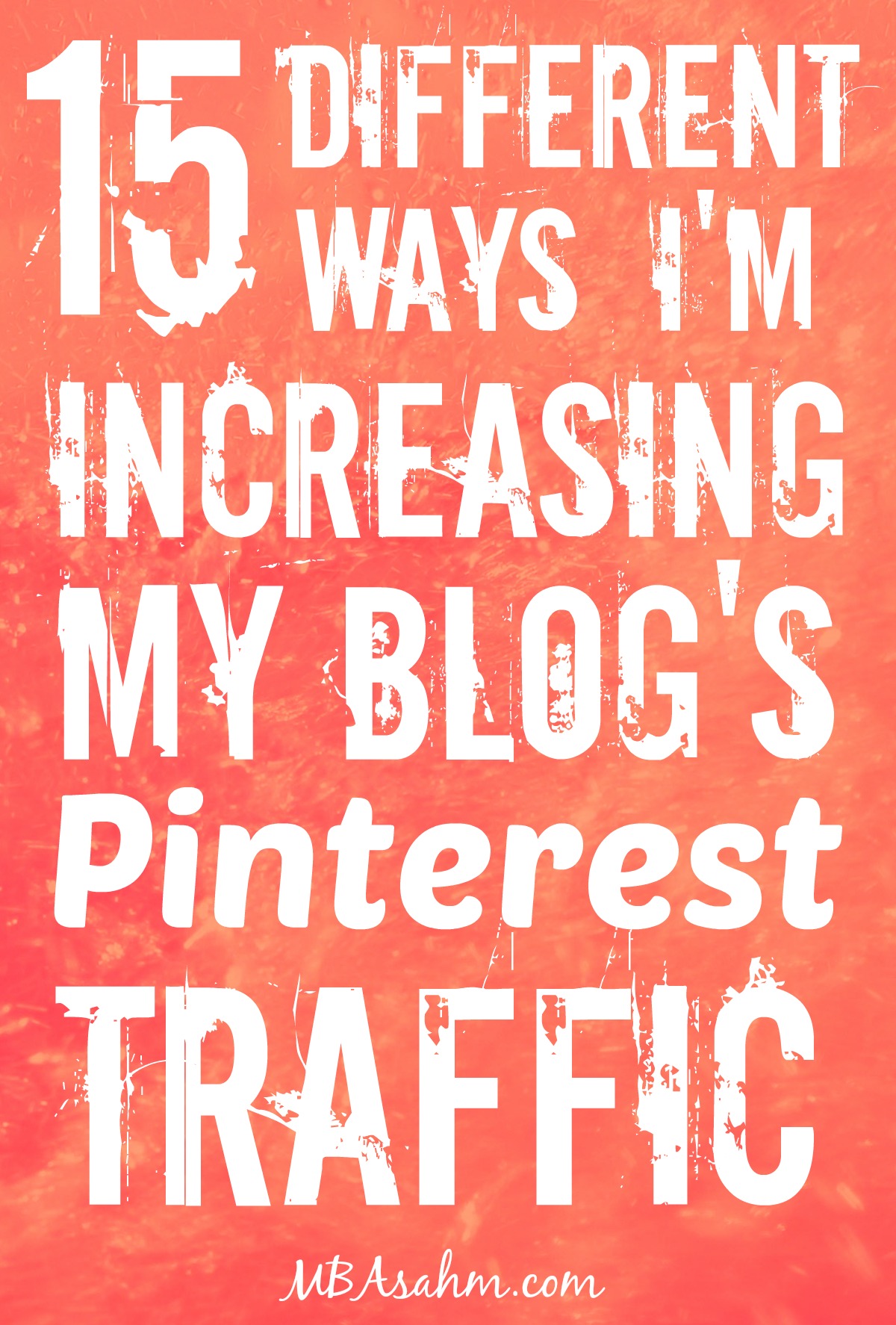 Blogger giveaways are an interesting ploy for followers that may or may not fit into the greater vision of your blog.  If they do, however, you will certainly experience a surge in your Pinterest followers.  And in my experience, that following does not decline once the giveaway is over.  Lots of bloggers hold their own giveaways, but another option is to join a large group of bloggers that all band together for one big giveaway.  Again, a great place to look out for these opportunities are Facebook blogger groups!  
Set Up Rich Pins
Once you've set up a business account with Pinterest (which you should do if you have a blog – it's free and open ups lots of opportunities) you will be able to apply for Pinterest Rich Pins.  These are the pins that list the site they're pinned from in bold along with the site's favicon (the little icon that appears in the browser tab). Rich pins not only protect your pins from being edited by other people, but they also make you look much more professional and increase your chances of being repinned and followed.  
Promoted Pins
Another opportunity that Pinterest offers it's business accounts are Promoted Pins. Basically, you pay to have your pins appear in people's searches and in their newsfeed.  You need to put a lot of thought into which pins are worth promoting, but once you figure out your sweet spot, you will be able to increase your Pinterest traffic AND your earnings. (For me, gift guides were worth it. Everything else drove traffic, but didn't earn the money back that it cost to promote.)  
Include a Link to Your Pin on Your Facebook Posts
For me, all paths must lead to Pinterest.  Which means even when I'm marketing on Facebook, I'm trying to make it easy for people to pin my content.  And to be honest, I started doing this because I like when others do it!  Too often, I pass by a Facebook post that I think is interesting and then I can't find it later.  Pinterest solves that problem by organizing everything for me.  So what I do is paste a link to the pin in the description so that people can instantly pin for later.  Here's an example of what I'm talking about: Facebook post "Pin for Later"  
Repin When You Experience a Pin Spike
If you've been blogging (or pinning) for the past couple of years, then you've probably realized that Pinterest has changed the way it presents pins in each person's news feed.  It used to be that you saw every single pin that someone you followed pinned.  Now that they have implemented a smart feed, you are actually only seeing pins that Pinterest deems popular or relevant to your other likes and pins.   Here's what this means for you – when you all of a sudden see people repinning one of your pins, it's time to log on and pin that specific pin to your group boards or relevant personal boards because that is when it is most likely to be seen by others.  
Create a Pin Spike
Since your pins are more likely to be seen when they're experiencing a spike, it only makes sense that you want to do anything possible to enable that spike to occur. If you have a new post coming out, then you just want to market it as much as possible like you usually do.  But if you're trying to get old material to resurface (or you see an old pin start to get some attention), then you should try to focus your marketing around that post and pin. Update your material, create new images, and take advantage of your Facebook groups. We're all at the mercy of the smart feed now, so when an opportunity arises, take it!  
Time Your Pins
There are without a doubt certain times of the day and week where more people are on Pinterest.  Most of the data that I find indicates that Thursdays from 3-5pm and Sundays are the two most popular times sitewide. This doesn't necessarily mean it's the best time for your following, however, so try to pay attention to when you are getting the most Pinterest activity.  Also be aware of different time zones which obviously affect your timing.  
Make Pinnable Images
I put this last because I'm hoping you already realize the significance of pinnable images, but had this list been in order of significance this would have come first. YOUR IMAGES NEED TO BE AMAZING.  Even if your content is great, a lot of people won't repin if your image is ugly.  More importantly, they probably won't even take the time to read the pin's description. This is especially true for food bloggers.  I can't tell you how many times I see an ugly food picture tied to an otherwise interesting or even tasty recipe, so I "like" it instead of repinning.
Make More than One Image for Each Post
This takes time, but it's well worth it.  For each post, I try to make more than 1 different image and usually with a different title (but obviously relevant to the post).  I also do a lot of them as simple text images (I use PicMonkey to design a canvas). I've been very pleasantly surprised by how much simple text images get repinned!  in fact, some of my most repinned pins are just text – just make sure they're pretty!
So there you have it!  All of my Pinterest tips 🙂  Let me know if there are things that work for you that I haven't realized yet.  Good luck and happy pinning 🙂
And of course, if you're looking for more blogging tips, check out my Blogging Pinterest board!
Follow Nikki @ MBAsahm's board Blogging & Writing on Pinterest.