I recently wrote about some quick and easy ways to pay off your mortgage early, but talking to everyone about that made me realize one important thing – paying off the mortgage is not necessarily a good idea for everyone. In fact, for some people paying off the mortgage may do more harm than good.  And for lots of people hanging onto the mortgage may actually help to grow their bottom line.
Here's why: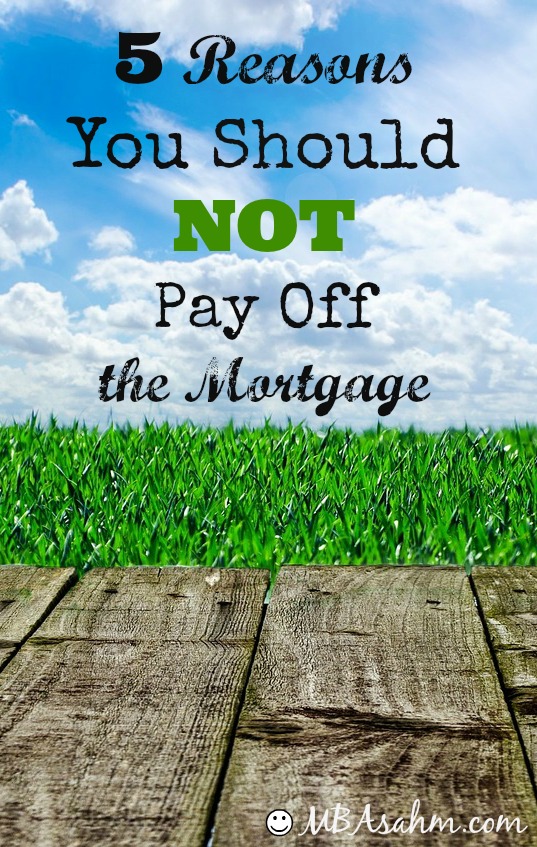 If you have a really low interest rate, your money can earn more for you elsewhere.
If you were lucky enough to get a mortgage for 3% – 4%, then it shouldn't be too hard for you to find an investment vehicle that can earn more than that each year.  Even really safe mutual funds will do that.  You are basically borrowing money from the bank to invest it somewhere else. So unless you have a really compelling reason for getting rid of the mortgage, it may be more profitable in the long run to put your extra money in stocks or mutual funds.
Related article: Investments Every Stay-at-Home Mom Should Have
Your mortgage is a tax shelter.
All of the interest that you pay on your mortgage is tax deductible at the end of the year. So depending on how much you are paying the bank (and what tax bracket you fall into), you could be getting back thousands of dollars at the end of the year all because of your mortgage.
A mortgage is better than almost all other forms of debt.
If you have other forms of debt, odds are you should pay them off first. In fact, even if the interest rate is lower than your mortgage, it still may be better to focus on other loans, especially if they are much smaller than your mortgage (which most are).  The reason for this is that smaller loans will get paid off quicker (for obvious reasons – they're smaller) and open up a lot more money that you can start funneling elsewhere.
Related article: How to Pay Off Your Student Loans Early
There are more important places to put your money.
There are quite a few places your money is better spent than paying off your mortgage.  One of the most important places that is often overlooked is retirement (I've got a great list of 14 Different Ways to Save for Retirement if that applies to you!). Even if you are already contributing to a 401K or IRA you still may be better off putting your extra money in a long-term investment vehicle that will be saved for those golden years. College funds, emergency funds, Health Savings Accounts, and short-term savings are also worthy causes that should take precedent over your mortgage.
Related article: 14 Different Ways to Save for Retirement
Your home is not liquid.
This is a pretty big deal. If you pay off your mortgage, you technically have hundreds of thousands in assets (or whatever your home is valued at). BUT if you can't sell your home, then you can't really get to that money. And even if you can sell the house, the process doesn't happen quickly. So before you get excited about outright owning your home, make sure you've saved plenty in liquid assets to cover any emergencies.
No matter what you decide, what is most important is that you're happy in your home and making smart choices.  Good luck!
Follow my board on Pinterest for other tips on cutting costs and building wealth!
Follow Nikki @ MBAsahm's board Building Wealth on Pinterest.