I originally published this post last summer (if you can believe it, it was actually my FIRST EVER post!), but I feel like it's really important to bring it back with everything I'm hearing in the news lately.
If you haven't been keeping up, here's what you're missing: First, there's the constant reminder that the projected cost of college for a child born in 2013 ranges from $150k to a whopping $400k.  Then, there's the pending reality that in one year 1% of the world's population will own 50% of the world's wealth.  So if you're not in that 1%, you're actually more likely to get poorer than richer.
So why does this matter for college savings?  Well, lots of reasons. And of course, I've written them all down for you. 🙂
So without further ado, here are the reasons why you need to start saving now for your kids to go to college. And more specifically, why you need to put that money in a 529 College Savings Plan.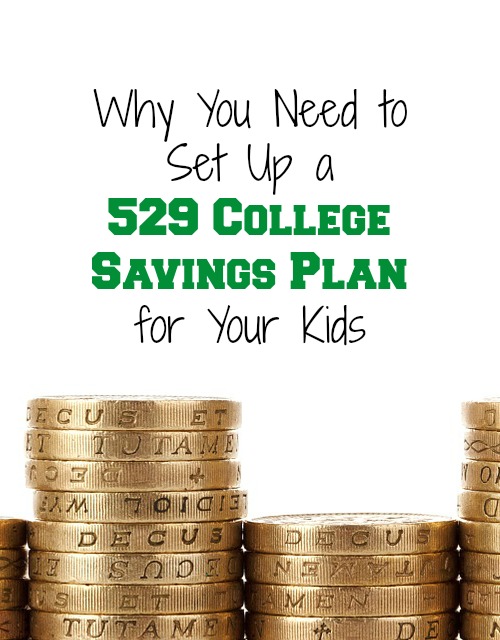 Before I dive into my reasons, let me just provide a quick and dirty explanation for what a 529 College Savings Plan actually is.  Basically, it's a savings account that the government will let you build tax free.  It's like a retirement account for your kids' college savings. There are lots of little benefits to that, but the bottom line is that it will save you money… or put more in your pocket depending on how you look at it.
So as you try to figure out your finances, here are some other factors you need to be considering:
Time Flies
The days are long, but the years fly by. Before you know it, your kids will be filling out college applications and you will be stressing over your finances. Why? Because not only will college be coming for your son or daughter, but retirement is likely only a mere decade away and that will not be when you want most of your money being funneled to your kids.
By setting up a college plan early, you will be able to take advantage of both incremental and compound growth. $50 a month will be peanuts if you wait until they're ready to leave, but if you put that away starting from birth, you'll have amassed over $10,000 for them – and that's with no interest. The interest will likely add a few thousand to what you've got.
You're Going to Need A Lot
This is a huge reason for setting up a college savings plan. It is going to be ridiculously expensive for our kids to attend college. If you use an online college savings calculator, you will find that to pay for their entire college experience, you would need to save almost $500 a month from birth! Most people will come nowhere close to that. Whatever you can do to lessen the burden will be worth it.
You'll Get a Bigger Bang for Your Buck
This is the biggest reason to use a 529 College Savings Plan. When you put your money into a 529, it is not taxed, so you'll actually get a little extra back each year in your tax return. It's almost as if the government is matching some of your contribution. And this is not just pocket change we're talking about.  This could equate to tens of thousands of dollars depending on the cost of tuition.
You're Going To Do It Anyways
Maybe it will be because you worry your child won't find work without a degree, maybe you think they're not ready for the real world, maybe you'd do anything to help make their dreams come true, or maybe it's just to keep up with the Jones'. Whatever the reason, odds are that you're going to want to pay for their tuition (or at least part of it) when the time comes. So do yourself a favor and save what you can now. Your future self will thank you for it.
Give Your Kids a Head Start
It's a competitive world out there and nothing feels better than watching your kids win. Having a college degree will give them an extra leg up, but the real advantage comes from leaving school debt-free. They will have more flexibility with where they live, what jobs they take, and when and where they settle down. And hopefully they'll have the opportunity to start saving for their kids and their own retirement.
College may seem light-years away, but unfortunately it will take those light-years to save for it. Saving for college is crucial and a 529 Savings Plan is the best way to make that money stretch even further.  Good luck 🙂
If you're looking for more investing inspiration, check out my Pinterest board for a collection of great investing advice from around the web:
Follow Nikki @ MBAsahm's board Investing & Building Wealth on Pinterest.