Now that I've officially left the "classic" work force, I'm in a position where I need to be really creative with how to contribute to our income. More specifically, how to contribute to our disposable income. One way to do that? Cut out the largest (by far) monthly expense and pay off the mortgage.
Related article: How to Pay Off the Mortgage Early
I know it sounds crazy. With such a massive loan, it just seems pointless to waste time trying to chip away at it. But none-the-less, my husband and I have gotten ourselves excited enough that we're endeavoring to have it paid off in 10 years. This will obviously require us to make some pretty large payments here and there, but we also came up with some pretty quick and easy ways to bring it down without even trying. (If you're interested in everything we're doing to pay off our mortgage early, check out this post –> 10 Things I'm Doing to Pay Off My Mortgage Early (and the One Thing I Won't Do)
So here's what we're doing and what you can try if you're up for the same challenge:
Related article: 7 Important Reasons to Pay Off the Mortgage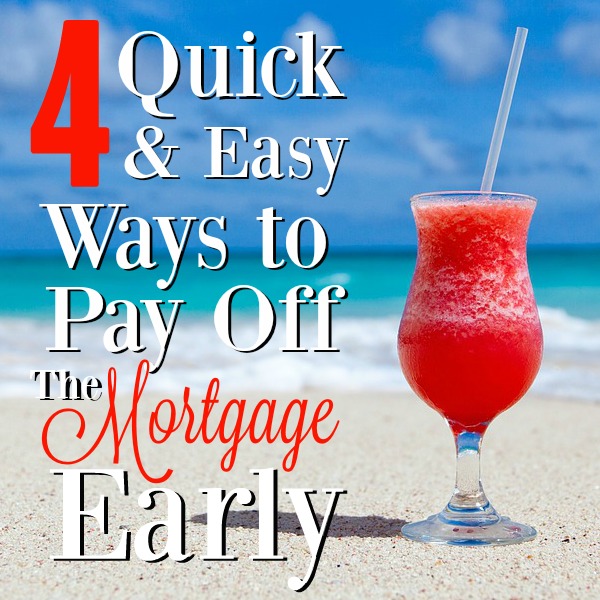 Sign up for a mortgage-rewarding credit card.
I never knew this existed but when I found out I could barely contain my excitement. If you know me personally, then you probably already know about this because I pretty much talked about it non-stop for a month straight.
Basically, our mortgage lender (Wells Fargo) offers a credit card where 1%-5% of everything we spend is applied to our mortgage's principal balance (whether it's 1% or 5% depends on the type of purchase). My husband and I already use a credit card for everything we purchase, so this literally only involved switching out the actual card we use.
In my mind, this ranks up there with company-matching 401K plans – it's free money! And it literally required no change to our spending or saving habits.
Deposit into your mortgage account instead of ordering delivery..or alcohol…or whatever.
This required a slight lifestyle adjustment for us, but it was honestly so easy that I can't believe we didn't start sooner.  Basically, we were finding ourselves ordering delivery every week when we were just too tired to make something or even discuss what to eat.  We didn't go overboard, but it cost about $25 each time we ordered out.
So what we decided to do was give up delivery completely – and instead, we would stay stocked with a frozen pizza and on those lazy nights, we'd just throw that in the oven. AND when that happened – we'd transfer $20 into our mortgage account right away (because you can pretty easily find frozen pizzas for $5).
Transferring the money each time makes it really exciting and keeps us motivated, but you can obviously just decide to transfer an extra lump sum each month if you'd prefer to automate the process.  And for those that already don't splurge on delivery, pick your poison!  It feels so good to pay down the balance that you won't even feel like you're sacrificing something.
Incrementally increase automatic payments.
As I indicated earlier, there's really no way around making larger payments if we want to get this mortgage out of our way. To make that easier on ourselves, we periodically increase our automatic payments in small increments – small enough that we really don't feel the money leaving our disposable income pot.
More importantly, anytime our income increases, we quickly increase our automatic payment so that we really don't feel anything. As long as we keep our current lifestyle in check, then all of that extra money can flow directly towards paying down the mortgage.
Take advantage of lump sum payments.
It's not like huge sums of money show up on our doorstep very often. But when they do, we always try to put a portion of it straight towards the mortgage.  And there's one lump sum that's guaranteed to show up each and every year – our tax return. Small amounts of money here and there WILL add up, but nothing beats taking a huge chunk out of your debt in one payment.  So take advantage of your tax return!  It's the perfect opportunity to take months, if not years, off of your total payments.
So that's what I've got!  Please, please, please share your secrets with me!  I need any ideas I can get 🙂
For more ideas on saving, budgeting, and investing check out my Family Finances Pinterest board.  I do my best to keep it updated with everything I can find.
Follow MBAsahm's board Family Finances on Pinterest.