You probably already know that I'm becoming an expert at what to do when your husband is traveling, so this post is probably not a surprise!  And while I'd love to tell you that when the baby's in bed I pull a book from my collection of classics, what I actually do on most nights is turn on the TV. 🙂
There's a trick, however, to picking the right shows to watch when you're home alone.  This is not the time to catch up on Grey's Anatomy or Private Practice.  This is the time for no tears, female empowerment, light drama, the supernatural, and scandalous adventure (with of course as much romance as can possibly be squeezed in).
So here you have it – what to watch when you're home alone (and by the way, these are all available on Netflix and/or Amazon Prime
– so cut the cable bill to save yourself the money and you'll feel even better about watching them):
 
Orphan Black
This is what I'm watching
right now and it's why I haven't written a blog post in two weeks.  It's THAT good.  It's got the mystery of LOST with some edgy humor that is reminiscent of Desperate Housewives (which would have been at the top of this list had Netflix not removed it from it's streaming list…you can, however, still get it if you have a DVD subscription with them). I'm not even sure how to accurately describe it without giving away a lot of the surprise.  The pilot is great, but there was a moment in Episode 2 where I wasn't sure if they'd really be able to pull off a crazy plot line…but I promise you, they do.  Keep watching 🙂
Orphan Black is one of the great new additions to Amazon Prime
that can't be found on Netflix yet(at least not to stream).
Unbreakable Kimmy Schmidt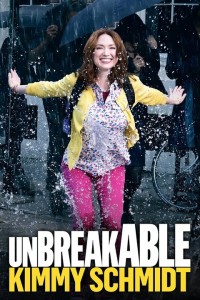 This is another fabulous Netflix Original…but better yet – it's directed by TINA FEY.  I hope that's enough for you to start watching immediately, but if not, I can promise you it's hilarious. The cast is top-notch and the shows are only ½ hour each, so it's easy to squeeze in an episode if you've had a long day and just need to relax before bed. The premise is a little bizarre (a woman held captive in a bunker for 15 years is rescued and starts a new life in New York City), but I promise you'll be smiling.
Revenge
I can not get enough of this show
.  It's currently available to stream on Netflix, but since it's an ABC production you can also watch it for free on the ABC site. Here's the basic gist – a young woman returns to the Hamptons to avenge her father's death…in an epic way. After a few seasons I was afraid they weren't going to be able to keep the suspense going (honestly, how long can you go on avenging the same people??) BUT they did it.  Kudos ABC!
Lost Girl
I'm not sure how I even came across this little gem, but it will certainly fulfill any craving for the supernatural.  In fact, Lost Girl
will introduce you to supernatural creatures you didn't even know existed (and those that are always welcome…like werewolves 🙂 ). It's a Canadian production, so the cast were all new to me and there's just something special about shows produced outside of the US.
Scandal
Here's the fix for your political drama cravings with, of course, a ton of scandalous twists. Love triangles, super secret government agencies, and back-stabbing left and right are all a regular part of Scandal. The characters are addicting and the plot lines strike a good balance between being complex but still not too deep if you just need to zone out.
This, like Revenge, is an ABC show so you can get it both on Netflix and ABC.com.
Once Upon a Time
Classic fairy tales meet the real world. Finally!  Once Upon a Time
is nostalgic, but at the same time modern. They basically touch on every fairy tale and find a way to weave them all together. This is definitely fun to watch and it's still on the air, so more episodes are in the works. And this past season has already incorporated Frozen – they're on top of things!
Big Love
Ok, Big Love
is certainly not for everyone, but there's a big reason it's on this list – your husband is just never going to sit down and watch it with you! Also, Amazon Prime
has finally started offering some HBO dramas and this is one to make the list. I love HBO, but when we decided to cut our cable bill, it was one of the casualties. The premise is simple – a polygamous family in Utah deals with all the issues you would imagine come with a polygamous family.  To be clear, this is not a reality show (it's better 😉 ) and as is typically the case, HBO delivers on the crazy drama.
How to Get Away with Murder
How to Get Away with Murder
was new to me this year and I am soooo excited that someone tipped me off to it! It is UNBELIEVABLE. In some ways, it's your classic murder-mystery, in other ways it's like nothing you've ever seen before.  The structure of the show is a little different than your classic Law and Order style, which is exciting and refreshing.  It is also still airing, which is awesome because there's more to look forward to!  In the mean time, catch up on the first seasons on Netflix! You will thank me 🙂
Happy Watching 🙂  If you need a break from TV dramas, check out my list of Inspirational Documentaries. Maybe it will ignite the fire 🙂
Related article: Documentaries that Will Inspire You to Change Your Life
Related article: 10 TV Shows to Binge-Watch with Your Husband
Related article: 7 Documentaries that Will Scare You Skinny
And of course check out my Pinterest board for other ideas on what to watch and read. 🙂
Follow Nikki @ MBAsahm's board What to Watch and Read on Pinterest.