Recently, I wrote about the plan my husband and I have to pay off our mortgage in the next 10 years.  Hearing all of your comments and ideas got me sooooo excited that I started thinking about how we could get it paid off in 5 years instead of 10.  So we started talking about all the different ways we could convert some of our expenses into making larger principal payments – easy ways that would at least cut $100 in expenses each month.
Well, we came up with some pretty exciting ideas! Here's what we've got: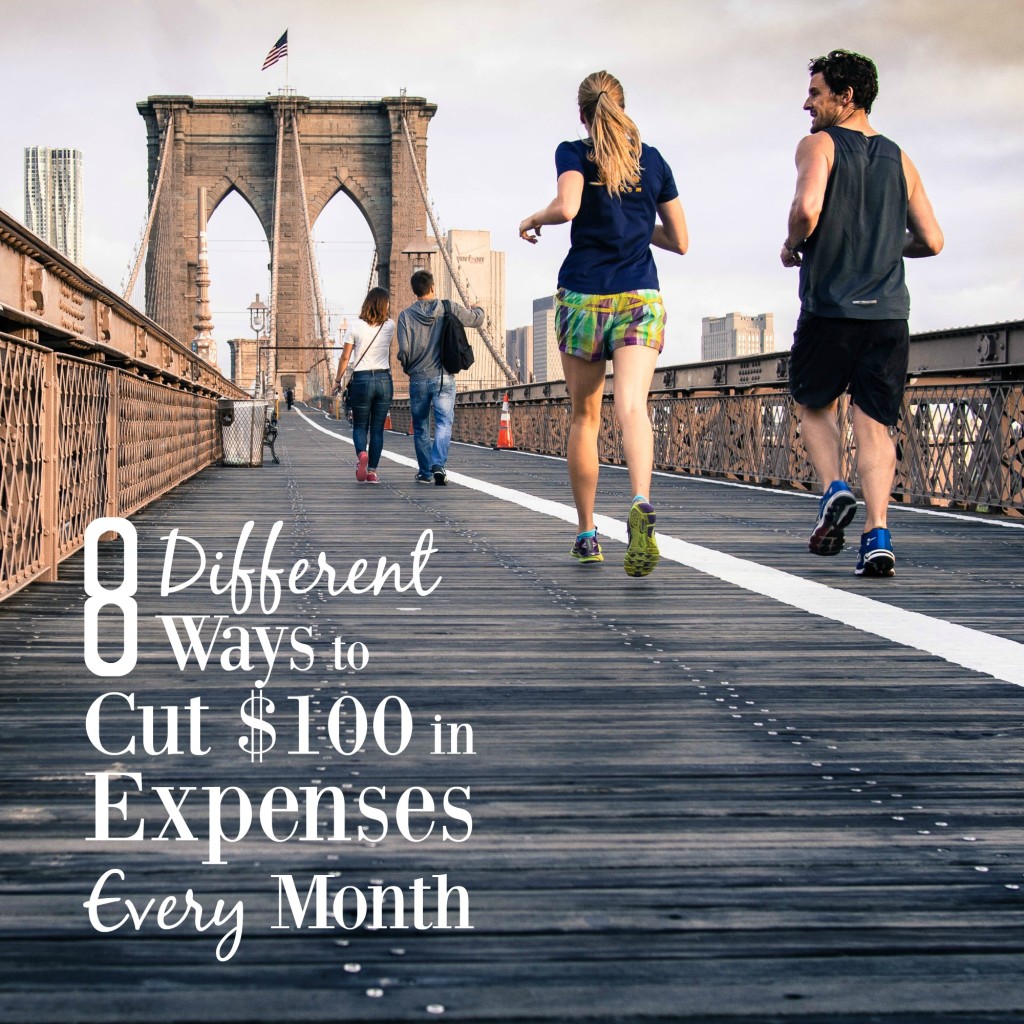 Cut the Cable Bill
When I first started hearing about people doing this, I always get excited for them but was usually secretly making a list in my head all of the shows that I would be missing if we gave up cable.
Well, I'm now a full-fledged convert.  We have officially not had cable for a year and don't miss it at all. We subscribe to Netflix and Amazon Prime, which have a way larger selection than cable (not to mention most cable shows) and are a thousand times more flexible. The two together cost about $15/month, compared to our old cable bill that was $160/month!
But cutting out cable, we save over $100 each month easily.
Pay Off Your Smallest Loan First
Odds are you're probably cutting expenses to attempt to pay off debt anyways, but the secret is to pay off the smallest loan first regardless of interest rate.  I know this sounds counter intuitive for a lot of people, but the ultimate goal should be to increase your cash flow because then you've got more money to put towards the other loans, not to mention all the other benefits of lower monthly costs.
Before my husband and I committed to me staying at home with our son, we focused every bit of extra income towards paying off student loans, which for us were being paid into 3 different accounts.  Once we got the smallest paid off, it freed up an extra $80 a month, which we immediately started putting towards the next smallest loan.  Once that one was gone,  it freed up an additional $100 a month – which mean we immediately had $180 extra going towards the third.  So finally, once that was all paid off, we had an extra $300+ in expenses forever cut from our budget.
What started as an $80/month savings turned into a $180/month savings followed by a $320/month savings!
Related post: How to Pay Off Your Student Loans Early
Start Meal Planning
I didn't start meal planning until recently and I can't believe what I've been missing! Not only do you save a ton of money, but you will also save a ton of time and sanity.  By planning out all of your meals, you are able to get great deals on groceries, use similar ingredients for different days, and cut back on items that would normally get wasted.  I incorporated meal planning with a few other grocery bill-slashing tricks and cut over $500 from our monthly bill!  Meal planning is a gold mine. If you aren't already doing this, you need to give it a try!
Related post: How I Cut $500 From My Monthly Grocery Bill
Eliminate Private Mortgage Insurance (PMI)
Depending on the type of mortgage you took out, you may have been required to get PMI, which is an extra payment that is wrapped into your mortgage each month. But after a predetermined period of time, you are able to drop the insurance if your principal balance reaches a certain amount.
For us, we were required to pay PMI for at least 5 years.  So once we reached the principal threshold (which equated to paying off 20% of the house value), our mortgage payment decreased by $80 every single month. Needless to say, this was an easy win!
Unplug the Extra Fridge
We used to be one of the many families out there that had an extra fridge in the basement that we used for bulk items and extra drinks.  It was definitely a nice-to-have, but after a few really high electric bills we decided we'd stop using it to see what would happen.  HOLY MOLY.  It instantly cut $100 from our monthly electric bill!  And to be honest, we realized pretty quickly that we didn't need it at all – we had basically just been using it because it was there.
This was a huge savings with basically no change to our lifestyle – and $100 saved each month!
Deposit Instead of Delivery
This was one of my original mortgage-saving ideas and I got a ton of great feedback about this one.  Basically, we have decided to completely give up delivery for the next year (which has been so easy that we're most likely giving it up forever) and instead, we will deposit $25 each time we would have delivered and opt for a frozen pizza instead. The biggest reason that this has been so easy is because we were really only doing it for convenience – we just didn't want to have to get dinner ready!  But with a simple, easy alternative like frozen pizza it's just a no-brainer.
Not only has this ended up being a lifestyle upgrade, but it easily saves us $100 a month.
Cut the Gym Membership
Cutting your gym membership is a great way to save a ton of money every month, but there's a huge caveat – you need to replace it with at-home workouts!  You don't want to cut out exercise, just the unnecessary monthly bill.  If you can get yourself to run outside, then you will be far better off than on a treadmill anyways.  Your body has to work harder and being outside has huge benefits for your mind and lungs.  There are also endless ways to work out inside your home (even just for 10 minutes), so try to consider all your options to find out if something will work for you.
Gym memberships have a large range, but if you have a family plan, odds are you'll be saving around $100/month!
Stop Driving to Work
Gas is a huge expense and since the price is so unpredictable, it can be extra painful during certain months.  For us, a tank of gas typically ranges from $50 – $80, so cutting back on driving can be a MAJOR savings. Luckily for us, one of the perks of extensive travel is that my husband is either working from home or getting reimbursed for the cost of gas – which is exactly how we KNOW that we are saving a bundle by not having to pay for gas.  So if you can plead your case at work or find a colleague to carpool with, you will without a doubt be saving at least $100 a month.
PLEASE share your ideas with me about how you make big cuts to your expenses!  I need all the ideas I can get.
For other ideas on saving and investing, check out my Pinterest board dedicated to saving and building wealth!
Follow MBAsahm's board Family Finances on Pinterest.