This year is packed full of goals for me, one of which is to drastically cut my grocery bill… ideally in half. My husband and I are pretty good at not splurging on fancy restaurants, or even eating out a lot, yet still our grocery bill is by far the largest bill we've got (aside from the mortgage).
So after the holidays died down, I got to work…and holy moly, what a pleasant surprise! I made a few big (but ultimately easy) changes and the results were phenomenal – I saved over $500 the first month of my attempts! As far as I'm concerned, that's the same as making $500/month, so I couldn't be happier.
So here's what I did (and what you should do) to cut $500 off the grocery bill this month:
---
If you'd like more tips on saving & making money, getting out of debt, and reaching early retirement, subscribe to my Financial Freedom Mailing List for notification of new posts. Thanks for your time!
---
Some links on this page may contain affiliate links. For more information, see my disclosure policy.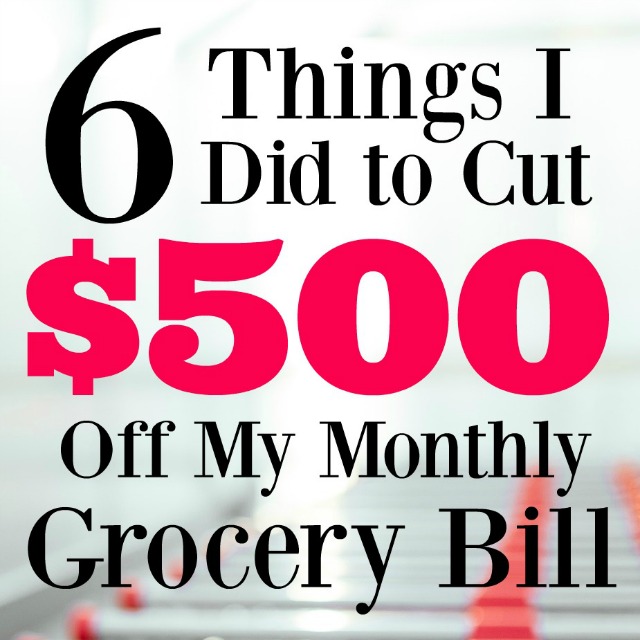 I started meal planning.
Before I actually started really meal planning, I told myself that I pretty much was already doing it – I'd think about what I'd be making all week, I'd make sure there were options for lunch and breakfast in the fridge, and that in my mind was basically meal planning.
Well, that's not meal planning. Real meal planning involves not only that brainstorming, but actually writing down the meals you're going to make and trying to strategically plan them around your circumstances. For me, that was not only saving money, but also working around my husband's travel schedule.
Ironically, meal planning doesn't take a lot of time. Quite the contrary – it will actually save you a ton of time. And as an added bonus, it actually saves you a whole lot of sanity by essentially eliminating the dreaded "What do you want for dinner tonight?" conversation.
One of the greatest tools I came across for meal planning was this free printable from All Things Mama. It's simple and includes not only space for each meal of the day, but a whole column for your corresponding grocery list.
The results from meal planning were unbelievable. I have less food in my fridge, but more to eat. My lunches were better because I was eating good leftovers. Food was ready for my husband regardless of what time he got home. And my crock pot received more attention from me than it has it's whole life.
I started a Pinterest board on meal planning where I've been saving all of the advice I can find, including some good crock pot, casserole, and freezer meals, so be sure to check it out if you want more info on meal planning:
Follow Nikki @ MBAsahm's board Meal Planning on Pinterest.
We changed what we ate.
Since I had to really prioritize the goal of cutting our grocery bill, we had to change a lot of our eating habits, including what we were used to eating. I wasn't willing to stuff us full of gross, processed foods, but I did have to make some compromises. For us, that meant:
Eating more meat, chicken, and fish. This is a bummer for me because we just finished a summer of a strict vegan diet, which I had really come to love. I still insist on a few nights a week of vegan meals, but I saved a lot of money by incorporating meat, chicken, and fish into our meals. My goal going forward is to definitely experiment with some low cost vegan options.
Eating way more soup. I am really, really happy about this adjustment. First off, there are some great vegan soups, so soup night at our house is usually healthy. Second off, soup is really, really cheap so it's a great way to cut a lot off the grocery bill. We have soup 2-3 nights a week now.
Eating what is on sale. This has surprisingly been great because it actually helps me come up with new ideas. I should also say that I never bought something just because it was on sale and I never bought things that were on sale because no one was buying it. A lot of the time, sale items are what is in season, so it usually tastes better.
Eating the same thing over and over. This hasn't been nearly as bad as it sounds, but I found that I could save a ton of money by buying certain things in bulk. One of the greatest discoveries was with organic produce – if I was willing to buy a lot of it, the price would often go down below the non-organic option. For some produce, this wouldn't work. But for things like carrots and sweet potatoes that can last a while, it was an easy savings!
No more desserts. Ok, I didn't give up all desserts. But I did sacrifice the really fun exciting ones. It's been sad, but worth it. Not only am I saving, but I'm also shedding pounds.
More casseroles and crock pot meals. Overall, this adjustment has been a good one. I definitely need to find some healthier casserole options, but most of these meals taste delicious. They're also fabulous leftovers and easy to serve late at night if my husband comes home late.
When all is said and done, these changes have been easy and certainly sustainable. In fact, many of them are improvements, so I'm a happy camper.
I focused on Buy One, Get One Free deals.
I recently came across an article that Ruth Soukup published (you can read it here) that was ultimately what inspired me to move forward with my plan to drastically cut our grocery bill. One of my biggest takeaways from her article was to focus on Buy One, Get One Free deals at the grocery store. If I could transition most of what I was purchasing to Buy One, Get One Free, then I would ultimately cut my grocery bill in half. It's pretty brilliant and simple if you ask me. I wanted to really make sure this worked though, so before I went on a BOGO shopping spree, I used the following criteria to decide if I would actually spring for the deal:
It had to be something that had a very long shelf life or could be frozen.
It had to be something that I would already be purchasing and using.
It had to still be cheaper than comparative options.
If all of the criteria applied, then I would purchase as much as I could use before it would go bad. At times, this felt a little excessive, but as long as I knew I wouldn't be wasting it, I stuck to the plan.
This worked! I was obviously saving money and if I stuck to my criteria, I never ended up with extra or wasted food. In fact, it made meal planning simpler and cut my shopping time in half. I was also shocked at some of the items I came across. I can't believe how long I spent full price on items that can so easily be stored and purchased at half price.
The success of this adjustment also led to my next big change:
I started a small stockpile.
Since I was going to be focusing on Buy One, Get One Free deals, then I was obviously going to have more food on hand than normal. And that was exactly the plan.
I had already ensured that I was only stocking up on items that had a decent shelf-life, so my small stockpile started to build.
What's so amazing is that by organizing myself and meal planning I was already saving money…the stockpile was just icing on the cake!
But what an amazing and sweet icing it will be – because next month, I will be saving the $500 that I've already learned to cut PLUS I will be saving even more by using the items I've already purchased! I honestly can not wait. 🙂
I used coupons strategically.
I've always been skeptical of coupons for a few reasons. Mostly because I'm aware that it's an easy way for retailers to get you to buy more of their stuff. And also, because it can become a huge time waster.
So when I started to focus on cutting our grocery bill, coupons were not part of the plan. But what happened was that I became so organized with what I was going to buy (because of the meal planning, BOGO deals, and stockpiling) that coupons all of a sudden became very valuable. Here were the keys:
I only used coupons on items I was already going to buy. So I didn't even look at the coupons until I already had my grocery list written.
I streamlined the coupon process by sticking to the Swagbucks coupon database (you have to create a login, but it's a totally free account). I have yet to find a place that lists as many coupons as they do from so many different manufacturers and their process for printing them is very simple. This saved a lot of time by not having to wade through tons of mailers.
I hung onto coupons for items that I regularly use, but didn't need right then and there. I was so pleasantly surprised to find that a lot of these items went on sale a couple weeks after I printed the coupons (but before they expired), so I was able to use the coupons when the item was already on sale.
I started using Ibotta (another free money-saving site) to get cash back on items I was already buying. In many cases, these were items I also had coupons for, so I ended up getting extra off – sometimes even making money! One thing that really got me hooked on Ibotta was that they give you cash back for produce, as well as "any brand" items like milk, bread, and eggs. I'm constantly buying these items, so it's a no brainer for me. (If you use this referral code, they will give you an extra $10 if you redeem a product within the first two weeks – reovbju ).
I started using Checkout 51 (another site just like ibotta). This was really exciting because I could often get double rebates (using Checkout 51 and ibotta together) OR additional rebates on items not listed on ibotta. The site works just like ibotta, so all you have to do is scan your receipt and indicate which items you purchased!
When done right, I really think coupons can be an unbelievable way to cut the grocery bill, but you have to be careful not to be convinced to buy something you don't need!
Related article: 6 Tips to Save a Ton of Money with Coupons
I envisioned a reward and read it to myself every morning.
I know there are some people that will chuckle and roll their eyes, but I'm telling you this helped. I have a list of Daily Affirmations that I read to myself every morning (the inspiration for this came from The Miracle Morning – an absolute must-read for everyone) and I added a couple lines that specifically keep me inspired to save the extra money on food and groceries.
For those new to daily affirmations, here's the basic concept – Every morning you read to yourself a list of inspiring quotes, commandments, dreams, or statements that apply specifically to your life and everything you want to accomplish. When you read them every morning, you can't help but be completely inspired and excited to start your day. They're unbelievably effective.
The reason I'm telling you this is because adding a few lines to my Daily Affirmations was critical in reaching my goal of drastically cutting our grocery bill. I honestly think I would have forgotten about the whole thing had I not been using daily affirmations. They kept me motivated, reminded me what the end goal was, and ensured that I stayed on track. If I hadn't been doing this every day, I guarantee there would have been times we ordered take-out or splurged on something expensive like sushi.
I tracked what I was spending.
I don't want use the word "budget" because it has such negative connotations. It's also not quite what I was doing, although it's pretty close to the same thing.
But basically, I kept track of what I was spending and compared it to past months.
Since I use Mint.com to connect all of our financial accounts, this was unbelievably simple for me. I just listed how much I spent at each grocery store, restaurant, or other food store and updated it every few days.
Since I was spending so much less than normal, this added a ton of motivation and really got me excited to keep going ahead with the plan.
It's a simple adjustment, but really provides a lot of motivation which is often half the battle!
So here I am, $500 richer and so proud that I stuck to these changes for the month. I have no doubt that I will continue doing this and hopefully I'll see even more savings! As always, please let me know if you've got any more secrets that will make a big difference. Any tip helps!
If you're looking for other great way to save money, check out these posts: