When I left the 9-5 grind to stay at home with my son I knew that I would try to find some work to do from home. What I didn't know was that the options would be seemingly endless. In fact, some business that I was in contact with were actually specifically looking for stay-at-home moms.
Since then, I've been keeping track of all the amazing options out there for every type of background, because honestly I think everyone should have the opportunity to work from wherever they want – especially if it's to be able to stay at home with their kids. So, for the teachers, educators, and infopreneurs out there, this list is for you. Some are so unbelievable that you can make way more from home than you ever could in a classroom (seriously).
Related post: 50 Ways to Make Money as a Stay at Home Mom
---
If you'd like more tips on reaching financial freedom, living a fulfilled life, and raising happy kids, subscribe to MBAsahm for notification of new posts!
---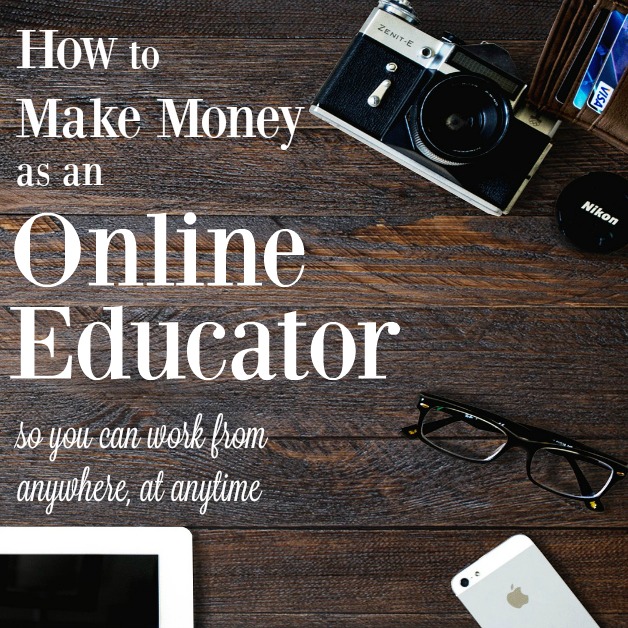 Here we go. 10 ways to make money as an online educator:
CREATE ONLINE COURSES ON UDEMY
I love, love, love Udemy
and all sites that are like it. I've used it as a student and hope to eventually become one of their educators as well. Basically, you create online courses on any and every topic imaginable and then you get a portion of sales from those who pay for the class. You also have the option to offer free classes which is great to build up your credibility and try things out. There's no concept of credits, so no one is "forced" to take any classes, so quality really matters. The best part of Udemy
is that you can really create a course on ANYTHING. This is amazing because your goal should always be to make money off of something you are passionate about.
START A BLOG
There's no way I could build a list of money-making opportunities for educators without including the option to start a blog. I LOVE my blog and think it's an amazing opportunity for just about anyone. While blogging is certainly not a get-rich-quick scheme, it is wildly fulfilling and once you've put in the time, you have the opportunity to make a lot of money. And just like Udemy, you get to write about whatever you want!
Related article: The Quick & Dirty Guide to Starting a Blog
Here are some things to think about if you're considering a blog:
It takes a lot of time and a lot of work. If you want to make a full-time income blogging, then you will need to work full-time hours. BUT…

You can truly work from anywhere, AND..

You can truly work at any time of the day.

You will need to cater to your readers, your sponsors, and the random whims of Facebook and Pinterest, BUT you are your own boss and you set your own limitations.

You need to love writing because you will be writing more than an author.

In fact, you will almost definitely self-publish at least one ebook over the course of your blogging (it's just one of those natural steps…).
Blogging is an amazing (and my favorite) entrepreneurial endeavor. I wrote a very indepth, detailed post on the steps to creating a money-making blog, so check it out if you think this path is for you. ? How to Start a Money-Making Blog
BECOME A FREELANCE WRITER
Before I ever even thought about having my own blog, I took a chance as a freelance writer and was completely blown away by all the opportunities out there. In fact, the reason I started my blog was because I was bombarded with so many projects writing and managing other people's blogs that it just seemed like the next big step. I used Upwork (and still do) to find jobs and highly recommend it for anyone that wants to give freelance writing a try.
If you're a decent writer, then freelance writing should absolutely be part of your overall portfolio. Not only will it significantly improve your writing skills, but it is about as flexible as it gets. You can write from anywhere, at anytime. You can also decide to take on as little or as much work as you want. As my blog has grown it has taken more and more of my time, but I still make sure to have small, manageable freelance projects going on all the time. It is a great way to research and write about different topics, and it's guaranteed money when the job is done.
Related article: How to Get Your First Freelance Writing Job
TEACH LANGUAGES ON ITALKI.COM
If you speak more than one language, then you've got an incredible talent just waiting to be shared. Learning a new language is hard, but it's also a very coveted skill, so that means there's a huge market for people paying for high quality language lessons. iTalki is a great site for connecting students and teachers so that you can learn a lesson from a real-life (but virtual) tutor. If you don't have the time or desire to be that hands on, then you can also be paid to write articles for them that can assist in language development.
Also, don't forget that you can create webinars and online classes teaching a language to be used on Udemy
…two birds with one stone!
SELF PUBLISH A BOOK
If you have an expertise in anything, a good story to share, a knack for fiction writing, or just a crazy idea, then you definitely need to consider writing and self-publishing a book. The resources available to you right now are unbelievable. And the hardest part – the part that keeps most people from actually doing it – is getting past the thought that it's not something you can do….or that you're not ready…or that no one will read your book. You can do it! You are ready! People WILL read your book!
Here are some extra thoughts to consider if you're ready to take on this project:
There is nothing – NOTHING – more important than high-quality writing when it comes to books. Put your heart and soul into it and don't hold back. Do not cut corners and don't let anything hold you back from providing the highest quality experience for your readers.

You can pay people to help you write, edit, market, design, and publish your book. Depending on how much of a success you want your book to be, you should consider all of these.

The money you will earn from your book is

passive income

, which is the absolute best kind of money you can make. It is worth doing this right.
SELL YOUR LESSON PLANS ON TEACHERSPAYTEACHERS
TeachersPayTeachers is a brilliant concept, especially if you've been teaching for a while and have some great lesson plans under your belt. Basically, you sell your lesson plans to other teachers! This means that once you've created something great, you can keep making money while moving on to the next creation. It's a fabulous way to make passive income, especially if it's something you enjoy (or have already done and perfected!)
BECOME AN ONLINE TUTOR
If you have an expertise in just about anything – and certainly if you love teaching – acting as an online tutor should be part of your portfolio. It can be very part-time (only a few hours a week) or completely full-time. I've read stories of high-end tutors that make well over six figures a year! Another great benefit of tutoring is that It will increase your knowledge of your area of expertise.
And of course, when you're an online tutor you can tutor people from all over the world which seriously increases your opportunities for both subject matter and students, but of course, you could also start local tutoring in Tucson too! One of the most popular sites for connecting online students to tutors is Tutor.com, so start there first.
TEACH ONLINE COLLEGE COURSES
Even if you've spent years as an elementary school teacher, you shouldn't overlook the possibility of teaching college level courses. In fact, some of the best college professors were never trained to teach – their experience comes from their area of expertise…which is what (and why) they teach. So no matter what your past experience is, if you're an expert in your area then you should start reaching out to colleges and universities to see if you can join their faculty. If you focus solely on online courses, then your options are almost endless because you can work for any online or brick and mortar college in the world.
SELL ACTIVITY PACKS ON ETSY
I love all of the potential that Etsy has created, especially for entrepreneurs that want the flexibility to work from home. One of the funnest ideas I've come across are activity packs that include directions and supplies for a fun lesson or activity that you can do at home with your kids. Snow days, sick days, and summer days can be rough on parents with school-aged children, so there is definitely a market for creative solutions that come prepackaged and ready to go. If you have experience teaching young children, or just have a knack for teaching crafts, then you definitely should consider this! If you create your product ahead of time, then this entrepreneurial path is about as flexible as it gets. You just need to be able to ship your product once it is purchased.
START YOUR OWN CONSULTING BUSINESS
If you have an expertise, then someone out there needs your help. Consultants exist in every area imaginable and nowadays most of them work remotely. Starting your own business requires a lot of time, but it is also very rewarding. You are your own boss and set your own rules. If you're good at what you do then this is how you can start to make a ton of money.
Good luck on your money-making endeavors! Let me know if you've found other creative ways to make money as an online educator!
---
If you'd like more tips on saving money, making money, getting out of debt, and reaching early retirement, subscribe to my Financial Freedom Mailing List for notification when new posts are published. Or, if you want to receive notification for all new posts from MBAsahm, join my Main Mailing List and receive tips on living a fulfilled life, parenting, and raising happy kids in addition to achieving financial freedom. I hope you enjoy everything you read! Thanks for your time!
---