Are you ready to blow your kids' mind? Want the best October yet? You can actually get a Halloween Advent calendar to savor every single spectacular day of October…plan every single Halloween-ish activity…and truly savor the weirdest, most bizarre holiday ever.
Seriously!
I am a huge holiday person, but Christmas has always taken center stage once the weather starts cooling off. But as my kids get older, Halloween has become more and more exciting! So when I discovered these Halloween Advent calendars (also called Halloween countdown calendars), I felt like I hit the jackpot!
---
If you'd like more inspiration on parenting and raising happy kids, subscribe to my Parenting List for notification of new posts. Thanks for your time!
---
Some links on this page may contain affiliate links. For more information, see my disclosure policy.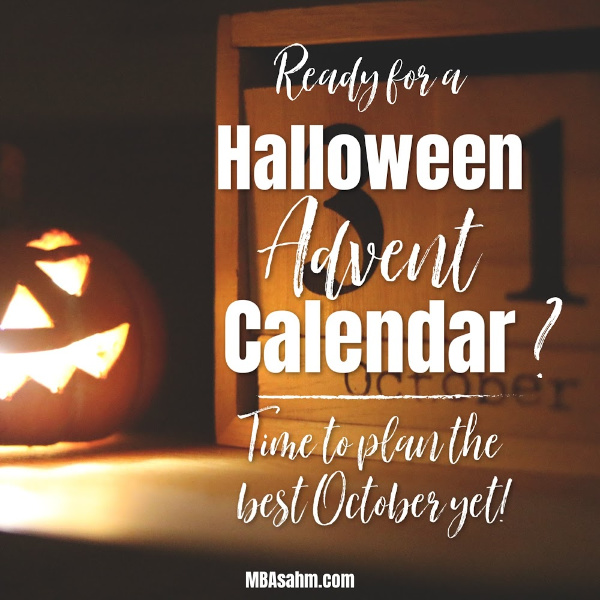 What a fun way to celebrate Halloween all month long! I mean REALLY experience it. And we LOVE our Christmas Advent Calendars, so why not do the same for Halloween?
I mean, the concept is brilliant!

But First, For Those Who've Been Living Under a Rock – What is a Halloween Advent Calendar?
Easy peasy – it's a fun way to countdown the days until Halloween.
The Halloween countdown calendar (aka Halloween Advent Calendar) will come with a little compartment for each day so that you can put either a little gift or treat, or a note that lists a fun activity you will do (obviously THIS is what you want to focus on).
The great thing about these Halloween Advent calendars is that most of them can be used each and every year. It's a fun thing to look forward to AND a really cool Halloween tradition to start!

Where to Get a Halloween Advent Calendar
Halloween countdown calendars may be the best idea ever, but they're not completely mainstream…yet.
You can, however, still get versions of them from some of the best sources around, so if you're ready to make the plunge, check these out first:
What to Put in Your Halloween Countdown Calendar
There are A LOT of fun things to do in October, whether explicitly for Halloween or not. So you will have no trouble filling your calendar with tons of fun activities, many of which are free.
So don't fret if you feel like you don't have the budget for a Halloween Advent calendar – this doesn't need to get expensive. You could literally do the entire thing for free if you needed to!
If you want to scatter some goodies throughout though, this is also a great time to do that.
I LOVE adding things like books, socks, and pajamas to my advent calendars, just because I will likely be getting that anyways!
So here are some ideas, both gift and non-gift, to fill your Halloween Advent Calendar with:

Halloween Countdown Calendar Gift Ideas
Some of these Halloween Advent calendar gift ideas will be too big to fit inside your calendar compartment, but that's ok! Just leave a little not that says where their gift is (you can even hide it somewhere fun).
Halloween socks (these are my favorite! They actually glow in the dark!)
Halloween Books (these won't fit in your calendar, so just leave a little note sending them on a treasure hunt to find their Halloween gift!):
Halloween Countdown Calendar Non-Gift Ideas
Of all seasons, the fall seems to have the most seasonal activities to do with your kids.
It's the perfect time to head outside with kids, so you can at least fill up your weekend days with activities, instead of gifts.
Here are some really fun ideas:
Go on a hayride
Go pick apples at an apple orchard
Visit a haunted house
Wear your costume to the mall
Walk around the neighborhood to look at Halloween decorations
Decorate the outside of your house
Decorate inside your house!
Complete a Halloween craft
Bake Halloween treats to send to school (even if it's just for the teachers!)
I hope you get a chance to experience a Halloween Advent calendar! If nothing else, enjoy this fun holiday and get ready for Christmas because it's right around the corner! 🙂

Related posts:
---
If you'd like more inspiration on parenting and raising happy kids, subscribe to my Parenting List for notification of new posts. Thanks for your time!