What if you could look at a picture of your dream life and in an instant it became your reality?  It may seem far fetched, but there is tons of research suggesting it's possible. Not to mention anecdotal evidence coming from some of the world's most successful people. And once you know how to create a vision board, you'll be one step closer to living your dream life just like they are. 
Vision boards have a simple but amazing concept.  If you visualize the life you want, then you'll ultimately obtain it. They're an amazing source of inspiration and motivation for basically any goal you could possibly have.
Here is how the classic vision board works:  You gather pictures that embody the life you want to have and you create a collage of the images on a bulletin board.  You should spend time looking over your vision board at least once a day and voila! You've got instant inspiration to achieve your dreams.
While creating the classic vision board is pretty easy, I've found that they don't always look that great over time or they're pushed aside as yet another unfinished project. This is a huge shame because they truly are very effective!  So how do you create a vision board that is effective and inspiring? Follow some of these tips to ensure your success:
---
If you'd like more tips on reaching financial freedom, living a fulfilled life, and raising happy kids, subscribe to MBAsahm for notification of new posts!
---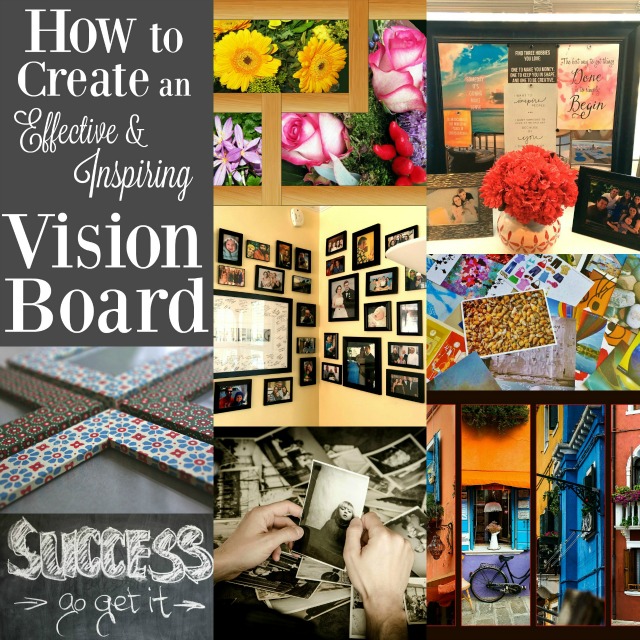 First: The Easy-Peasy On-the-Go Vision Board
Before I go into some of the tips and tools that help to make a vision board truly effective, I want to share a secret for the super easy, super quick, on-the-go vision board.  This can not only act as a stand-in vision board when you're away from home, but it will be a major source of inspiration and will act as one of your major tools in creating your at-home vision board. So how does it work?
You create a vision board on Pinterest (here's an example of mine).  If you're already on Pinterest, you know how easy this will be.  You create a board solely for images that inspire you, embody the life you want to live, and will help achieve your dreams.  Pinterest is full of inspiring quotes and beautiful images, so it's almost as if it was meant to do this.  In fact, in many ways it's exactly what they aim to do!
There are a ton of benefits to starting with your Easy Peasy On-the-Go Vision Board:
You will have a vision board at the tip of your fingers that you can go to anytime you need inspiration.

You will be able to source images that you can later print out to put on your main vision board.

You can continue to build both your Easy Peasy version and At-Home version on an ongoing basis.

It takes virtually no time at all to build your board.
Your Pinterest vision board is an easy win. It will get you really excited about the tangible one you're about to create and more importantly, it will get you inspired to live your life every time you look at it.
Making Your Vision Board Look Good
One of the biggest reasons I strayed away from an actual, tangible vision board for so long was the look of them.  To me, they screamed college dorm room and that's just not the look I'm going for anymore.  But finally I caved and realized I just needed to figure out how to make it NOT college dorm room-looking.
First step?  Add a frame!  This makes such a huge difference and immediately elevates the quality of your vision board. I was able to actually purchase a bulletin board that was already framed, so I didn't even need to do any handy work. → This is similar to the frame I'm currently using. It's a great size and great quality.  And of course, if you've already got a bulletin board, you can purchase a frame that fits it (or use an old one) and just remove the glass.
If you've got a frame on hand and can't find a bulletin board that fits, you can also buy rolls of cork board
and mount it inside your frame.  I did this for my husband's vision board because I couldn't find one big enough.  The quality wasn't as nice as the one I had purchased for myself, but it was the only option for a really big board, which in this case made it worth it.
The other great benefit of adding a frame to your vision board is it makes it easier to hang on a wall and find the right space for it.  It will also make all of your images pop!
The second thing I did was a no brainer for me – designer pushpins! This is obviously a matter of taste, but since you will be pinning images to your board, you should find pins that you like to look at. 
The last step that I think is important for making your vision board look good is to organize your images thoughtfully.  Your vision board is supposed to be a collage, but that doesn't mean it needs to be cluttered and haphazard-looking.  You want to feel calm, warm, and inspired when you look at your board, so consider arranging your images in a way that is appealing to the eye.  This will also make it easier for you to hang somewhere that will be highly visible (which we'll get to right now!)
Picking the Right Spot for Your Vision Board
Picking the right spot to put your vision board is possibly the most important aspect of this entire exercise.  Without the right spot, you've basically just completed a one-time activity. And while that is great in the short run, it's not going to be enough to transform your life.
Ideally, you want to see your vision board first thing in the morning and last thing before bed. This is important because how you go to sleep is how you wake up and how you feel in the morning is how you will feel all day.  It's a beautiful – and at times vicious – cycle.  If there's a place in your bedroom that you can hang your vision board, that would be ideal.  Or if you have a spot in your home that you spend with a morning coffee and book, try putting it there.  Another option is to add a vision board to your workspace to boost your productivity and keep you motivated.
Remember, the idea of a vision board is to inspire you. You should be able to look at it and instantly feel warm, fuzzy, and motivated to make your dreams come true. So don't feel like you need to limit yourself to one and don't feel like you have to fit every single dream onto one board.  The classic vision board may contain cut out images, but you can also think outside the box and create "vision walls" – collections of family photos, themed arrangements that remind you of a favorite vacation spot, or one beautifully framed quote that has special meaning to you.  The more inspiration you surround yourself with, the easier, quicker, and more enjoyable the journey to achieving your dreams will be.  
Finding Sources of Inspiration
Finding images, quotes, or other forms of inspiration for your vision board can be tough, especially since many people are moving away from hard copy magazines (the classic source of vision board inspiration).  But there are still a lot of sources that you can use.  Here are some of my favorites:
Magazines

– If you have access to magazines, these are a great source of inspiration.  The photos are usually glossy, which looks really nice and most magazines are themed towards one area of your life.  Try to use a broad range of topics like travel, home and garden, parenting, business, etc so that your inspiration varies.

Your Pinterest vision board

– Hopefully you've taken my advice and started a Pinterest vision board of your own.  If so, print out everything you've got!  There's no reason you can't have duplication.  If you don't have a dedicated vision board, but do have other Pinterest boards, then scan through them to see if any images jump out at you.  Pinterest also has a special section for quotes, so I recommend looking through there.

Google image search

– If you know of a specific image or topic that you're looking for, then make life easy on yourself and Google it!  You will instantly have access to pretty much every image on that topic that can be found on the internet.

Postcards – If travel is part of your ultimate dream, then postcards are a great source of inspiration.  They can either be reminders of locations that you've already traveled to or places that you want to see.  → You can order postcards online for $1 each here, so you don't have to actually be at the vacation spot to get one.
Photographs

– Photographs are one of my biggest sources of inspiration and one of my favorite "vision walls" is a collection of family photographs.  Photos are also great for landscape or seascape shots taken during vacations.

Artwork

– The whole point of artwork is to entice emotion, so try to focus on artwork that entices inspiration and motivation! Artwork can stand on it's own, be part of a larger vision wall, or can be added to your vision board.
Once you start creating a vision board that you truly love, you will find that you always have your eye out for additional inspiration and all of a sudden the process for finding images will be second nature.
Motivation to Actually Get it Done
Ok, you've read over my tips and you've got all the ideas in your head.  Now for the absolute hardest part – and what will set you apart from 95% of people.  You need to start your project and you need to finish your project. Depending on your personality-type, one of those steps is likely harder, and for 95% of people it will be what prevents them from achieving their dreams.  So be the 5% and take the first step, then get to the finish line.
Here are some tips for starting and finishing your vision board:
Order your supplies.

Once you have all the supplies you need, your biggest excuse for not starting is out the door.  Lay the supplies out so that you can see them and are more motivated to get started.

Do it all (from start to finish) first thing in the morning

. If your biggest hurdle is finishing projects, as opposed to starting them, then settle on a morning that you will create your vision board and start it first thing.  Don't let yourself do anything else until it is finished.

Break it into chunks.

If your biggest hurdle is starting projects or having time, then break the process into chunks and complete a predetermined amount of work each day. The key is to decide how you will break your project up (ideally in small, manageable steps), so that you know exactly what you will do each day. You will need to order or gather your supplies, source all of your images and quotes, settle on the layout and compile your arrangement, and find a perfect spot for your vision board.

Schedule regular time to work on it.

For your vision board to be most effective, you will need to spend at least 1 minute looking at it in the morning and 1 minute looking at it at night (this is not a lot of time!).  So to get yourself in the habit, try scheduling some time each morning or each night to work on your vision board(s) and/or vision wall(s).  This way, once you've completed your projects you will already be in the habit of regularly visualizing your dreams.
I hope with these tips you now know how to create a vision board that will change your life!  Come back and let me know how it goes!
---
If you'd like more tips on reaching financial freedom, living a fulfilled life, and raising happy kids, subscribe to MBAsahm for notification of new posts!
---
Some links on this page may contain affiliate links.  This means that if you purchase one of those items, I will receive a commission at no extra cost to you. All opinions are my own and I will never recommend a product that I wouldn't (or haven't) purchased myself. Thank you for supporting MBA sahm!