Whether you find out ahead of time or at the moment of delivery, hearing that you're having a boy is an amazing feeling.  You're life's about to change!  Amidst the excitement though, you are bound to experience one tiny twinge of disappointment – no bows, glitter, tutus, or accessories. But it's ok, you tell yourself, because having a boy will be more fun anyways. And trust me, IT IS.  And best of all? You will be blown away by the cute baby boy clothes that you will come across if you look in the right places.
What you don't know yet is that baby boy clothes can actually be way, way cuter than anything you can find for a girl!  Not only do boys have their own adorable accessories, but they can pull off being dressed like mini versions of their dads, something little girls just can't seem to do (or maybe it's that yoga pants and an oversized T-shirt just don't pack a punch ;-)).
Here are some of the cutest places to get baby boy clothes (and accessories) that you may not have thought of:
---
If you'd like more tips on reaching financial freedom, living a fulfilled life, and raising happy kids, subscribe to MBAsahm for notification of new posts!
---
Some links on this page may contain affiliate links. For more information, see my disclosure policy.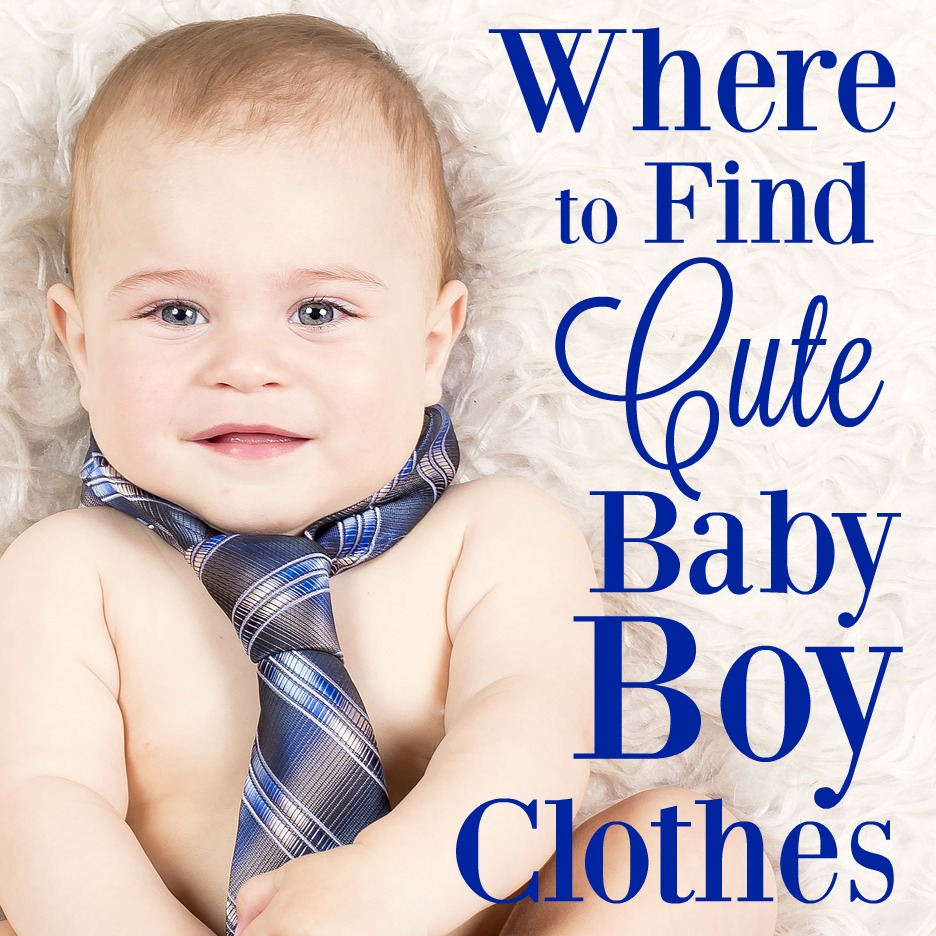 Hatley
Hatley
is my absolute favorite destination for adorable baby boy pajamas.  They have other cute baby boy clothes, but the pajamas are what I'm hooked on and what I almost always end up getting for baby showers or birthday parties.  First, they're a really soft lightweight material, which makes them perfect for warm nights or if you keep your heat pumped up for the baby.  Second, the patterns are so fun!  They're more of a "big boy" style, which is such a great change of pace from the classic get-ups that you will inevitably have.  Third (and this is a big one!), they somehow manage to last far longer than most outfits do for babies.  The pant leg is a little longer and they've got soft elastic around the ankle, so they don't have to be a perfect fit to still work and be comfortable.  And fourth – some of their styles actually come in matching men's sizes (for Dad!!).  Too cute for words. 🙂
You can get all of their current styles on their website
, and you can also find Hatley PJs on Amazon (which is always a big bonus in my book).
Robeez
When you realize how cute and functional Robeez shoes are, you're going to feel like you found a gold mine!  They have the cutest designs you will ever see in shoes (many of them actually look like animals) and they are soft soled, which means they're perfect for toddlers that are just learning to walk.  They're also really comfortable with soft elastic, so your baby will actually enjoy wearing them – and they will stay on their feet!  My son is 2 and these are still one of his favorite shoes styles.  
Just like with Hatley, you can find Robeez on Amazon or the Robeez website.
KicKee Pants
I didn't discover KicKee pants until my little guy was a toddler and now I can't wait for my next one to be decked out every single day in these unbelievably comfortable outfits.  All of their clothes are made out of bamboo, which is the softest material I've ever felt.  When my little one was a newborn, I was so paranoid about him being comfortable – these would have been a lifesaver!  Even cuter, they make onesie rompers that have little flaps on the back for easy diaper changing access.  How fun!
You can get tons of KicKee Pants right on Amazon, as well as the KicKee Pants website.
Carters
Carters
is my go-to destination for comfy, adorable "play" clothes…aka, what my son wears almost everyday :). Their classic outfits all have the most adorable animal covering your little boy's butt  (which always looks cute with a diaper puffing everything up) and then a set of shirts that match.  Everything is a comfy cotton material and really, really affordable.  
Carters has big outlet stores in some locations, but you can also get clothes from their website
or you can find a lot of Carters styles on Amazon.
Janie and Jack
I won't lie, Janie and Jack is really, really expensive. BUT if you're looking for the cutest little outfit you can find (especially if it's for a very special occasion), this should be your first stop.  The outfits are all very high quality and they are as adorable as you can get.  These are the kind of outfits that make little boys look like movie stars.  Forget looking like Dad. Your little guy will be looking like Brad Pitt.
You can buy Janie and Jack clothes through their website or in their retail locations.
Ralph Lauren
A lot of adult name brands offer baby clothes, but Ralph Lauren
is one of the few that actually offer baby clothes – not just a mini-Dad version of toddler clothes (which are obviously still adorable).  Some of my absolute favorite one-piece jumpsuits that my son spent his first few months in were from Ralph Lauren
.  The material was different than the usual onesies and they were some of the only outfits that I could find that didn't shrink.
Ralph Lauren has their whole baby and toddler collection on their website
, but you can also find them at Nordstrom stores, as well as Nordstrom's website.
Vineyard Vines
If you're looking for super cute, adorable accessories for a special occasion, you need to check out Vineyard Vines.  They have ties, bow ties, and suspenders that are made for toddlers (we have a Christmas-themed set) and most of their styles can be matched for Dad too!  They also have a line of clothes, but the accessories are really what stands out.
Vineyard Vines has some retail locations, but your best bet would probably be their website, at Nordstroms retail locations, Nordstroms website, or on Amazon.
Etsy
Without a doubt, the cutest little boy clothes at the most affordable prices all come from Etsy
.  You can scan Etsy's site or you can search on Pinterest and I promise you will melt when you see some of the creations that brilliant seamstresses have come up with.  Since almost all of Etsy's products come from entrepreneurs or home-based businesses, the prices are very reasonable and most of the cute outfits are handmade. It's a great place to find cute clothes and as an added bonus, you are most likely supporting a small business. Win-win!
Crocs
My heart melts when I see a little boy in Crocs.  Maybe it's my own love of Crocs, but something about the bright colors and the wide flat shoe just makes me smile. But here's the kicker: Crocs are unbelievably – I'm telling you, unbelievably – comfortable for kids!  My son is a shoe connoisseur and his Crocs are always at the top of his list. They also come in a ton of styles, so you don't have to go with the classic look if it's not your thing…unless, of course, you want your little boy to match Dad. 🙂
Crocs can be purchased on their website and if you're lucky, you may be able to find them at a kiosk or their own storefront in some areas.  And of course, you can also find Crocs on Amazon.
Toms
Have you caught on that I'm a total sucker for little boy shoes that match Dad??  If you or your husband wear Toms
, then it should be a no brainer that your little boy wears them.  Baby Toms
are absolutely adorable and come in the funnest patterns.  They are also velcro, so your toddler may actually learn to put them on himself (or at least have some fun with them).
Hopefully this list of options for cute baby boy clothes helps with your shopping!  Nothing beats having a little boy, so you should enjoy dressing them in style. 😉