I've been using Swagbucks for a while and I'll be honest with you – it's not a game-changer and it's not going to make you rich.  BUT it's still an easy way to earn some extra money, especially if you use it for things you would be doing anyway. If you're lucky it will put a couple hundred dollars in your Paypal account each year, and it can definitely earn you some nice Amazon gift cards that will help out come Christmas time. The key is to know what is worth your time and what isn't.  
Lucky for you, I've wasted enough time for both of, so take my advice and ignore most of the bells and whistles that Swagbucks has to offer.  There's really only a couple of features that are worth your time, so if you focus on them, you'll pad your wallet without even thinking about it.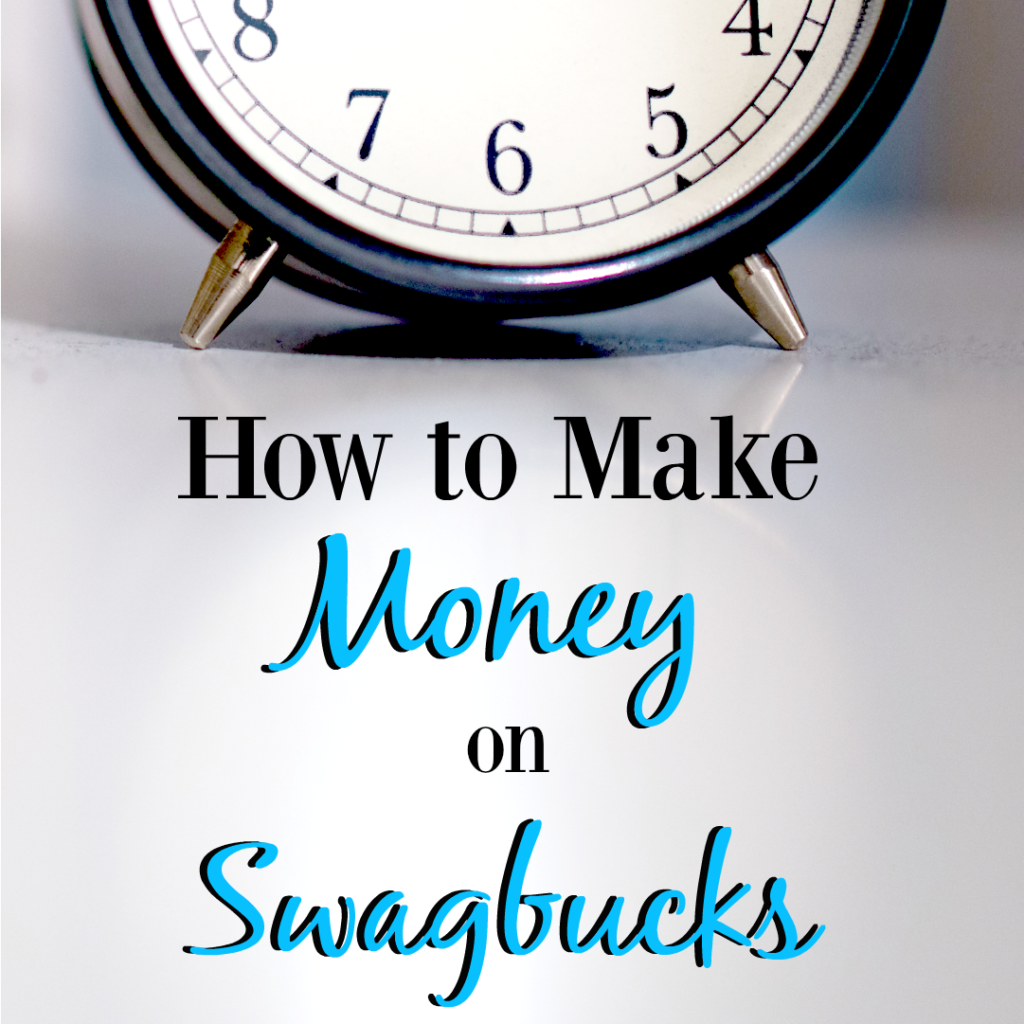 But First, What Exactly Is Swagbucks?
Swagbucks is a free cash-back/online rewards site (similar to Ebates) where you earn points (which are convertible to dollars) for doing various things.  And there are a lot of things – shopping, online searches, watching videos, answering surveys, and even playing games. You can't make enough to earn a living, so don't think of this site as a job. If done right, it's just an easy way to save an extra 10-50% on things you're already spending money on.  And often, that savings comes back to you in cash.
There are a lot of ways to waste time on this site, so I'm going to cut to the chase and tell you exactly what you should be doing. Here's what I'd recommend:
Coupons
In the beginning, this was my primary use for Swagbucks.  You can print tons of coupons right from their site (Go to Shop >> Coupons >> Printable).  Every time you use one, you get 10 points (this equates to 10-12 cents, depending on how you convert your points).  This doesn't sound like a lot (and it isn't), but their database for coupons is amazing, so you'll be saving a lot just by taking advantage of those. The extra points are just icing on the cake.
Here's the key to making the most of their coupons:  
Check into the site at least once a week (this will only take 5 min) and scan through all the coupons.  Many of their best coupons change every week, so this is the best way to grab the good ones.  

Print any coupon that is for a product you purchase regularly or will need to at some point (even if you don't need it right now).  Many of these coupons won't expire for months, so you'll be glad to have the extra savings when you do need to purchase that item in the future.

Keep in mind that most grocery stores will double any coupon under $1.  This means that if you see a coupon for 75 cents, it will actually be for $1.50. This is an amazing way to get free products if they're inexpensive! I've been able to get free baby food, canned soup, and toiletries by keeping my eye out for these.

Keep your printed coupons in your purse or on hand so that if you're at the grocery store and realize you need something, you can check for the coupon right there.  I can't tell you how many times this has come in handy for me.  I promise, it will definitely impact grocery budget.
Related post:  How I Cut $500 Off Our Monthly Grocery Bill
Cash Back for What You Were Buying Anyways
The absolute best and easiest ways to earn money on Swagbucks is to shop as usual and earn cashback from any retailers that are participating partners.  The key to making this work is to put the Swagbucks button on your browser (they tell you how to do this on their site).  When you do this, Swagbucks will automatically recognize a retailer that they work with and a little box pops up to tell you before you purchase.  Just click the box and you're all set!  It takes less than a second and you then earn a ton of points for something you were going to buy anyways.  In some cases, you can get almost 10% back.  If you're a regular online shopper, 10% can seriously add up. Also, this extra cashback comes on top of any other discounts you're getting, so you don't have to worry about affecting other deals.
Use the Browser
One of the ways you can earn on Swagbucks is by using their browser.  Just like with their shopping icon, this is a quick adjustment you make to your settings and then you never need to think about it again.  The search engine is powered by Yahoo, so you actually get normal search results, not some weird thing that Swagbucks has thrown together.  You won't necessarily earn a ton of points this way, but it literally takes 10 seconds to set up and then after that, you don't need to think about it.  You will search as usual and occasionally a little box will pop up and say "You just earned points!" It's that simple.
Pick the Right Redemption
When it comes time to redeem your points, be really, really thoughtful about what you choose.  In my opinion, cash is always the best choice (you have a PayPal option), UNLESS you are absolutely certain that you will be using a specific retailer that offers a discount for picking their gift card.  For example, Amazon offers a pretty good deal for choosing their gift card, so if you're a regular Amazon shopper this may actually be worth it.  Swagbucks is always running specials on other retailers, so it's tempting to want to pick them, but usually this is just a way to get you shopping at their store when you otherwise wouldn't have.  If a retailer isn't offering a discount, you should pick the PayPal option even if you know you'll be shopping there.  Paypal actually offers their own discounts sometimes and this way you'll avoid having a few extra pennies or dollars left on a gift card that you don't really need.
Now, like I said before, there are a ton of other ways to earn money on Swagbucks, but before you get yourself sucked into the site and ultimately discouraged, keep in mind that your time is valuable.  So many of their opportunities will suck you in for a very long time and offer very little return.  It's hard to pass up opportunities for money, but in cases like this, there are better uses of your time. Stick with the Swagbucks options that I suggested and you'll find that you aren't wasting any time, so the money will be worth it. Good luck!!
Related post: 50 Different Ways to Make Money as a Stay at Home Mom