Sure, in the beginning date nights are a great way to spend your money, not save it – and certainly not earn it!  But times have changed (or maybe you're just getting older ;-)) and now it's time to consider some money-making date night ideas!
Yep, that's what I said. Dates where you actually make money.  These aren't just cheap date night ideas or dates on dime…on these dates, you can actually make money.
Because you're a team and finances are a huge part of that, right?
So if you're ready to start mixing romance and finances, here are some money-making date night ideas to try:
---
If you'd like more tips on reaching financial freedom, living a fulfilled life, and raising happy kids, subscribe to MBAsahm for notification of new posts!
---
Some links on this page may contain affiliate links. For more information, see my disclosure policy.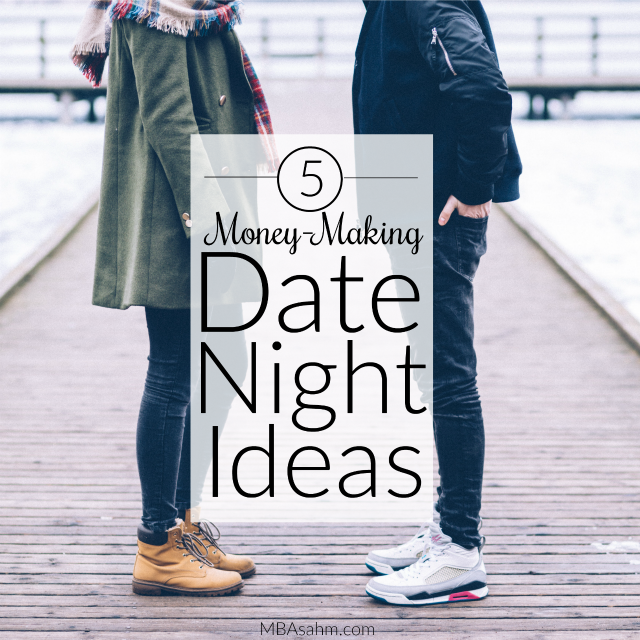 Start a Website Together
This is my current favorite and what my husband and I are doing on our date nights these days!
If you've already got some experiences with building and managing websites, then this is an absolute must.  And if you don't have any experience, this could actually be even more fun because you'll learn a lot together.
Here's the key to starting a website together – you need to pick a topic that you both love. It needs to be something that you can do together.  Something that you'll both be excited about…because if you're both excited about it, then you'll both be excited about your date night!
Come up with a concept, pick a fabulous and catchy domain name, and get writing!
Here's some more info to help you get a website set up quickly during your date night → The Quick & Dirty Guide to Starting a Website
Mystery Shopping
I know it sounds too good to be true, but you can actually get paid to go out to dinner, order in, or shop at your favorite store. Companies will pay good money for valuable feedback from customers like you!
The Penny Hoarder has a great list of reputable companies you can sign up with to get started. Once you've signed up, just login to see what is available in your area.
Check in frequently to find the best date night options!
Budgeting Date Night
I know this sounds like such a SNORE, but I can't tell you how valuable these budgeting date nights have been to my husband and me!  I'm not lying when I tell you they are my absolute favorite dates and I look forward to them all year long.
Here's the gist – you grab a bottle of wine and take out and spend the night talking about the financial goals you have and everything you can do to get there.  The important part is to keep it positive! There are endless possibilities for how to make more money, save more money, and ultimately achieve your dreams, so don't get caught up in all the roadblocks.  Remember, this is a date. 😉
I'm so obsessed with these date nights that I've got an entire post about it, so check it out if you're ready for it. → How to Have a Budgeting Date Night
Open an Amazon FBA Store
If you've got a significant other that loves to shop…well, pat yourself on the back, consider yourself lucky, and then start reading Jessica and Cliff's story.  Together, the two of them have built an empire and it all started with a successful Amazon FBA store.
Basically, with Amazon FBA stores, you purchase products that you can find seriously discounted and then you post them on your Amazon store at a higher price.  The "FBA" (Fulfilled by Amazon) piece is really important because it makes the process unbelievably easy. You just send all of your products to Amazon and they take care of the rest.
Obviously, you've got to be a savvy shopper to succeed at this, but it's the perfect side gig for a shop-loving couple!
To sign up for a free webinar from Cliff and Jessica about how they built their successful Amazon FBA store, head here → Jess and Cliff's Free Amazon FBA Webinar
Good luck on your money-making date night endeavor!  I hope you have a happy and prosperous night!
---
If you'd like more tips on reaching financial freedom, living a fulfilled life, and raising happy kids, subscribe to MBAsahm for notification of new posts!