Aside from the mortgage, the monthly food bill is likely your largest expense. But unlike the mortgage, it can easily change each and every month and if you aren't paying attention, it can get huge!
But what if you could cut your monthly grocery bill by hundreds of dollars?
Even better, what if you could do little things that make the process easy? Things that don't involve becoming an extreme couponer?
Obviously, you know where I'm headed…you can cut a lot of money off your food bill by doing some really easy things!
To get you started, I've got 10 specific changes you can make to cut your grocery budget. Here they are:
---
If you'd like more tips on saving & making money, getting out of debt, and reaching early retirement, subscribe to my Financial Freedom Mailing List for notification of new posts. Thanks for your time!
---
Some links on this page may contain affiliate links. For more information, see my disclosure policy.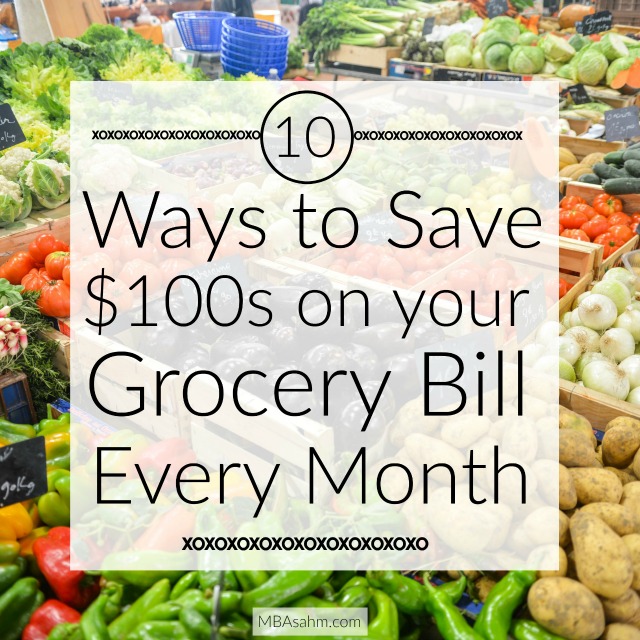 Meal Plan
I know, I know…meal planning sounds like the biggest bore in the world. And I bet even if you don't write down your meals for the week, you think you're meal planning….because honestly, you need to have some idea of what you're buying for when you're grocery shopping, right?
Wrong.
Meal planning means that you actually sit down and write out what you're going to make for each and every meal. You can still alot leftovers as a meal or easy options for things like breakfast. But you need to write it down.
Why?
Because you will be blown away by how much less stuff you need to purchase. How much less stuff you throw away. And best of all – you will save yourself so much time by not needing to think about what you need to cook each day. It will already be decided!
How much can you save with meal planning? $100+/month (I'M SERIOUS)
Adopt the 2 Easiest Couponers – iBotta and Swagbucks
Couponing gets a bad rap, yet in some ways it's well-deserved. Because really, the point of a coupon is to get you to buy something.
However…if you utilize certain coupons ONLY for items you're already going to buy, then you're going to be able to save some easy money.
The two best sources of coupons/rebates that are out there now are iBotta and Swagbucks – and they're both free to use.
iBotta is an app you put on your phone. At the end of your purchases, you check any eligible items you've purchased and take a screenshot of your receipt. DONE. That's it! No paper coupons…just cash deposited into your Paypal or Venmo account every time you reach $20. The best part is that they offer cash back for "any brand products" including things like produce, milk, and bread!
*If you sign up for an iBotta account – and you should – use the code reovbju and you will get an extra $10 when you use your first rebate.
Swagbucks offers dozens and dozens of ways to make money online, one of which is using coupons…yes, that means you get the coupon AND a little extra just for using it.
The reason I like Swagbucks is because you can go online to their coupons, scan the list, and only print the ones you'll use. The list of coupons is extensive and they always have good ones for things like diapers, cleaning products, and tons of regular food items.
But what's really amazing is when you find a coupon on Swagbucks that is also on iBotta…and you get to use both! Believe it or not, this can happen a lot!
Cut Back on Take-Out by Storing Some Easy Wins
Obviously cutting back on take-out is going to save you money on your grocery bill – we all know this.
So what you need to do is create an alternative that is BETTER than take-out. And the vast majority of the time, that alternative will be way, way cheaper.
Since one of the best reasons for take-out is the pure convenience, your best bet is to focus on stuff that can be made with little to no effort.
So consider things that are pre-made, or better yet, frozen. A frozen pizza will cost you a fraction of what a delivered pizza will and it takes barely any effort to prepare.
Nowadays you can get frozen french fries, premade salads, microwavable soups, frozen stir-fry meals…there's really an endless amount of options out there, so play around and test out some easy meals that will suppress (and ultimately replace) the need for take-out.
How much can you save by eliminating take-out? This will be different for everyone, but if you order take-out once a week, you're likely to save $100+ each month!
Eat Seasonal Produce
Seasonal produce will always be cheaper because it's abundant and needs to fly off the shelves.
And you don't need to be a farming expert to know what's in season – because it will likely smack you in the face when you walk into the produce section!
Be aware of the deals your grocery store is offering on produce and take advantage of it.
It's not only an easy way to save money, it's also a chance to increase the healthy foods you and your family are eating.
Befriend Your Freezer
You know the rotten fruit and veggies you find at the back of your fridge? Well that doesn't happen when you put your food in the freezer…when it's there, it can last for months.
So start to freeze more of your fruits, veggies, and especially meat! You would be shocked by how many things can be easily frozen and it will last way, way longer.
When paired with meal planning, the freezer can save you a boatload of money.
This is especially true if you're taking advantage of seasonal produce and good grocery store deals.
Cut Your Organic Purchasing on the Clean 15
I'm a big proponent of purchasing organic food, but that is definitely an expensive endeavor. Not all produce is grown the same way though, so you can save a lot of money by purchasing what is referred to as "The Clean 15." These are the 15 fruits and veggies that have been tested by the Environmental Working Group and have been found to have the least amount of chemical residue.
Basically, these are the ones that are safest to eat, even if they're not organic.
The Clean 15 changes every year, but you can find the updated list here: EWG's Clean 15.
Cut Out Meat (Even for Just a Couple of Days!)
Guess what. Meat can get expensive!
Now, I'm not going to try and convert you to veganism, but if you tried to cut meat out of your diet for even just 1-2 days a week, you could save a pretty big chunk of change each month!
So embrace Meatless Monday and eat the tacos without meat, the spaghetti without meatballs, or the soup without chicken.
I promise, you'll still feel full.
You may even end up surprising yourself and actually enjoying it. 😉
Take Advantage of Buy One, Get One Free Deals
For various reasons, grocery stores will often need to get some of their food cleared away. And one of the best ways for them to do that is to offer a Buy One, Get One Free deal…which means you're getting your food for 50% off.
But here's the deal – and this is important!! – you only want to take advantage of these deals if they're foods you were already going to buy. Otherwise, you've fallen for their favorite trick.
Start a Small Stockpile
You need to start a small stockpile. You're not becoming a doomsday prepper or setting up a mini-grocery store in your garage. Just a small shelf, corner of the fridge, and definitely some space in the freezer.
The reason this is going to save you a ton of money is because it will enable you to take advantage of really great deals.
If chicken is your favorite, wait until it's 50% off or more and freeze it! Does your family go through ketchup and BBQ sauce every week? Buy a bunch over 4th of July when they're dirt cheap.
If you get good at managing a small stockpile, you will be able to save month over month…not to mention you'll be saving yourself some last minute grocery trips!
Cut Back on Eating Out
This isn't a fun one, but it's an easy way to save money immediately…just stop going out to eat.
Whatever tactic you need to employ at home, do it! Because it's almost surely cheaper.
This is especially true if you drink alcohol at a restaurant or bar.
So buy yourself a bottle of wine to take home and make something easy!
You'll be grateful once you see your bank account growing.
I hope you get a chance to try out some of these tips! They've totally transformed our budget and make life way easier. Good luck to you!
You may also be interested in:
---