I'm not going to lie, I absolutely love shopping for my kids for Christmas and there's something special about stocking stuffers!  These were always the first things my sisters and I opened as kids and I hope that my kids look forward to it like I did.
So if you're on the hunt for stocking stuffers for 2-year old boys, this list is for you!  These were the biggest hits for my son when he was 2…and many still make regular appearances years later!
Good luck with your shopping and happy holidays!
Related post: 12 Best Gifts for 2-Year Old Boys
---
If you'd like more tips on reaching financial freedom, living a fulfilled life, and raising happy kids, subscribe to MBAsahm for notification of new posts!
---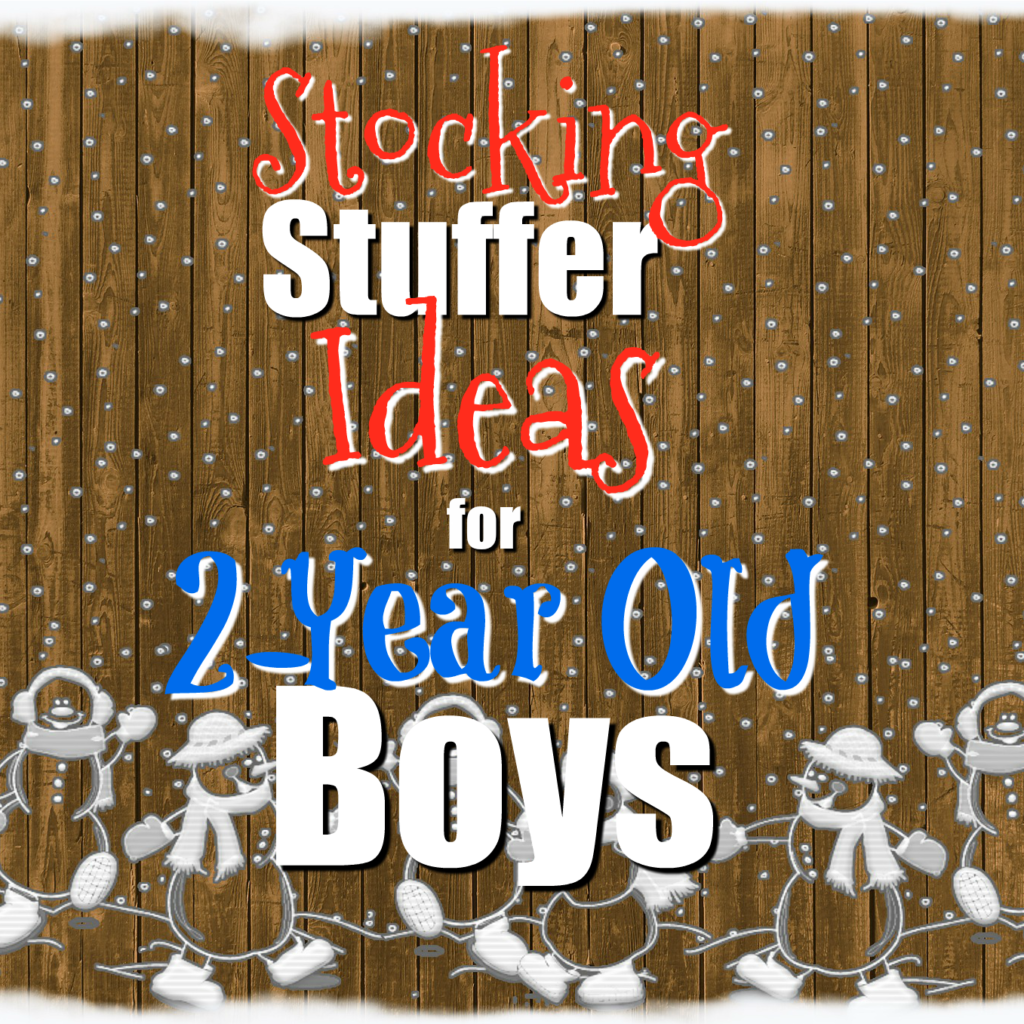 Trains & Train Tracks
Spolier alert: When you give your son his first set of train tracks, you may be opening a new world to him that you won't be able to escape for the foreseeable future.  
The good news is that this is one of the most wholesome and fun obsessions to partake in, so you're in for quite a ride (get it?? ;-))!
But seriously, all little boys LOVE trains!  You can't lose with this one.  And if they've already got a set of tracks, even better!  You can focus on fun, new trains!
Related post: 20 Unbelievable Thomas the Train Gifts for Your Thomas-Obsessed Little Boy
Bath Crayons
Bath crayons are one of the greatest inventions EVER.  
My son loves playing with them (which stretches out bath time), they're easy to clean up after, and they open up the door for a lot of educational opportunities.
Not to mention that they're inexpensive and perfect for little stockings! 😉
Bath Stickers
Bath time is one of my favorite activities in our house.  You've got your 2-year old confined to a small space (that they don't want to leave), no technological toys to be found, they're getting clean, and somehow educational toys become super fun.
Enter – Bath Stickers.  
These are a bath staple for 2-year old boys, so if your little guy doesn't have them, they need to find their way into his stocking!  
They're perfect for teaching letters, colors, words, and building. They're got sets with letters, building blocks, and of course cars so you have your pick!
Robeez
Ahhhh, Robeez.  These shoes are my absolute favorite for little guys and my son LOVES his.
They're good for their feet, easy to put on, and come in so many fun designs.  
The bottoms are made of leather, so they're still very durable, but soft enough that they still let their little feet build up strength and balance.
Bath Books

I know, I know, what's with all the bath toys?  
Like I said, I just can't get enough of bath time, so obviously bath books excited me.
But more importantly, they really excited my son and we now read them each and every time he's in the bath.
There are quite a few different bath books out there, but my son's favorite was definitely the duck book.
Bath Boats
Ok, I promise this is the last bath toy.  They're just so perfect as stocking stuffers!
Your 2-year old may already have a set of bath boats, but if they don't, this is for them.
They're basically the rubber ducky for 2-year old boys and you'll be shocked by how many things they'll do with them!
First 100 Words
First 100 Words one of the greatest books for 2-year olds boys…and it's small enough to fit in a stocking!
It's a super sturdy board book, so it will stand the test of time and it's completely full of pictures for your little one to point out and name.
This is, by far, one of my son's favorite books and it's a huge help with learning to talk.
If you've already got this one or are looking for more, try First 100 Trucks or First 100 Animals.
Tools

One of my son's absolute favorite 2-year old toys is his tool bench, so it should come as no surprise that a stocking full of extra tools will be a huge hit!
His favorite is definitely the drill, but really any tool is exciting.
He has even been known to walk around with a plain old screwdriver "unscrewing" his toys.
I hope this list was helpful!  Good luck with your shopping and happy holidays. 🙂
Other posts from MBAsahm you may like:
The Best Stocking Stuffers for 3-Year Old Boys
The Best Stocking Stuffers for 1-Year Old Boys
12 Best Gifts for 2-Year Old Boys