Sometimes I feel like every single person I shop for is a person that already has everything. I'm constantly scouring the internet for good ideas and trying to find something they've never seen before. Sometimes I get lucky, other times not so much. But there's one thing that is always a winner (and it has consistently been my favorite gift to receive) – subscriptions and monthly club boxes. They're almost always consumable and it's so nice to be receiving something after the holiday season (especially if you live on a budget). It's the true gift that keeps on giving.
So if you're stuck in a rut…especially a last-minute rut, check out some of these subscriptions and clubs to see if any are a good fit:
---
If you'd like more tips on reaching financial freedom, living a fulfilled life, and raising happy kids, subscribe to MBAsahm for notification of new posts!
---
Some links on this page may contain affiliate links. For more information, see my disclosure policy.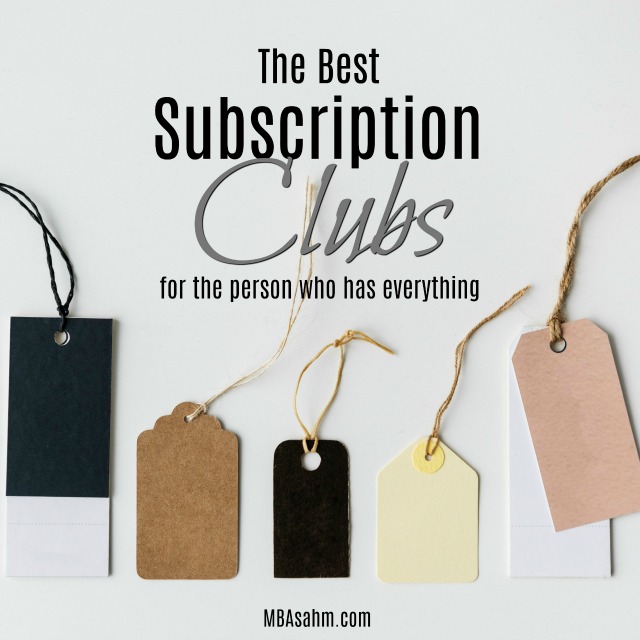 Little Bookish Wardrobe – For Kids that Like to Read and Dress-up
Little Bookish Wardrobe is an amazing subscription club for kids.
Every month, your child gets a book along with a dress-up outfit that fits with whatever the theme of the book is.
This is such an amazing way to let your kids' imagination run wild!
Blue Apron – Awesome Ingredients to Make Awesome Meals
Blue Apron is such a fun concept.
2-3 times a week (depending on your subscription), they send you everything you need to prepare a gourmet meal. Totally portioned out for you, so it's easy to cook!
I've received this as a gift and given it as a gift, and it's always been a huge hit! The meals were delicious and always fresh. This is a good one!
Wine of the Month Club
This is an awesome gift that my husband and I have gotten before and we LOVE it. Wine is delivered to our door every month and it's always from new vineyards we've never tried before. For us, it also tends to be wine that isn't being sold in our local liquor store, so we're really getting exposure to new vineyards from around the world. There are tons of different wine clubs out there, so if you've got a favorite vineyard give them a call. Otherwise, here are some popular ones to check out:
Beer of the Month Club
This is another big winner in our house!
I have tried out so many different types of beers and it is ALWAYS from a brewery that I've never heard of before, which is so much fun!
Some of these clubs also offer a quarterly option, which is nice because it really brings down the price if you don't want to be spending too much.
Here are some options for Beer of the Month clubs:
If you've really got a beer lover on your hands, you could add a subscription to Beer Connoisseur Magazine to keep them really busy!
Kiwi Crate – Crafts for Kids!
Kiwi Crates are for the kids that have everything…and nowadays that's pretty much all of them.
This is a really cool subscription club because every month your child will get a box delivered with all the supplies you need for a fun activity.
They have different age groups and different types of boxes (science, design, play), so it can work for most kids!
Sock of the Month Club
Ok, this sock of the month club is brilliant for many, many reasons.  
First, every time I ask my husband, mom, dad, brothers, or sisters what they want for Christmas, socks are on the list.  Everybody needs socks!  And these socks are actually super fun and cool (they were on Shark Tank!!).  
Second, these clubs aren't nearly as expensive as some of the others, so they're perfect gifts under $50. Which is HUGE.
The Gentleman's Box – A Subscription Box for Men!
The Gentleman's Box is such a cool idea because…well…it's for men! And it's especially hard shopping for them.
An added bonus is that this club is seriously affordable (only $25/month), yet the value of the box is way more than that. Each one includes a different collection of gentleman essentials – things like socks, cufflinks, ties, magazines, and cologne samples.
FabFitFun – Quarterly Health, Fitness, and Beauty Club
I have not yet tried FabFitFun, but would loooove to because it looks like Birchbox, only with full-sized products and a little more of the healthy/fit element. Basically, you receive a box every quarter that is filled with premium beauty, fitness, and wellness products. And I really love that they offer a quarterly subscription because you cut your cost by ⅓!
Adore Me – Monthly Lingerie & Sleepwear Club
Let me just tell you, I am soooo excited about discovering Adore Me! And of course, the best discoveries are those that your husband finds and gets for you as an early Christmas present :). So I can tell you first hand, this club is AWESOME! It's hard to believe that lingerie can be both affordable and comfortable, but Adore Me has somehow pulled it off. I was blown away by how much I loved the gift. This is a great subscription club for the lady in your life (or for yourself ;-))!
Birchbox (Monthly Beauty Product Club)
I've done Birchbox before and it was a lot of fun! Basically you get a box every month of samples (or small quantities) of premium beauty products – and they're definitely premium, which is the fun part. You really get to try out and discover some amazing beauty brands that you either hadn't heard of or were just too afraid to pay the price for.
Fabletics (Monthly Workout Outfit)
Fabletics is one of the coolest subscription concepts I've come across, especially for any health nuts in your life. Basically, you get a new workout outfit every single month. What's great about this (aside from the obvious) is that you can login and customize the outfit you're getting, so it's not a total surprise (which could be a little tough for a full outfit).
Healthy Snack Subscription
My husband got me one of these for my birthday last year and we really loved it! We got different healthy snacks each month and were able to choose them ourselves or be surprised. We tried out so many new things and definitely got ourselves hooked on some of their tastier options. There are a couple great companies that offer these:
Amazon Prime
There are so many cool things about Amazon Prime, but there's something really neat about it for the holiday season – they make it really simple to gift a subscription so that it's tied to the recipient's account and not yours. Here's what you get with Prime: an awesome library of TV shows, movies, and original productions (it's honestly just like Netflix), access to Prime's music library, free audiobook downloads, and free 2-day shipping on anything you order from Amazon (and it doesn't have to be over $35). My husband and I have gotten this as a gift and we LOVE it (we actually cancelled our cable because Prime and Netflix made it obsolete).
Netflix
Netflix is the ultimate TV-watching brainchild of subscription services, so if you know someone that doesn't have this, you may have found your next gift. Netflix has such a huge selection of TV shows and movies to watch that you may find yourself being able to give up cable (which will actually make this gift a money saver). They are also one of the cheapest options in the TV/movie category.
Netflix hasn't yet setup an easy way to gift a subscription straight from their site, so you will need to purchase a gift card to give the subscription. Your best bet for doing this smoothly would probably be to purchase a Netflix e-Gift Card from Amazon (the card could be mailed directly to your recipient) or a tangible Netflix gift card (also from Amazon) that could be wrapped up with a gift.
Mixcups – Monthly K-cup Subscription
Mixcups is a really fun subscription club for the Keurig coffee and/or tea lover. Every month, your get a box of 30 different K-cup flavors that are all Keurig friendly (you can opt for a smaller or larger box if you like). The greatest part is that they make it easy to gift the subscription and even allow the gift recipient to pick their own flavors.
CrateJoy – If You Need Even More Ideas
CrateJoy is the place to go if you're truly obsessed with subscription boxes…or still have not the faintest idea what to get for your family and friends.
The categories at CrateJoy range from Geek & Gaming, Family & Kids, to Art & Culture and even Pet subscription boxes!
CrateJoy has some really unique ideas and all of the boxes are high-quality and work with tons of different brands.
They're a great idea for a unique gift!
Amazing Clubs
Amazing Clubs is another hub for subscription clubs. You can not only get a lot of the ideas already on this list (like beer, wine, and coffee), but a ton of new ones that you would never have thought of (everything from jerky and neckties to hot sauce). There's even a Variety Club that lets you get a taste of a new club each month (we've tried this one! It's a lot of fun :)). Most of their clubs will let you choose the quarterly option as well, which is a great idea if you're on a budget.
Here's the complete list of all the clubs they offer: bacon, bagels, BBQ sauce, beer, breakfast, cake, candle, cheese, cheesecake, chocolate, cigar, coffee, cookie, cupcake, dessert, dinner, dinner/movie, dog treat, flower, fruit, hot sauce, ice cream, jam & jelly, jerky, lobster, movie, necktie, olive oil, pasta, peanut butter, PB&J, pie, pizza, popcorn, salsa, sirloin, tea, teddy bear, wine, variety.
Good luck with your shopping this year! I hope this list was helpful. Let me know if there are other subscription clubs that you've used and loved!