I got lucky with a son who absolutely loves to read and look at books, but that love of reading doesn't seem to translate into an appreciation for keeping the books in good condition.  So, for the time being, we're only using board books so that he can use them however he likes (and for the most part, they have proven to be indestructible).  Luckily, it has turned out that board books aren't that expensive either, so I've been able to get most of them in the $3 range on Amazon.  
So if you're looking for a good gift idea for your toddler or just need some new inspiration to get them using new words, try out these board books that have been big winners in our house: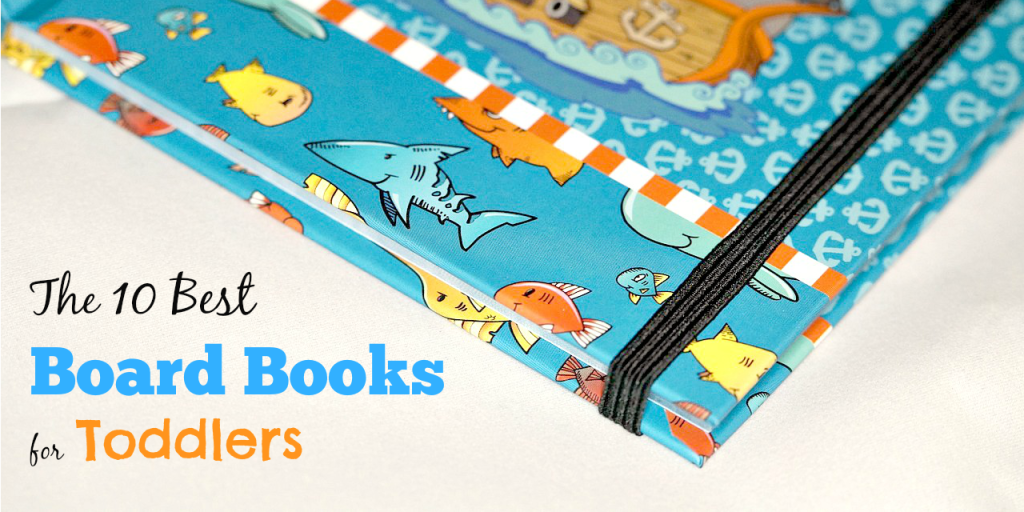 First 100 Words
This is one of Amazon's top sellers and it's really no wonder why.  First 100 Words
has no storyline – just 100 pictures that are all things your toddler will recognize.  It's a great way to work on your toddler's first words, especially since all of the pictures are easy to identify.  An added bonus is that the book is small, so it's easy to fit in a purse or diaper bag so that you can use it as a distraction when you're out.
Cars, Trucks, Planes, and Trains
This book
is like Where's Waldo, but for toddlers that love transportation.  It's one of the Little People books so it has great cartoon-ish illustrations that my son loves.  It also has tons of flaps where you can find more stuff hidden underneath, but there's already so much to look at that you won't need these for a while.  My son read through this book for weeks before he even realized you could do that!
Ten Tiny Toes
I never thought I'd fall in love with a children's author, but I definitely have with Caroline Church.  Ten Tiny Toes
is not her first book, but it is definitely the most fun for toddlers.  Her illustrations are amazing, so my son loves reading her books.  Ten Tiny Toes goes over all of the main body parts in a really cute way, so my son has a lot of fun pointing out the parts of his body that he knows.
Noah and the Animals
Noah and the Animals
is another Little People book and it's just like Cars, Trucks, Planes, and Trains only with (yep, you guessed it…) animals!  And of course they use all of the classic animals that your toddler is learning about, so there's a lot of excitement reading this book.  It's also a great way to teach some new animals that they haven't come across yet.
I Love You Through and Through
I Love You Through And Through
is the original Caroline Church book and it has been one of my son's favorite books for over a year (which is crazy for little guys!).  Her illustrations are amazing so he loves looking at the pictures.  This is one of the books I always grab for baby showers and it seems all toddler love it!
Twinkle, Twinkle Little Star
I don't want to fill this list with Caroline Church books, but I can't resist because they are hands down my son's favorite!  Twinkle, Twinkle, Little Star
is a book that follows the nursery rhyme, which is why we love it so much.  This is a song that my son is familiar with, so he loves following along with the illustrations.  "Star" is also one of his first words, so it makes it extra exciting for him.
First 100 Animals
First 100 Animals
came about because of the success of First 100 Words and it's just as amazing. Obviously, the focus is on animals, but since it is all pictures (with a caption for the name of the animal) your toddler can look through it on their own.  My son gets so excited when he sees an animal that he recognizes and it's a fun way to teach him new words.
Bath Books
Technically these aren't board books, but they are the exact same idea except you can take them in the bath!  My son is learning so many new words from these books and they have actually become his favorite bath toy! He'd rather read through his new words than float around his boats.
From Head to Toe
Eric Carle is probably best known for The Very Hungry Caterpillar, but From Head to Toe
is sooo much more fun for your toddler.  Every animal has it's own movement and your toddler needs to play along and do the movement too.  It's a great way to get them a little active while also reading and of course they will have a blast trying to move like an animal.
Brown Bear Brown Bear, What Do You See?
Brown Bear, Brown Bear, What Do You See?
is another Eric Carle classic and one of the best parts of this one is that you can read it as a song, which your toddler will really get into.  We actually learned the sign language version of this book, which makes it even more exciting for my son!  The pictures are fun and simple and it's a great way to learn both animals and colors.
I hope this list was helpful!  Let me know if your toddler has other favorites that I should add to the list!