There are so many things I love about Fall, but definitely one of the best are all the new and returning shows coming back from their summer break.  And this year is definitely no exception.  Not only are there some awesome cliff hanger to wrap up, but there are quite a few new and definitely promising shows that I can't wait to get more of.  
So without further ado, clear your calendars and start planning your TV parties so you've got time to watch these gems: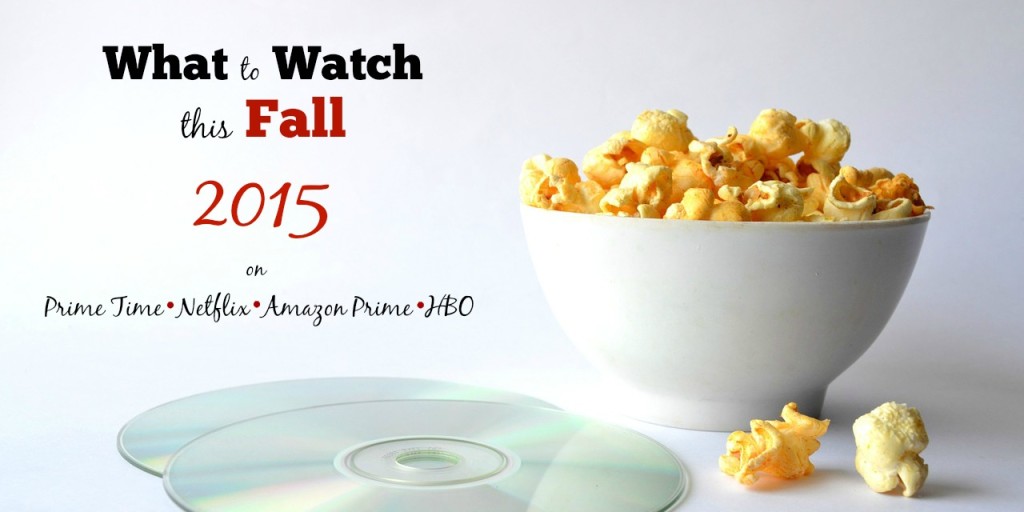 NEW SHOWS
This year, there are some absolutely amazing shows coming out! We definitely won't be wondering what to watch for many months to come.
Blindspot
Every time I saw the previews for Blindspot
I got excited.  Luckily, NBC delivered on the hype and the series premiere was awesome (and I'm not the only one that thought so – 15 million viewers led NBC to order 9 more scripts – yay!).  Here's the quick synopsis – a woman is found in the middle of Times Square, tattooed from head to toe, with no recollection of anything.  One of the tattoos lists the name of an FBI agent who (surprise, surprise) is pulled onto the case.  The rest of the show will unravel the mystery of the tattoos, while also taking down some bad guys.  
Heroes Reborn   
First off, if you never saw Heroes
, block off a weekend and binge watch it.  It's one of the best sci-fi series I've ever seen and I was soooo sad when it ended.  To find out that it was coming back to life with Heroes Reborn
was like Christmas morning appearing early.  The series premiere was intense – I had to watch it twice to really let it sink in (plus, it was two hours long).  But that's the best part of sci-fi mysteries, right?  If you like hidden super powers, suspense, and twisting plot lines then you will love Heroes Reborn.
Quantico
I didn't even have to catch a preview to know that I was going to love Quantico
.  I mean, it's called Quantico – you know it's going to be another awesome FBI drama! And the reviews for the show have been amazing.  Quantico recruits getting framed for a terrorist attack right off the bat – sounds like a great underdog story in the making.
RETURNING SHOWS
If you haven't seen any of these shows yet, then you are one lucky person because you will get to watch the past seasons and then catch up on the fun by the end of this season.
The Blacklist
The Blacklist
has been such a huge hit and I'm really glad because it's triggering the release of other great FBI dramas (like Blindspot
and Quantico
). Raymond Reddington is one of the greatest characters of all time – a former criminal who mysteriously steps in to help the FBI, but only if he gets to work with Elizabeth Keen. The show has so many shockers around each corner that you'll almost always be jumping out of your seat.
Scandal
Somehow the writers of Scandal
have managed to keep it so exciting with every single season getting better and better.  Who would have ever thought that so much scandal was even possible? Well, they seem to have found the perfect setting with Washington D.C. and the White House.  Mix in super secret agencies, philandering politicians, and of course love affairs and you've got a recipe for the perfect show.  I won't tell you what I'm especially excited for this season in case you haven't seen it yet, but I promise it's worth the wait!  
How to Get Away with Murder
This one is going to be new for me, so I'm really excited to have an entire season of shows to fill up on while I'm waiting for new weekly releases.  I've heard amazing things about How to Get Away with Murder
, it was renewed for a second season (which is obviously a good sign), and it just won a bunch of awards.  Can't wait for another law and order style drama!
Shark Tank
I'm a total sucker for reality TV, but prime time is full of so many awesome shows this year that Shark Tank
is the only reality TV I'll be watching…and it's definitely one of my favorites.  Entrepreneurs try and pitch their business ideas to super wealthy investors to get their ideas and businesses moving.  It has a rags-to-riches kind of feel and it's really cool to see all the ideas people come up with.  This is also a great show to watch when you need a little motivation.
AMAZON AND NETFLIX RELEASES
I absolutely love the emergence of Amazon Prime
and Netflix as cable replacements.  Don't get me wrong, I love all of the shows I just listed, but I now have full faith in original releases from these two giants because they are consistently top quality.
Catastrophe
Catastrophe
is an Amazon original and it is really, really funny.  It's got a classic plot line – one night stand turns into pregnancy turns into relationship.  The cast is top-notch and the writing is hilarious.  It's 30 minutes per episode, so it's a great quick show to watch when you need a good laugh.
Vikings
Vikings
is one of my new favorite shows and believe it or not, it's a History Channel production!  I watch it through Netflix and Prime though and word on the street is that Season 3 will be available on Netflix this October.  If you haven't seen this, you definitely need to check out the first two seasons.  It's very similar to Game of Thrones – and I honestly think it's just as good (maybe not as complex though).
Transparent
Over the past year, Amazon has done an unbelievable job of releasing some fabulous original series – one of which is Transparent
.  It's plot is interesting – it's a comedy that follows the life of a father who comes out as transgender.  It's won a ton of awards and really put Amazon on the map as a great production company.
Marco Polo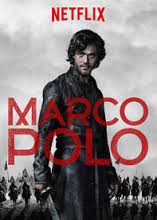 Marco Polo is an amazing historic drama and one of Netflix's best original series (in my opinion).  It is set in 13th century China and loosely follows the life and travels of Marco Polo.  It has some amazing action scenes, great love stories, and the historic components are really fun to watch.  It's been almost a year since the first season aired…and luckily that means season 2 will be airing by the end of this year!  Netflix has not released the exact date yet, but has promised it for 2015.
I hope you're able to cozy up and enjoy this cool Fall weather that we all deserve!  Let me know what shows you'll be watching that I may have missed.  And check out my Pinterest board for other great TV and movie ideas.
Follow Nikki @ MBAsahm's board What to Watch and Read on Pinterest.