I am not usually a big recipe poster, but I am absolutely obsessed with these vegan muffins!  Not only are they vegan, but they manage to squeeze in a surprising amount of healthy stuff without tasting like they're actually made of fruit, vegetables, and legumes.  So much so that my son who is notoriously picky loooooves them.
---
If you'd like more easy-to-make and tasty vegan recipes, subscribe to MBAsahm's Vegan Recipes mailing list for new meal ideas! Or, if you'd like tips on reaching financial freedom, living a fulfilled life, and raising happy kids, subscribe to MBAsahm's Full List for notification of all new posts!
---
Some links on this page may contain affiliate links. For more information, see my disclosure policy.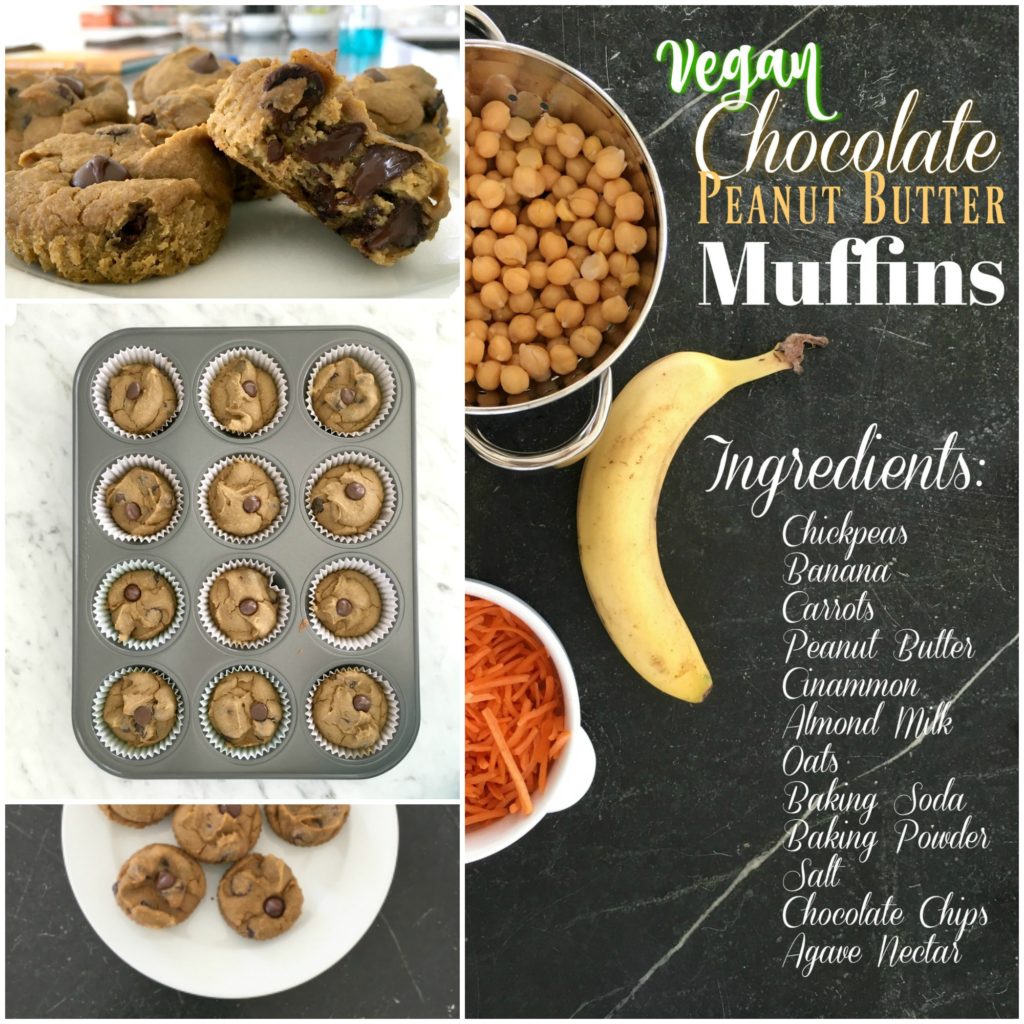 The full list of ingredients follows, but the main components are chickpeas, carrots, banana, peanut butter, and oats….seriously!  There is no flour, barely any added sugar (and no refined sugar…just a couple teaspoons of agave nectar), and a ton of protein (about 5 grams of protein in each muffin).
Just to prepare you, since there is no flour, these muffins are more moist and smoother than your classic muffin (they have a consistency that is close to cookie dough).
This recipe makes one dozen muffins, which is great because you don't have too many, but do have some for later.  It's also made almost entirely in the blender, which makes it really easy to prepare.
So here's how you make them and what you need:
Ingredients:
1 can of rinsed chickpeas

1 banana

1 cup of shredded or chopped carrots

½ cup of peanut butter

¼ cup of oats

¼ cup of almond or cashew milk

2 tsp of agave nectar, maple syrup, or honey (honey is technically not vegan, so opt for one of the others if you're shooting for 100% vegan)

1 tsp of cinnamon

1 tsp of vanilla

¾ tsp baking powder

¼ tsp salt

⅛ tsp baking soda

¼ cup of your choice of nuts or seeds*

½ cup chocolate chips or cocoa nibs (

Enjoy Life Mini Chips

are great dairy-free chocolate chips if you want something sweeter than cocoa nibs and still vegan)
*I started doing this to get some different nutrients in my son and he has never been able to tell the difference!  I've used hemp seeds, sunflower seeds, almonds, and cashews.  ¼ cup is equivalent to 12 teaspoons, so this means each muffin will contain 1 teaspoon of whatever you add!  This is a big win if you've got a really picky toddler or preschooler.
Directions:
Preheat oven to 350.

Line a muffin pan with baking cups.

Blend all ingredients together in a blender EXCEPT for the chocolate chips (it's seriously that easy!).  **If you have a not-so-fabulous, but still trusty blender like I do, then I recommend you blend the ingredients in one at a time in this order:  carrots, banana, oats, almond/cashew milk, peanut butter, agave nectar, vanilla, nuts or seeds, cinnamon, baking powder, salt, baking soda, chickpeas.

Pour batter into a bowl and gently mix in the chocolate chips.  I don't like to mix them into the blender, but you can give it a try if you want!  **If you're making these for a picky toddler, I recommend you pull some chocolate chips out and save to sprinkle on top so that they see them.  Sigh….

Divide batter mixture into the 12 muffin cups.

Bake for 20 minutes.

Let cool a bit and then they're ready to eat!  Refrigerate whichever ones you aren't going to eat.  When you're ready to eat more, you can either eat them cool or warm them up in the microwave for 10 seconds.
I hope you end up enjoying these as much as my son and I do!  Let me know how they turn out once you give it a try.
Related post: Vegan Fruit & Nut Chickpea Salad
---
If you'd like more tips, tricks, and inspiration on parenting and raising happy kids, subscribe to my Parenting Mailing List for notification when new posts are published. Or, if you want to receive notification for all new posts from MBAsahm, join my Main Mailing List and receive tips on achieving financial freedom and living a fulfilled life in addition to parenting and raising happy kids. I hope you enjoy everything you read! Thanks for your time!
---