In the time that I've been on a vegan diet, I've learned a lot of things.  One lesson in particular will stay with me for quite some time – learn to love thy chickpeas.  
Beans are pretty crucial when you aren't eating meat, dairy, or eggs, so learning to use different kinds of beans is a pretty big deal if you want to be successful as a vegan.  And chickpeas are a very special kind of bean because they somehow manage to be a wonderful substitute for both chicken and tuna (it sounds crazy, but I'm telling you, it's true).
---
If you'd like more easy-to-make and tasty vegan recipes, subscribe to MBAsahm's Vegan Recipes mailing list for new meal ideas! Or, if you'd like tips on reaching financial freedom, living a fulfilled life, and raising happy kids, subscribe to MBAsahm's Full List for notification of all new posts!
---
Some links on this page may contain affiliate links. For more information, see my disclosure policy.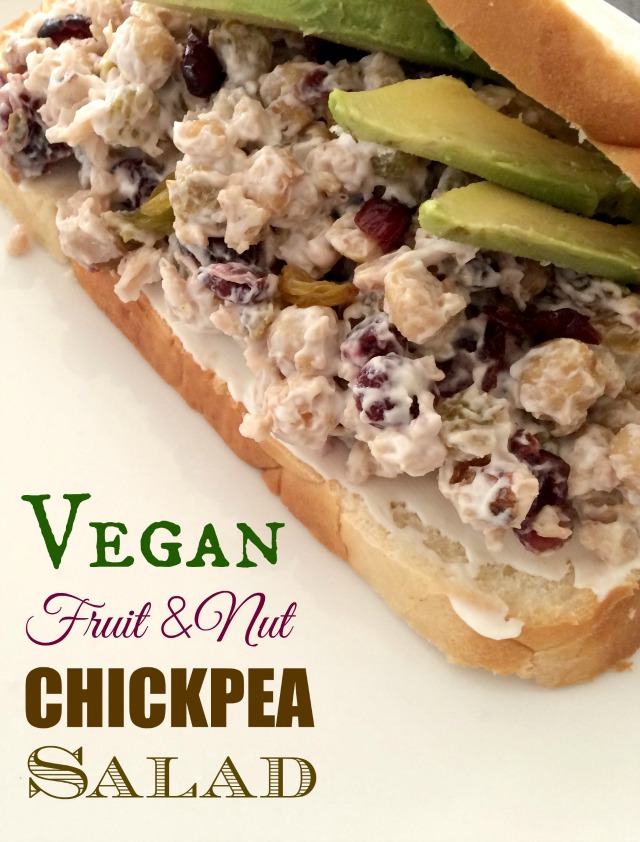 Which brings me to this fabulous chickpea salad recipe.  It was inspired by one of my favorite chicken salads and of course (as I just told you) the chickpeas will make you think you're filling up on chicken.  The chickpeas alone will fill your body with much needed protein and nutrients, but the addition of walnuts, cranberries, and raisins raise the bar even further.  It's so, so, so delicious and is actually a pretty healthy choice so you don't have to feel guilty.
Here's what you'll need for this super simple and quick recipe:
Ingredients
1 can of chickpeas

2 tablespoons of Vegenaise

½ cup of chopped walnuts

¼ cup of golden raisins

¼ cup of craisins

garlic salt and pepper to taste

Directions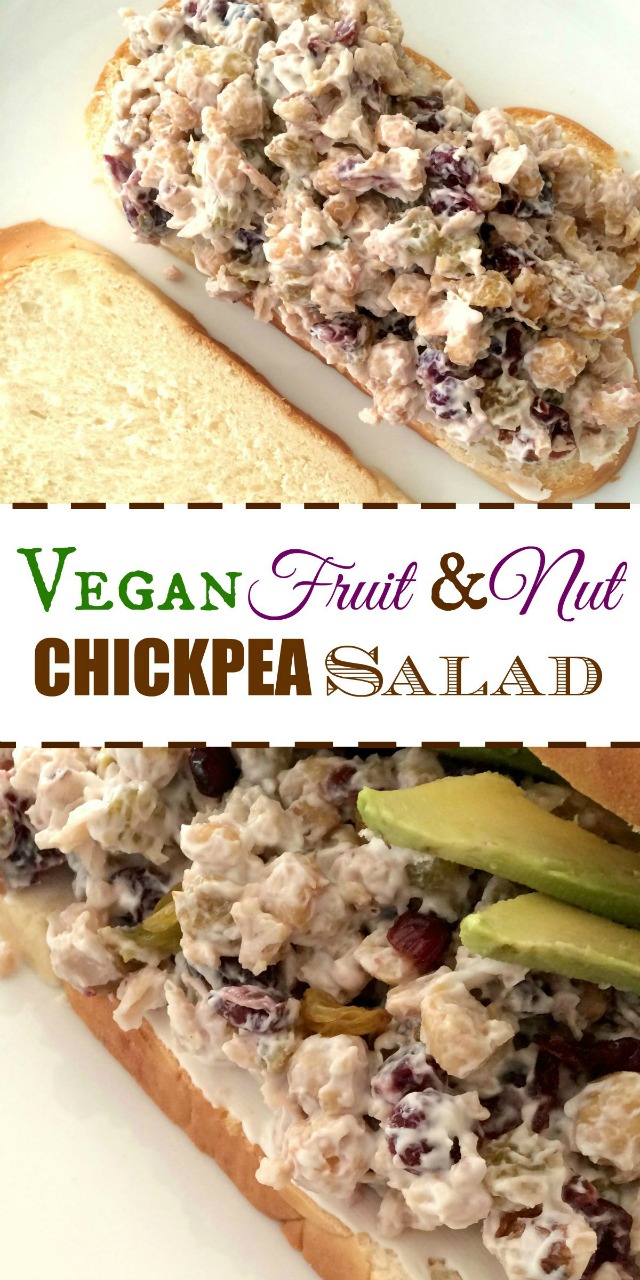 Drain the chickpeas free of liquid and pour into a mixing bowl.
Slightly mash some of the chickpeas, leaving some big chunks (this is a matter of personal preference so you may find that you like yours mashed more).
Mix in 2 tablespoons of vegenaise and mash together.
Add walnuts, raisins, and craisins.
Stir and add garlic salt and pepper to taste (regular salt is fine too).
Now you're ready to serve!  One of the best things about this recipe is that it's great the next day, so feel free to let it sit in the fridge over night.  In fact, in my opinion it's actually BETTER when you leave it sit for a day.  The vegenaise will be absorbed a bit by the walnuts and raisins, which will make it creamier.  You will actually probably want to add a bit more vegenaise right before you eat if you go this route.
I hope this turns out well for you! Enjoy!
If you're new to veganism and looking for some help or inspiration, check out my list of amazing Documentaries that will Inspire Veganism – you'll never look back!
Related post: Vegan Chocolate Chip Peanut Butter Muffins
---
If you'd like more tips on reaching financial freedom, living a fulfilled life, and raising happy kids, subscribe to MBAsahm for notification of new posts!
---
For more vegan recipe ideas, be sure to check out my vegan recipe board on Pinterest!
Follow Nikki @ MBAsahm's board Vegan Meals on Pinterest.